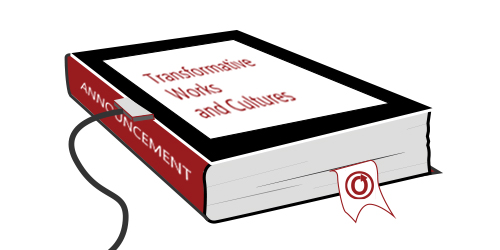 TWC has released No. 17, a general (unthemed) issue comprising seven full-length critical essays, six Symposium essays, two interviews, and three book reviews. The works loosely gather into themes of form and content—the title of Kristina Busse and Karen Hellekson's editorial. The issue showcases a variety of investigations into a myriad of platforms. The issue features several essays that switch the focus from content to form and illustrate the importance of a range of different fan engagements. Fan fiction, fan films, fannish infrastructure, fan subs, and fan archives are all addressed in this issue.
Several peer-reviewed essays look at the way fan fiction engages with its source texts as well as its surrounding fannish cultures.
* Ann McClellan's "Redefining Genderswap Fan Fiction: A Sherlock Case Study" uses a transgender theory framework to look at genderswap fiction and the way it addresses issues of gender and identity.
* Vera Cuntz-Leng's "Twinship, Incest, and Twincest in the Harry Potter Universe" looks at an individual fandom and its fan creations to investigate how the doubling motif gets repeated.
* John Wei looks at Chinese Iron Man fan fiction in "Iron Man in Chinese Boys' Love Fandom: A Story Untold."
* Douglas Schules's "How to Do Things with Fan Subs: Media Engagement as Subcultural Capital in Anime Fan Subbing" reads the practice of fan subbing as part of a complex system of subcultural capital.
* Shannon Fay Johnson looks at fannish infrastructures in "Fan Fiction Metadata Creation and Utilization within Fan Fiction Archives: Three Primary Models."
* Joshua Wille's "Fan Edits and the Legacy of The Phantom Edit" looks at fan remixes of one particular film—and one influential fan edit—to illustrate the artistic and creative importance of digital remixing.
* Burcu S. Bakioglu's "Bull in a China Shop: Alternate Reality Games and Transgressive Fan Play in Social Media" analyzes how the video blogs of Lonelygirl15 constructed a narrative to invite maximum fan engagement.
Two interviews appear in this issue. In their conversation with Sleepy Hollow's actor Orlando Jones, Lucy Bennett and Bertha Chin discuss his past year of "Exploring Fandom, Social Media, and Producer/Fan Interactions." TWC's book review editor, Louisa Stein, hosts a roundtable of various media scholars (including TWC coeditor Kristina Busse) reviewing Spreadable Media: Creating Value and Meaning in a Networked Culture by Henry Jenkins, Sam Ford, and Joshua Green (NYU Press, 2013). Parts of this roundtable were originally published in Cinema Journal; TWC prints the extended, unabridged version.
The three book reviews demonstrate the increased importance of fan studies. Anne Gilbert reviews Fanged Fan Fiction: Variations on Twilight, True Blood, and The Vampire Diaries, by Maria Lindgren Leavenworth and Malin Isaksson (McFarland, 2013); Nicolle Lamerichs discusses Manga's Cultural Crossroads, edited by Jaqueline Berndt and Bettina Kümmerling-Meibauer (Routledge, 2013); and Lucy Bennett assesses Popular Music Fandom: Identities, Roles, and Practices, edited by Mark Duffett (Routledge, 2014).
The next two issues of TWC, Nos. 18 and 19, will appear in the first half of 2015 as guest-edited special issues: Paul Booth and Lucy Bennett coedit a special issue on performance and performativity, and Anne Kustritz's special issue focuses on European fandom. Both these issues are closed to submissions.
A future issue, guest edited by Ika Wills, on the Classical Canon and/as Transformational Work remains open for submissions. TWC No. 20 will be an open, unthemed issue, and we welcome general submissions. (Close date for the CFP is March 1, 2015).We particularly encourage fans to submit Symposium essays. We encourage all potential authors to read the submission guidelines. The close date for receipt of copy for No. 20 is March 15, 2015.
---
Transformative Works and Cultures is part of the Organization for Transformative Works, a 501(c)(3) nonprofit organization. We exist entirely on the generosity of our donors. If you would like our work to continue, please consider donating today.