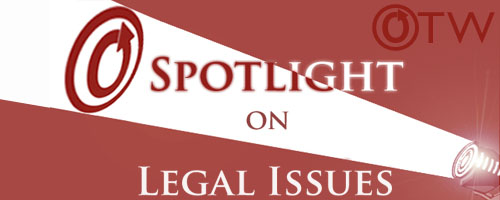 Lately, OTW Legal has received many queries and concerns about recent U.S. legislation known as FOSTA/SESTA. We want to reassure you that the law as it currently stands does not apply to fiction, and therefore should have no impact on the Archive of Our Own.
The term "FOSTA/SESTA" refers to legislation that has been passed by U.S. Congress and the Senate, purporting to combat what it describes as "sex trafficking." The legislation would make it a crime to operate an interactive computer service "with the intent to promote or facilitate the prostitution of another person." (That is, the exchange of sex for money.) Under the law, sites that "knowingly assist[], support[], or facilitate[]" prostitution can be held liable for user-posted material.
President Trump signed SESTA/FOSTA into law two days ago. Some sites, including Craigslist, preemptively changed policies in anticipation of the legislation becoming law, and in response to the FBI's seizure of Backpage.com, a classified-ad site that was often used to advertise personal services including sex work, and which the FBI has allegedly linked to illegal sex trafficking.
Once the law goes into effect, it may not last. Many have argued that it is unconstitutional for a number of reasons, including that it effectively makes it illegal to facilitate promotion of services that are legal in some U.S. states. Many have also argued that it violates the First Amendment, and that it may make it harder for legal sex workers to maintain their personal safety and for U.S. law enforcement to identify and pursue victims of illegal sex trafficking. But unless and until it faces legal challenge in the courts, FOSTA/SESTA will probably be law.
What does this mean for fans?
FOSTA/SESTA is about promotion of personal services—prostitution—and not about fiction, art, or any other sort of fanwork.
Some sites may voluntarily decide to change their policies regarding pornography or other adult-themed material in response to the law, but those changes would not be required by the law. The only policy changes that the law requires are changes that have to do with promotion and facilitation of prostitution.
It is also possible that some particularly overzealous law enforcement members may try to stretch the law to argue that fiction, art, or other expressive works that discuss prostitution constitute "support" of prostitution. The OTW believes, however, that any such interpretation would be a gross misreading of the law, and would be a clear violation of the First Amendment of the U.S. Constitution. With that in mind, FOSTA/SESTA could make sexually explicit material more vulnerable to challenge, especially if it's material that law enforcers do not understand—but it will not make such material illegal, and it will not make hosting such material illegal.
What does it mean for the Archive of Our Own?
The AO3 already prohibits advertising and commercial promotion. Therefore, any promotion or facilitation of prostitution that would violate FOSTA/SESTA would already be prohibited on the AO3. For that reason, in keeping with the AO3's ongoing commitment to maximum inclusivity, any changes in the AO3's terms of service or associated FAQ as a result of FOSTA/SESTA would be for purposes of clarification, not policy change.