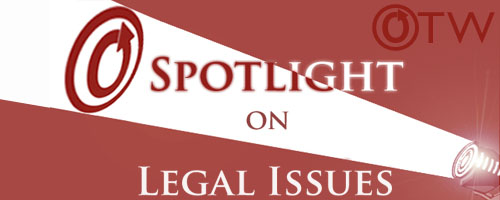 Recently, you may have received an email informing you that Disney has updated its terms of use. Or you may have seen discussion about Disney's terms of use and statements on Twitter around the #maythe4th hashtag. So what's going on? Our Legal team can't give you advice, but here's what they have to say about what Disney's terms mean for fans and fanworks.
Disney's terms of use can be found here. (The direct English-language link is here). They govern the use of various (unidentified) Disney "products" such as websites, software, applications, contests, and services. What does that mean? Well, although this scope is broad, Disney can't use terms of service to govern what people do out in the world — they can only govern what people do in Disney's own platforms, (such as Disney's websites, apps, software, and contests). Even if Disney would like to control what people do outside of those spaces, they just don't have that power: out in the world, the usual rules of copyright, trademark, and fair use law apply.
The part that has attracted the most attention in fandom circles has been Section 7: Submissions, User Generated Content, DMCA Takedown Notices. So what does this term mean?
First, 7A asserts that you have no expectation of compensation for any ideas or materials submitted to Disney. This is an important rule of thumb: Always be careful when submitting ideas or materials to anyone, not just Disney!
7B then goes on to discuss user generated content ("UGC"). It defines UGC as content by users that Disney "asks for" or "allows." This refers to be content uploaded to Disney's platforms, sites, and such. What do Disney's terms mean when they say they cover content uploaded to third-party platforms "integrated" with Disney? This seems to refer to Disney platforms that you can get through various devices and tools such as Xbox, Apple iOS, or Android. Of course, we can't promise that Disney won't try to assert these terms over content posted elsewhere–but the law limits their ability to succeed in that sort of broad assertion.
Disney's terms appear to refer to two categories of UGC made available via these platforms:
(1) If the UGC is entirely your own original work, then the terms state that you grant Disney a non-exclusive, royalty-free worldwide license to do what it wishes with the UGC. This license means Disney can use the UGC in a variety of ways, without attribution or compensation. Non-exclusive, royalty-free worldwide licenses are fairly common in the UGC world. Indeed, these licenses are often necessary for social media and other UGC websites to function (otherwise, they might not be able to display your content at all, which generally isn't what people want when they post something!). However, the license purportedly taken by Disney in its terms of use is somewhat unusual in its breadth and duration. Again, the extent to which Disney can assert its terms of use over UGC posted to third-party websites, apps, and platforms is limited, but please be aware of this term when interacting with any of Disney's platforms.
(2) The other type of UGC referenced in the terms is UGC that Disney has "authorized" users to post, upload, distribute, display, or perform that incorporates Disney's copyrighted works. Although we can't be sure, this probably refers to works that Disney has invited or challenged users to create and post. In that situation, Disney asserts that it has granted a license for that use of its copyrighted works within the UGC, with the condition that all rights in the resulting derivative work UGC is assigned back to Disney. The terms go on to state that a refusal to assign the rights in the derivative work to Disney would result in Disney revoking the license to use its copyrighted works in the UGC. Like the first category, this term is unusual in its breadth.
But it is important to note that not all uses of Disney's copyrighted works in UGC require a license from Disney. You do not need a license to create any derivative work that would be protected by fair use, and it is the OTW's position that noncommercial fanworks are creative and transformative works protected by the fair use doctrine. Therefore, Disney's terms grant your UGC a license on the condition that you assign all of your rights to Disney; but not all UGC requires that license in the first place. In that case, revoking the license would just mean that ordinary copyright law, including fair use, governs the UGC.
What's the tl;dr here? If you post something on a Disney platform (website, app, service, etc.), Disney's terms are likely to be enforceable. However, we do not believe Disney's one-sided assertion of control over anything it "allows" is broadly enforceable. If you post something on a non-Disney platform without doing anything to agree to Disney's terms, then copyright and trademark law, including fair use, provides the rules.