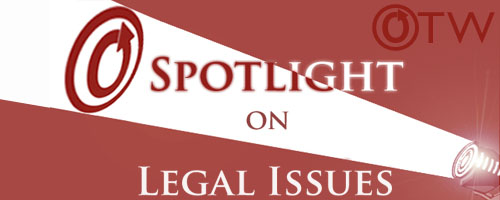 Recently, Tumblr announced that it would be changing its terms of service to exclude adult content. OTW Legal has gotten some questions about that change, and we're here to help answer them!
Will Tumblr's change in TOS change anything about the Archive Of Our Own?
No–neither the AO3 nor the OTW (the nonprofit that operates the AO3) has any relationship at all with Tumblr. Tumblr made this decision on its own, not because of any particular change in the law that would have any impact on the AO3. The AO3 was founded on principles of "maximum inclusiveness" and those principles remain true.
Can we stop Tumblr from doing this? What about free speech?
When users sign up, they agree that Tumblr can make changes to its terms of service, and because Tumblr is a private company, it doesn't have any obligation to protect free speech. So Tumblr is legally allowed to make this change, and there is nothing that OTW Legal can do about it. As for what users can do to stop Tumblr from changing its terms of service, the unfortunate answer is probably not much. The OTW's This Week In Fandom post from December 4 discusses some user plans that may send a message to Tumblr. That said, Tumblr surely knows it will lose many users, and it has undoubtedly made a cost-benefit calculation that the lost users won't be too harmful to its bottom line.
What can fans do to protect their own fanworks and the works of others before Tumblr starts taking things down?
As appealing as the idea seems, the OTW is not in a position to create a social media platform of its own, and there are no plans for the OTW to offer a social media site or forum. We talk some more about why that's true, and what fans can do to preserve their work, in a Tumblr post on December 4.
One of the ways to preserve your fanworks is to host text-based fanworks on AO3. If there's a work you posted to Tumblr that you'd like to share on AO3, you can check out the FAQ on how to post it as a new work. (Tumblr posts don't always work well with the importing feature, unfortunately.) AO3 can't host images, video, or audio (yet), but if you host the files somewhere else, you can still share them on AO3.
Do you know someone who would like to share their works on AO3 but doesn't have an account? No problem! We've given 8 invite codes to all users who have had an account for 6 months or more and have:
posted at least 1 work, or
left at least 5 comments, or
given at least 10 kudos
Since we're generating a lot of invitations (over 7 million!), it might take a few days for them to arrive in your account, so don't worry if you haven't gotten them just yet! You can follow these instructions to access and share your invite codes with anyone who wants an account.
What will Tumblr's change in TOS mean for fans and fanworks overall?
For now, Tumblr appears to be targeting visual material (as opposed to text), although we do not know what Tumblr has planned. We expect that whatever happens, Tumblr's filters will be inaccurate; Tumblr users have already reported incidents of content being falsely identified as 'adult'. This sort of algorithmic flagging is a problem that OTW Legal has been fighting in other contexts: in legal advocacy submissions to governments around the world, we have consistently expressed concerns about how algorithms are bad at identifying and flagging content, whether for alleged copyright violations or other matters. For that reason, we have been strong advocates against legally mandating automated filters, and have encouraged fans to reach out to their elected representatives (especially in the EU, where such proposals are pending) about legal filtering proposals that may adversely impact the availability of fanworks. Tumblr is just one example of what can happen.
It's hard to predict what this will mean for fans and fanworks in a larger sense, but we are confident that this is just a bump in a long road. Although the OTW has long planned to be able to host non-text works on the AO3, we are still a long way away from being able to do that (and we wish that we could do it right now!). Certainly, a lot of fans will move to services other than Tumblr. But fandom is resilient! Fans and fanworks have been through similar dramatic events with popular sites in the past, including LiveJournal, fanfiction.net, and DeviantArt. In fact, it was a similar policy change at LiveJournal 10 years ago that led to the founding of the OTW and AO3! After seeing that commercial platforms such as LiveJournal (and Tumblr) will always serve their own interests over the interests of fans, the OTW dedicated the AO3 to the principle that fans need a fan-operated, non-profit archive of our own. We can't predict or recommend what the next best platforms are to replace Tumblr, but we can promise that with your support, we'll continue to provide a home for fanworks at the AO3, and continue working toward a platform that can host multiple media types. OTW Legal will continue to fight to keep fanworks legal and available.