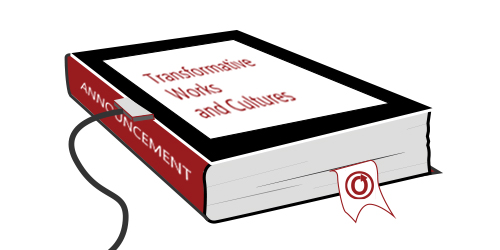 Transformative Works and Cultures has released issue No. 16, "Materiality and Object-Oriented Fandom," guest edited by Bob Rehak, Swarthmore College. This issue features academic articles that focus specifically on the materiality of fan objects and on object-oriented fandom. The Open Access Gold online multimedia journal has collected scholarly essays, personal essays, and book reviews that seek to bridge fan and academic writers and readers.
Editor Bob Rehak notes that even though fan objects have always been a central part of fan cultures, collected and cherished symbols of fannish passion, scholarship has often ignored them in favor of fan texts: "Solid forms of fan engagement have often been rendered taboo by fan studies that privilege textual over tactile engagement." In this issue, Rehak brings together a variety of scholars whose work discusses the cultural significance of fan objects, comics,video games,movie fandoms, and autoethnography.
Matt Hills and Benjamin Woo argue for the value of studying material fandom: Hills looks at replica props to introduce what he terms mimetic fandom, which, he argues, transcends the text/reality boundaries, whereas Woo studies limitations of space for fans and their fan objects. Dorus Hoebink, Stijn Reijnders, and Abby Waysdorf offer a case study of the EMP Museum in Seattle, Washington, while Luke Sharp discusses the diversity of Japanese maid cafés. The material objects discussed in this issue include Lincoln Geraghty's analysis of Hard Rock Café Pins and Ian M. Peters's video game feelies. Several essays look at the embodiment of fannish engagement, such as Matt
Yockey's case study of comic book artist Don Glut and his early fan films, and Matthew Ogonoski's discussion of cosplay and its Japanese origins.
In the Symposium section, which features shorter, more personal essays, Forrest Phillips describes lightsaber makers,Bethan Jones discusses her fannish tattoos, and wordplay provides an account of her journey through Glee fandom. The three interviews present the readers with Batmobile maker Mark Racop, early and important vidder Kandy Fong, and Dana Sterling Bode's "Beyond Souvenirs: Making Fannish Items by Hand," which collects interviews with several fan makers. The issue concludes with the reviews of three important books: Michael S. Duffy's review of Lincoln Geraghty's Cult Collectors: Nostalgia, Fandom and Collecting Popular Culture; Brandeise Monk-Payton's review of Marc Steinberg's Anime's Media Mix: Franchising Toys and Characters in Japan; and Sun-ha Hong's review of Georgina Gregory's Send in the Clones: A Cultural Study of the Tribute Band.
A general nonthemed issue is slated to appear September 15, 2014. For 2015, TWC has planned two themed issues—European Fans and European Fan Objects (close date for receipt of manuscripts January 1, 2014), and The Classical Canon and/as Transformative Work (close date March 1, 2015)—as well as a general nonthemed issue. TWC welcomes submissions from fans and academics alike.