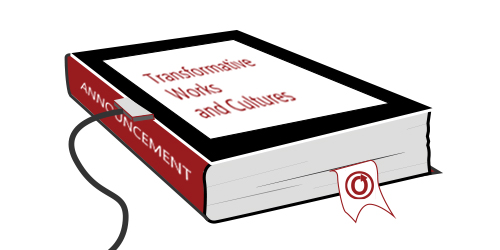 Transformative Works and Cultures, issue number 18, "Performance and Performativity in Fandom," guest edited by Lucy Bennett (Cardiff University) and Paul J. Booth (DePaul University), has been released. This special issue focuses on performance as it relates to fandom and comprises scholarly research articles, personal essays, interviews, and book reviews.
As the editors write in their editorial, "We want to problematize this notion of fandom as a particular behavior and instead note the characteristics of being that permeate a fannish identity" (1.3). Accordingly, the contributions focus on fannish artworks and contributions as a form of performance, including an analysis of a Facebook group of fans of 19th-century British literature who post images of fictional constructions in the act of reading (Dawn Opel); a study of identity via fannish tattoos, with this sort of performance linked to sacred experience (Bethan Jones); and a discussion of Harry Potter slash disseminated within LiveJournal communities as a form of performance (Darlene Rose Hampton).
Other articles address performativity through topics including language learners and Na'vi (Christine Schreyer), Doctor Who–themed weddings (Jessica Elizabeth Johnston), horror film audience reaction movie trailers (Alexander Swanson), and Sims fandom on Tumblr (Ruth A. Deller). Abigail De Kosnik links performance studies to new media studies, with a particular focus on fandom.
Cosplay, an overt form of performativity, is directly addressed in several contributions: Ellen Kirkpatrick addresses cosplay and the superhero genre, Nicolle Lamerichs writes about cosplay music videos, and Shelby Fawn, in a personal essay, relates cosplay to her personal growth. Relatedly, Brendan Riley writes about zombie walks.
Interviews are with Kurt Lancaster, an early scholar of performance in fan studies, and Joy DeLyria and Kris Hambrick, the cofounders of Hello Earth Productions, a theater company that produces outdoor (re)performances of classic Star Trek episodes.
---
Transformative Works and Cultures, is part of the Organization for Transformative Works, a 501(c)(3) nonprofit organization. We exist entirely due to the generosity of our donors. If you would like our work to continue, please consider donating today.