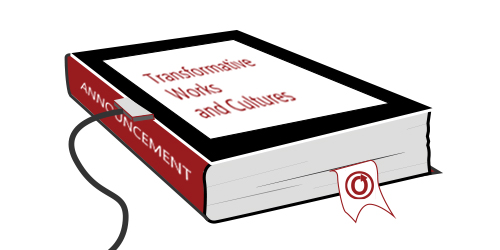 Transformative Works and Cultures, no. 19, "Transnationalism, Localization, and Translation in European Fandom," guest edited by Anne Kustritz (University of Amsterdam), has been released. This special issue focuses on global media and transnational studies, as well as European fan practices, broadly conceived. The issue comprises scholarly research articles, a section on pedagogy, essays related to specific countries' fandoms, and a book review.
As Kustritz writes in her editorial, "The articles in this issue center a global perspective, which questions assumptions about what it means to be a media fan and how the industry perceives international audiences. Therefore, the articles also address factors that persistently complicate and limit the global flow of media and fan communities.
Paul J. Booth leads the Pedagogy section with "Fandom: The Classroom of the Future," in which he claims that "once formal schooling is complete, one's fandom may be one of the only places where one is encouraged to think critically, to write, to discuss deeply, and to make thoughtful and critical judgments about hegemonic culture". The three interlinked essays that follow, led by Amanda Gilroy and including work by her master's level students, present the results of a class based around Ien Ang's groundbreaking Watching Dallas (1982, 1985) and include audience analysis of European watchers of the Dallas (2012–14) reboot.
The Symposium section includes essays addressing fandom in Germany, Sweden, Poland, France, Spain, and Putin's Russia.
Several essays discuss European fandoms surrounding American texts: two essays consider Bruce Springsteen fandom (Bill Wolff, Maryn Claire Wilkinson), one addresses Polish fan responses to the popular podcast Welcome to Night Vale (Agata Włodarczyk, Marta Tyminska), and another discusses Italian fandoms of American TV shows (Eleonora Benecchi). Two essays address texts based on European fandoms, including MTV's Welsh reality show, The Valleys (Bethan Jones), and football fandom (Abby Waysdorf).