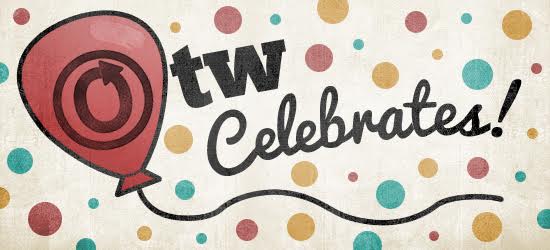 It's the Organization for Transformative Works' 12th anniversary!
Way back in 2007, there was an idea. An idea of fannish inclusiveness and independence. An idea of a home for all fans, fanworks, and fannish histories. And from that idea, the OTW was born.
From the beginning, we've always kept our beliefs in mind. Every time we defend the legality of fanworks or import an at-risk fanworks archive, we do it with the belief that fandom matters. Every time we publish academic works about fandom or collect stories about fandom, we do it as fans and for fans.
We wouldn't be here if it weren't for fans. Thank you for your contributions and support, whether you're an OTW member, an AO3 or Fanlore user, or someone who's sent in a nice note. After a dozen years, you've made more of an impact than you can imagine.
As part of our 12th anniversary celebration, we're sharing some new genre-themed graphics we've created for fans who want to show support for the OTW and its projects. Do you love horror? Sci-fi? Now you can show your OTW pride in a way that matches your ~aesthetic~!
We're also sharing some updated flyers which provide all the basics about the OTW. These can be printed to hand out at conventions or other fan gatherings, even the ones that take place in your living room.
Going forward, our Translation Committee will be adding additional language versions for both the flyers and graphics.
We hope you enjoy using these new resources to celebrate with us!