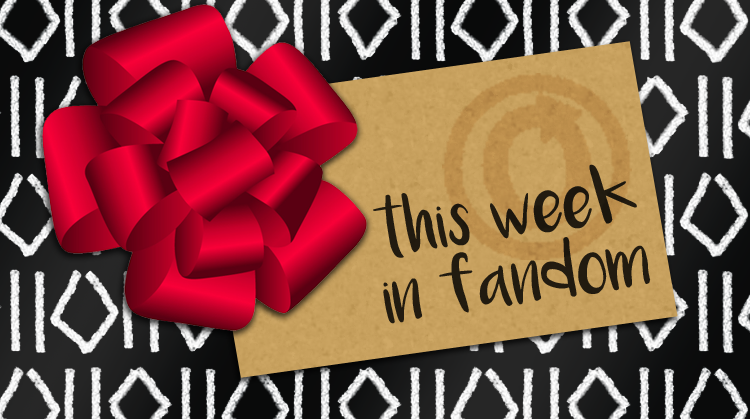 Welcome to This Week in Fandom, the OTW's roundup of things that are happening. This will be the last TWIF of 2019 – we're back on January 7 – so we'd like to take this opportunity to wish all of our readers season's greetings and a happy new year. What has been your fandom highlight of 2019? Let us know in the comments! (Here's ours…)
---
We were also feeling the festive cheer this week at GQ.com, where Gabriella Paiella offered up 'an oral history of the Folgers Incest Ad'. If you haven't seen the ad (in particular, if you're outside North America), it's worth taking the time to learn a little more about this much-parodied piece. We like the article because it's interested in why some media properties prove so fertile as inspiration for transformative works: not only parody and memes, but fic. Alongside her interviews with the team members involved in making the original advert, Paiella speaks directly with a number of fanfiction writers to get their perspective on what prompted them to contribute to the "Folgercest" fandom. More of this type of thinkpiece, please!
---
There was controversy in the American Gods fandom this week, as actors Orlando Jones and Mousa Kraish announced that they had been let go from the hit Starz show. American Gods is based on the Neil Gaiman novel of the same name and was originally created for TV by Bryan Fuller and Michael Green. The next showrunner, Hannibal writer Jesse Alexander, left the show after a single season; Walking Dead producer Charles Eglee was recently named as his replacement for season 3.
In an emotional video posted to his Twitter on December 14, Jones discussed the firing and suggested that Eglee was behind the decision: "he thinks that Mr. Nancy's angry, 'get s— done' is the wrong message for black America".
https://twitter.com/TheOrlandoJones/status/1205836143897579520
Fremantle, the show's producers, say that they simply decided not to renew Jones's contract; but as of December 17, Jones is considering legal action.
---
The most recent instalment of Syfy's 'Read This Fanfiction' series focuses on podfic, turning the spotlight on what journalist Kristina Manente sees as an underappreciated genre. The article includes interviews with podficcers and podfic fans, posts links to specific podfics, and also offers a potted history of the audiofic tradition. It also draws out nicely the sort of collaborative effort that is involved in podfic and which is one of the best aspects of fan production. As Manente writes, 'Podfics are a labor of love – and it shows.'
---
We've mentioned Looking for Leia, Annalise Ophelian's docuseries about Princess Leia and the women of Star Wars fandom, a couple of times in this newsletter. Well, you'll finally be able to see it very soon! The seven-part series will begin screening on SYFY on 21 December, with the first two episodes appearing back-to-back. It'll also be available on YouTube, amongst other places. Want to know more? Annalise was on this week's Skytalkers podcast to discuss fan culture and a whole bunch more.
---
And finally, this has been a good week for Hamilfans. Lin-Manuel Miranda posted the first trailer for the In the Heights movie and everybody's favorite resentful ex(-monarch) Jonathan Groff popped up on The Tonight Show, singing Christmas tunes with his Glee castmate Lea Michele. Treats for all!