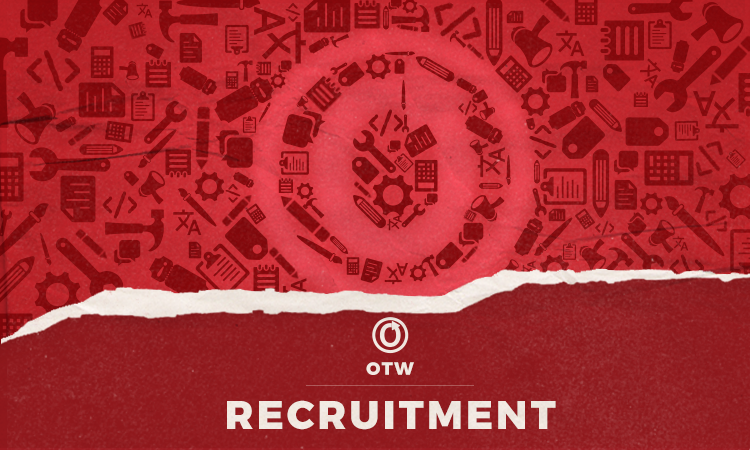 Are you a fan studies scholar (senior PhD students or early post-PhD career)? The Organization for Transformative Works is recruiting!
We're excited to announce the opening of applications for:
TWC Assistant Editor – closing 31 MAY 2023 at 23:59 UTC
We have included more information on each role below. Open roles and applications will always be available at the volunteering page. If you don't see a role that fits with your skills and interests now, keep an eye on the listings. We plan to put up new applications every few weeks, and we will also publicize new roles as they become available.
All applications generate a confirmation page and an auto-reply to your e-mail address. We encourage you to read the confirmation page and to whitelist our email address in your e-mail client. If you do not receive the auto-reply within 24 hours, please check your spam filters and then contact us.
If you have questions regarding volunteering for the OTW, check out our Volunteering FAQ.
TWC Assistant Editor
Transformative Works and Cultures seeks 1 or 2 assistant editors as part of building a leadership pipeline for the journal and in the field more broadly.
Duties
Under the supervision of the editors, the assistant editors will assist with editorial review of new submissions, managing the peer review process, and communicating with authors. Estimated time commitment is approximately 1 hour per week.
Qualifications
Applicants should be senior PhD students (ABD) or early career scholars (fewer than 5 years post-PhD)
Applicants should have a record of peer-reviewed publications.
Applicants need not be native speakers of English but must be competent in academic prose in English.
Previous editorial experience is appreciated but not required.
As part of our goal to support the ongoing diversification of fan studies, scholars of color and non-Western scholars are particularly encouraged to apply.
Applications are due 31 May 2023