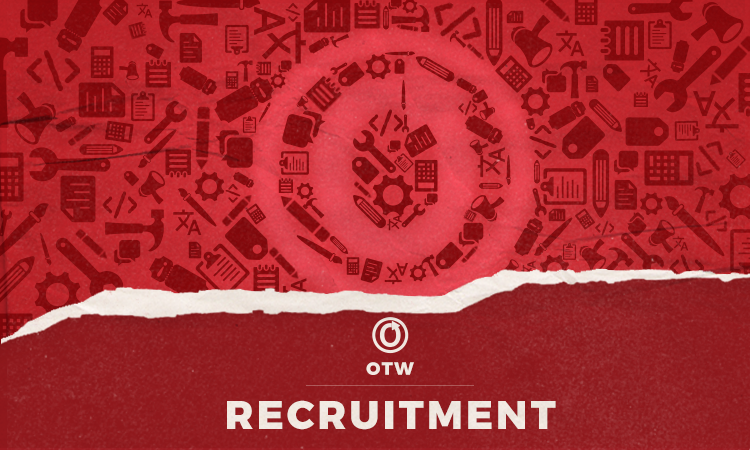 Would you like to assist AO3 users by resolving complaints? The Organization for Transformative Works is recruiting!
We're excited to announce the opening of applications for:
Policy & Abuse Staff – closing 11 August 2021 at 23:59 UTC
We have included more information on each role below. Open roles and applications will always be available at the volunteering page. If you don't see a role that fits with your skills and interests now, keep an eye on the listings. We plan to put up new applications every few weeks, and we will also publicize new roles as they become available.
All applications generate a confirmation page and an auto-reply to your e-mail address. We encourage you to read the confirmation page and to whitelist our email address in your e-mail client. If you do not receive the auto-reply within 24 hours, please check your spam filters and then contact us.
If you have questions regarding volunteering for the OTW, check out our Volunteering FAQ.
Policy & Abuse Staff
The AO3 Policy & Abuse Committee is dedicated to helping users deal with the various situations that may arise. We also handle any complaints that come in about content uploaded to the Archive of Our Own. The team determines if complaints are about legitimate violations of the Terms of Service, and what to do about them if they are; our major goals are to adhere to the TOS, to make our reasoning and processes as clear and transparent as possible, and to keep every individual case completely confidential. We work closely with other AO3 related committees such as Support and Content.
We are seeking people who are self-motivated, are patient in rephrasing explanations, can make and document decisions, cooperate within and outside of their team, and ask for help when it's needed. Staffers need to be able to handle complex and sometimes-disturbing content, and must be able to commit a sufficient amount of time to the team on a regular basis.
Policy & Abuse staffers are required to spend at least 10-15 hours a week handling committee work, though it often tends to be more. Please be sure you can handle the workload before applying.
Please note: You must be 18+ in order to apply for this role.
Applications are due 11 August 2021