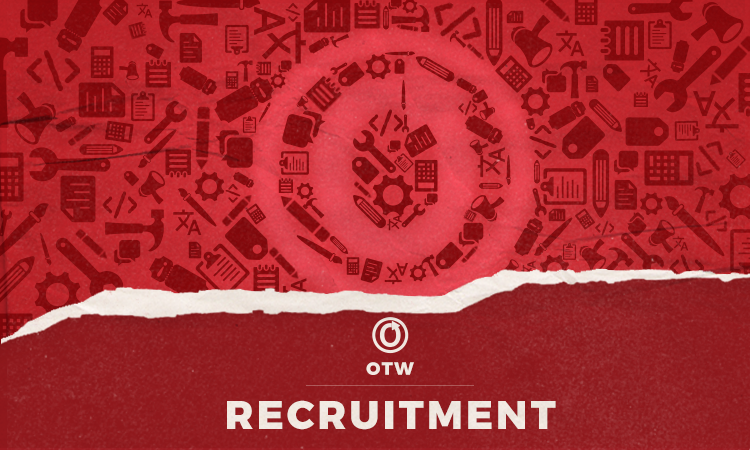 Are you interested in the rescue and preservation of fanworks? Enjoy coordinating projects and liaising with people? Still guiltily–or not so guiltily–love the first fanwork that opened your eyes to fandom?
We're excited to announce the opening of applications for:
Open Doors Administrative Volunteer – closing 20 September 2023 at 23:59 UTC [or after 30 applications]
We have included more information on each role below. Open roles and applications will always be available at the volunteering page. If you don't see a role that fits with your skills and interests now, keep an eye on the listings. We plan to put up new applications every few weeks, and we will also publicize new roles as they become available.
All applications generate a confirmation page and an auto-reply to your e-mail address. We encourage you to read the confirmation page and to whitelist our email address in your e-mail client. If you do not receive the auto-reply within 24 hours, please check your spam filters and then contact us.
If you have questions regarding volunteering for the OTW, check out our Volunteering FAQ.
Open Doors Administrative Volunteer
Open Doors is a committee dedicated to preserving fanworks in their many formats, and we're looking for volunteers to support this goal. The work we do preserves fan history, love, and dedication to fandom: we keep fanworks from offline and at-risk archives from being lost, divert fanzines from the trash, and more.
Our work is largely centered on long-term projects. Each archive import involves completing over 100 detail-oriented steps, and our administrative volunteers take point on multiple imports at once. During waiting periods for one's archive imports, there are plenty of opportunities for other tasks to claim, such as resolving creator requests, keeping our documentation up-to-date, and assisting with internal projects.
If you want to preserve published fanzines and offline and at-risk archives, are self-motivated, enjoy complex projects with long timelines, and have availability on at least two days a week, the role of Open Doors administrative volunteer may be a good fit for you! If you're interested, click on through for a fuller description of what we're looking for and the time commitment. For your application to be considered, you will be required to complete a short task within 3 days of submitting your application.
Applications are due 20 September, 2023 [or after 30 applications]
Apply at the volunteering page!
If you have further questions, please contact us.
---
The Organization for Transformative Works is the non-profit parent organization of multiple projects including Archive of Our Own, Fanlore, Open Doors, Transformative Works and Cultures, and OTW Legal Advocacy. We are a fan run, entirely donor-supported organization staffed by volunteers. Find out more about us on our website.