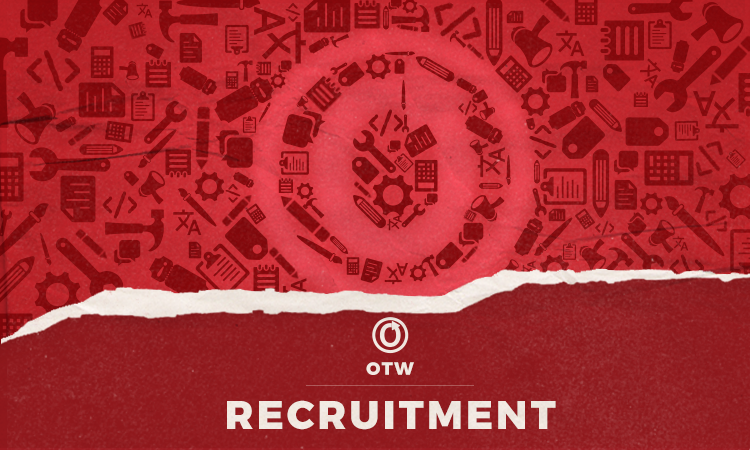 Are you interested in the rescue and preservation of fanworks? Are you fluent in a language other than English? The OTW is recruiting for Open Doors Administrative Volunteers and Translation Volunteers!
We have included more information on the roles below. Open roles and applications will always be available at the volunteering page. If you don't see a role that fits with your skills and interests now, keep an eye on the listings. We plan to put up new applications every few weeks, and we will also publicize new roles as they become available.
All applications generate a confirmation page and an auto-reply to your e-mail address. We encourage you to read the confirmation page and to whitelist our email address in your e-mail client. If you do not receive the auto-reply within 24 hours, please check your spam filters and then contact us.
If you have questions regarding volunteering for the OTW, check out our Volunteering FAQ.
Open Doors Administrative Volunteers
Are you interested in the rescue and preservation of fanworks? Enjoy coordinating projects and liaising with people? Still guiltily–or not so guiltily–love the first fanwork that opened your eyes to fandom?
Open Doors is a committee dedicated to preserving fanworks in their many formats, and we're looking for volunteers to support this goal. The work we do preserves fan history, love, and dedication to fandom: we keep fanworks from offline and at-risk archives from being lost, divert fanzines from the trash, and more.
Our work is largely centered on long-term projects. Each archive import involves completing over 100 detail-oriented steps, and our administrative volunteers take point on multiple imports at once. During waiting periods for one's archive imports, there are plenty of opportunities for other tasks to claim, such as resolving creator requests, keeping our documentation up-to-date, and assisting with internal projects.
If you want to preserve published fanzines and offline and at-risk archives, are self-motivated, enjoy complex projects with long timelines, and have availability on at least two days a week, the role of Open Doors administrative volunteer may be a good fit for you! If you're interested, click on through for a fuller description of what we're looking for and the time commitment. For your application to be considered, you will be required to complete a short task within 3 days of submitting your application.
Read the Position Description and Apply!
Applications will close on 9 February 2022 or once 40 applications have been received.
Translation Volunteers
If you enjoy working collaboratively, if you're fluent in a language other than English, if you're passionate about the OTW and its projects, and want to help us reach more fans all around the world, working with Translation might be for you!
Translation volunteers help make the OTW and its projects accessible to a wider global audience. We work on translating content by the OTW and its projects from English to other languages, such as site pages, news posts, AO3 FAQs and AO3 Support emails. (However, we do not translate fanworks.)
We really need volunteers who speak Bengali, Bulgarian, Estonian, Filipino, Greek, Hebrew, Hindi, Korean, Kyrgyz, Lithuanian, Macedonian, Marathi, Romanian, Serbian, Sinhala, Slovenian, Thai and Welsh—but help with other languages would be much appreciated. If you're interested in starting a team for a language we don't have yet, you're very welcome to!
(Please note that our Afrikaans, Arabic, Catalan, Chinese, Croatian, Czech, Danish, Dutch, Finnish, French, German, Hungarian, Indonesian, Italian, Japanese, Malay, Norwegian, Persian, Polish, Portuguese-BR, Portuguese-PT, Russian, Slovak, Spanish, Swedish, Turkish and Vietnamese teams are not accepting new members at this time.)
Applicants may be asked to translate and correct short text samples and will be invited to a chatroom interview as part of the selection process. More information about us can be found on the Translation committee page.
Read the Position Description and Apply!
Applications are due February 9, 2022