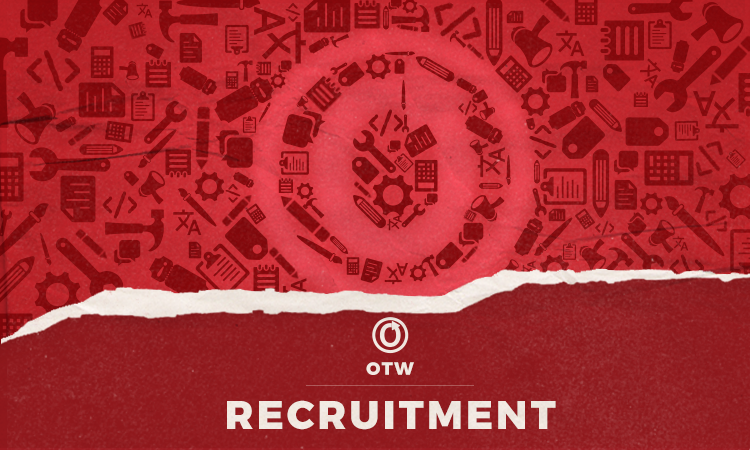 Do you love meta and research on fans? Or would you like to help translate OTW/AO3 news posts? The Organization for Transformative Works is recruiting!
We're excited to announce the opening of applications for:
Communications Fanhackers Staff – closing 21 April 2021 at 23:59 UTC
Translation News Volunteers – closing 21 April 2021 at 23:59 UTC
We have included more information on each role below. Open roles and applications will always be available at the volunteering page. If you don't see a role that fits with your skills and interests now, keep an eye on the listings. We plan to put up new applications every few weeks, and we will also publicize new roles as they become available.
All applications generate a confirmation page and an auto-reply to your e-mail address. We encourage you to read the confirmation page and to whitelist our email address in your e-mail client. If you do not receive the auto-reply within 24 hours, please check your spam filters and then contact us.
If you have questions regarding volunteering for the OTW, check out our Volunteering FAQ.
Communications Fanhackers Staff
Do you love meta and research on fans? Are you familiar with Transformative Works and Cultures and other fan studies research? Are you interested in volunteering for the OTW? Great! Fanhackers is a project and blog that aims to make fan studies research accessible to fans. The Fanhackers team is currently looking for someone who can spare a few hours a week to help us collate, curate, compile, and manage academic work on fans and fannish meta. We would love someone with a good knowledge of fan studies (both historical and current) who is interested in communicating complex research to a more general audience.
Communications staffers are responsible for the distribution of information internally to OTW personnel and externally to the general public, the media, fans, and other fannish organizations. Communications is also typically the first point of contact for someone interested in or wanting help from OTW.
Applications are due 21 April 2021
Translation News Volunteers
Would you like to help translate OTW/AO3 news posts? We are looking for volunteers of native or near-native fluency in their target languages, who can translate or beta news posts within five-day deadlines. If you enjoy working collaboratively, if you're fluent in a language other than English, if you're passionate about the OTW and its projects, and want to help us reach more fans all around the world, working with Translation might be for you!
We particularly need people for Afrikaans, Arabic, Bengali, Bulgarian, Croatian, Czech, Danish, Dutch, Estonian, Filipino, Finnish, Greek, Hebrew, Hindi, Hungarian, Indonesian, Japanese, Korean, Kyrgyz, Lithuanian, Macedonian, Marathi, Norwegian, Persian, Romanian, Russian, Serbian, Sinhala, Slovak, Slovenian, Thai, Turkish and Welsh —but help with other languages would be much appreciated.
(Please note that our Catalan, Chinese, French, German, Italian, Malay, Polish, Portuguese-BR, Portuguese-PT, Spanish, Swedish, Ukrainian and Vietnamese teams are not accepting new members at this time.)
Applicants may be asked to translate and correct short text samples and will be invited to a chatroom interview as part of the selection process. More information about us can be found on the Translation committee page.
Applications are due 21 April 2021