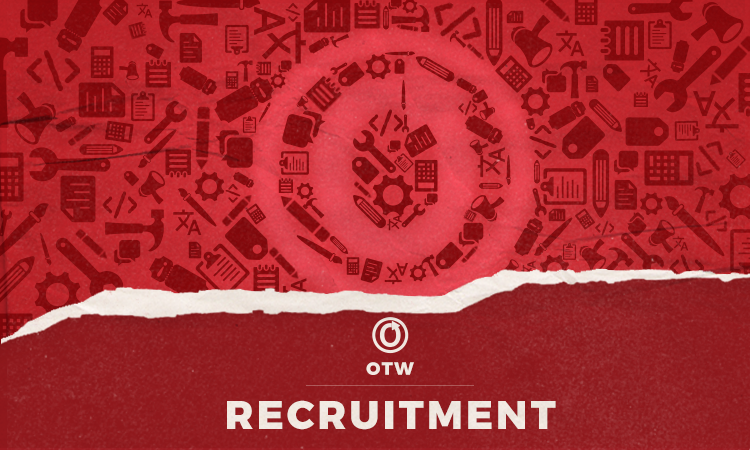 Are you an awesome beta or a writer with an eye for technical details? Are you a digital artist interested in the OTW's work? Would you like to assist AO3 users by resolving complaints? Do you have experience with organizational governance? Can you translate from another language? The Organization for Transformative Works is recruiting!
We're excited to announce the opening of applications for:
AO3 Documentation Staff – closing 24 February 2021 at 23:59 UTC or after 80 applications
Communications Graphics Volunteers – closing 24 February 2021 at 23:59 UTC or after 40 applications
Policy & Abuse Staff – closing 24 February 2021 at 23:59 UTC
Strategic Planning Staff – closing 24 February 2021 at 23:59 UTC
Translation Volunteers – closing 24 February 2021 at 23:59 UTC
We have included more information on each role below. Open roles and applications will always be available at the volunteering page. If you don't see a role that fits with your skills and interests now, keep an eye on the listings. We plan to put up new applications every few weeks, and we will also publicize new roles as they become available.
All applications generate a confirmation page and an auto-reply to your e-mail address. We encourage you to read the confirmation page and to whitelist our email address in your e-mail client. If you do not receive the auto-reply within 24 hours, please check your spam filters and then contact us.
If you have questions regarding volunteering for the OTW, check out our Volunteering FAQ.
AO3 Documentation Staff
Do you enjoy helping others learn about AO3? Are you an awesome beta, or a writer with an eye for technical details? If so, then please consider joining Docs!
AO3 Documentation is the committee that writes and updates AO3 FAQs, tutorials, and more. We're looking for people who love the Archive of Our Own and who have experience relevant to writing and proofreading user help documentation. If that sounds like you, then please follow the link for more information and apply today!
Applications are due 24 February 2021
Communications Graphics Volunteers
Are you a digital artist interested in the OTW's work? The OTW Communications committee is looking for graphic designers to create digital art for our news posts and other official documents. Communications is the main information distribution team for the OTW. We manage the OTW News blog and related social media accounts, and we assist other teams in managing project-specific communication. If you would like to join the OTW and help bring fandom news to the public, click through to learn more about the role and apply to join as a Communications Volunteer.
Applications are due 24 February 2021
Policy & Abuse Staff
The AO3 Policy & Abuse Committee is dedicated to helping users deal with the various situations that may arise. We also handle any complaints that come in about content uploaded to the Archive of Our Own. The team determines if complaints are about legitimate violations of the Terms of Service, and what to do about them if they are; our major goals are to adhere to the TOS, to make our reasoning and processes as clear and transparent as possible, and to keep every individual case completely confidential. We work closely with other AO3 related committees such as Support and Content.
We are seeking people who are self-motivated, are patient in rephrasing explanations, can make and document decisions, cooperate within and outside of their team, and ask for help when it's needed. Staffers need to be able to handle complex and sometimes-disturbing content, and must be able to commit a sufficient amount of time to the team on a regular basis.
Policy & Abuse staffers are required to spend at least 10-15 hours a week handling committee work, though it often tends to be more. Please be sure you can handle the workload before applying.
Please note: You must be 18+ in order to apply for this role.
Applications are due 24 February 2021
Strategic Planning Staff
The Strategic Planning Committee is recruiting for new staff members! We are a close-knit and collaborative committee of people who are tasked with researching, developing, and supporting the implementation of the strategic plan. We are looking for organized people well-versed in writing and social science research methods, with knowledge of or a background in organizational change processes and/or nonprofit governance. Knowledge of agile project management, surveying, and interviewing are all pluses, but not requirements. We welcome all perspectives and are actively interested in people with diverse views on fandom and the OTW!
Applications are due 24 February 2021
Translation Volunteer
If you enjoy working collaboratively, if you're fluent in a language other than English, if you're passionate about the OTW and its projects, and want to help us reach more fans all around the world, working with Translation might be for you!
Translation volunteers help make the OTW and its projects accessible to a wider global audience. We work on translating content by the OTW and its projects from English to other languages, such as site pages, news posts, AO3 FAQs and AO3 Support emails. (However, we do not translate fanworks.)
We really need volunteers who speak Afrikaans, Bengali, Bulgarian, Estonian, Filipino, Finnish, Hebrew, Hindi, Hungarian, Japanese, Lithuanian, Macedonian, Malay, Marathi, Persian, Sinhala, Slovenian, Thai, Ukrainian and Welsh—but help with other languages would be much appreciated. If you're interested in starting a team for a language we don't have yet, you're very welcome to!
(Please note that our Arabic, Catalan, Chinese, Croatian, Czech, Danish, Dutch, French, German, Greek, Indonesian, Italian, Korean, Norwegian, Polish, Portuguese-BR, Portuguese-PT, Russian, Serbian, Slovak, Spanish, Swedish, Turkish and Vietnamese teams are not accepting new members at this time.)
Applicants may be asked to translate and correct short text samples and will be invited to a chatroom interview as part of the selection process.
More information about us can be found on the Translation committee page
Applications are due 24 February 2021