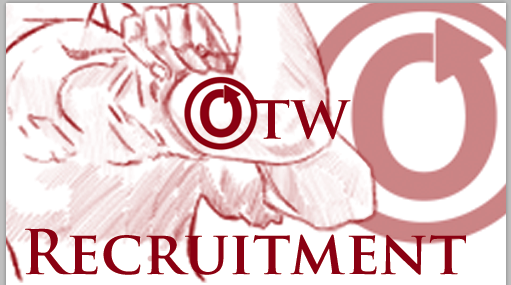 We would like to thank everyone who responded to our previous call for Support Staff and Translation volunteers.
Today, we're excited to announce the opening of applications for:
Elections Staff – closing 24 February 2016 UTC
Tag Wrangling volunteers – closing after 50 applications or 24 February 2016 UTC
Volunteers & Recruiting Staff – closing 24 February 2016 UTC
We have included more information on each role below. Open roles and applications will always be available at the volunteering page. If you don't see a role that fits with your skills and interests now, keep an eye on the listings. We plan to put up new applications every few weeks, and we will also publicize new roles as they become available.

All applications generate a confirmation page and an auto-reply to your e-mail address. We encourage you to read the confirmation page and to whitelist volunteers -(at)- transformativeworks -(dot)- org in your e-mail client. If you do not receive the auto-reply within 24 hours, please check your spam filters and then contact us.
If you have questions regarding volunteering for the OTW, check out our Volunteering FAQ.
Elections Staff
The Elections Committee is responsible for running OTW Board elections. We ensure the fairness, timeliness, and confidentiality of the process. As a team, we update the elections process, communicate with members and other committees about the process, help candidates prepare for and carry out their tasks, and run the election itself.
We are currently looking for Candidate Liaisons to reach out to potential candidates and support them during the election, Communication Specialists to prepare our public news posts and internal announcements, Team Coordinators to organize our efforts and document procedures, and Voting Process Architects to run the election itself and preserve our data security. Applications are due 24 February 2016
Tag Wrangling
The Tag Wranglers are responsible for helping to keep the millions of tags on AO3 in some kind of order! Wranglers follow internal guidelines to choose the tags that appear in the filters and auto-complete, which link related works together. (This makes it easier to browse and search on the archive, whether that's Steve/Tony with tentacles or g-rated Rose/Kanaya fluff.)
If you're an experienced AO3 user who likes organizing, working in teams, or excuses to fact-check your favorite fandoms, you might enjoy tag wrangling! To join us, click through to the job description and application form.
Please note: due to (amazing!) interest in wrangling, we're currently looking for wranglers for specific fandoms only. See the application for which fandoms are in need.Applications are limited to 50 and are due 24th of February 2016
Volunteers & Recruiting Staff
Volunteers & Recruiting staff guide and manage services, policies, recruitment and volunteer management for the entire organization; compose and maintain organization policy and training documentation; and communicate with other committees and workgroups in the Organization for Transformation Works on matters related to organization tools and staffing needs. Volunteers & Recruiting staff also serve as a neutral party for personnel-related issues. Applications are due 24th of February 2016