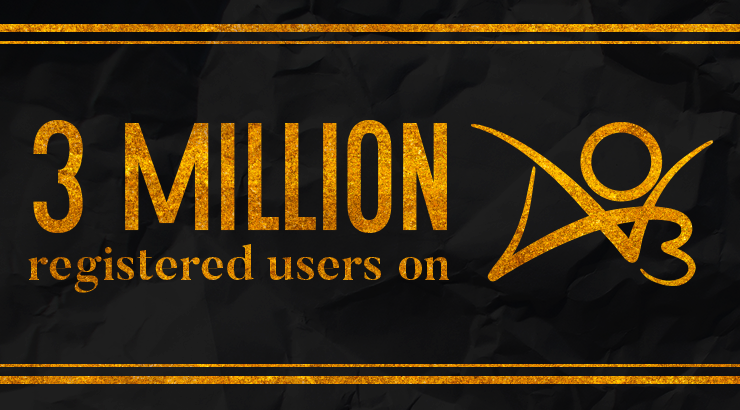 The Organization of Transformative Works is pleased to announce that the Archive of Our Own has now passed 3 million registered users!
After opening to members of the public on November 14th, 2009, AO3 has seen rapid growth. We hit 1 million registered users four years ago on October 31, 2016 and 2 million registered users just over a year ago on July 17, 2019. We could not be more thrilled to have hit this new record.
We absolutely could not have done this without all of you, our users, both registered and unregistered alike, and we cannot thank you enough for helping us to achieve this mind-blowing milestone.
Thank you for all your contributions – your fanworks, your comments, your collection curation and moderation. We hope that this milestone is just one of many more to come, and that you will grow with us as we move forward.
While we're incredibly grateful for all of AO3's users, there are benefits to registering an account! Firstly, you'll be able to access restricted works. Some works are posted so that they can only be accessed by logged-in account holders.
Secondly, registered users have access to AO3 skins that can change their reading experience and can make AO3 more accessible. The Reversi skin is AO3's version of dark mode, and is only one of several options available.
Thirdly, you can get updates on your favorite works or creators by subscribing to them. You won't have to manually refresh the page to see if that fic you're reading updated: you can get a notification right to your inbox. Of course, these are just three reasons, there are many more!
There are lots of ways to become a registered user. You can always request an invitation from AO3. (You can check out the wait time on the Invitation Request Status page.) If you're feeling particularly impatient, you can ask your friends for one of their invitations! Many registered users have a number of invitations they can give away – if you don't want to join the waiting list, that's the way to go.
As a thank you for all of your support throughout the years, we have created a phone screen and desktop wallpaper for you to download. Download them to your devices and join the celebration!

(select image to enlarge)

(select image to enlarge)