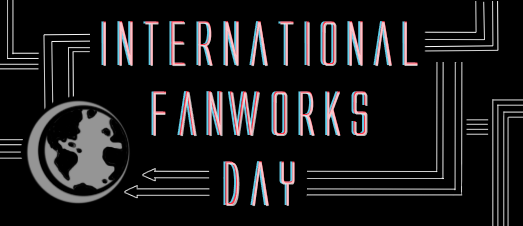 Sadly, International Fanworks Day (IFD) has now come to an end, but here are a few details to share about the day's events.
1) There are hundreds of fanworks in many fandoms recced here and elsewhere for Feedback Fest, so check out those comments. It's also not too late to add your own! Shoutout to the Daily Fandom for their IFD post reminding us of fanworks people don't often remember to rec.
2) To those of you who contributed to our Short Fanworks Challenge, your work might have been signal boosted through our social media accounts! 123 works and counting were posted at AO3 as part of the #IFDShare.
3) We had over 1000 visitors to our chat and game room in the past 30 hours. Congratulations to our prize winners: evansentranced, Ryro, A_Song_to_Say_Goodbye and Zhie.
4) Our 2nd Poetry Round Robin session came up with a ghazal:
Why must we always explain the things we read
Why won't they just leave us alone to read.
I am always looking for a time to read
love the thrill when I get books to read.
Every word written in ink
Words proudly, boldly in ink.
Emotions staunchly bleeding onto pages
Stark against the cleanly cream pages.
They make time go away oh that great page
There is a brand new world on each page.
Our first session of Lyrics Round Robin players came up with a fun rewrite of "All the Single Ladies":
All the clever writers, All the clever writers
All the clever writers, now pick your pens up
Down on the page (page), you've hit writer's block (block), trying to write your own world
Decided to read (read), and now you wanna cry (cry), 'cause another character just died (died)
You up all night, reading that story
Don't pay dawn any attention
Have no fears, no angst nor tears
The ending's almost here
'Cause if you liked it then you should have left a comment
If you liked it then you shoulda left a comment
Don't be sad once you see that they've got a block
Cause if you like it then you shoulda left a comment
What's next?
Fair Use/Fair Dealing Week starts in a few days! From February 22-26, sites around the web will be talking about fair use and fair dealing, the elements of copyright law that make transformative works legal.
This year for Fair Use/Fair Dealing Week, OTW's Legal Committee will be sharing some preliminary responses fans gave to their survey during January's Copyright Week. So keep an eye on OTW News for more.