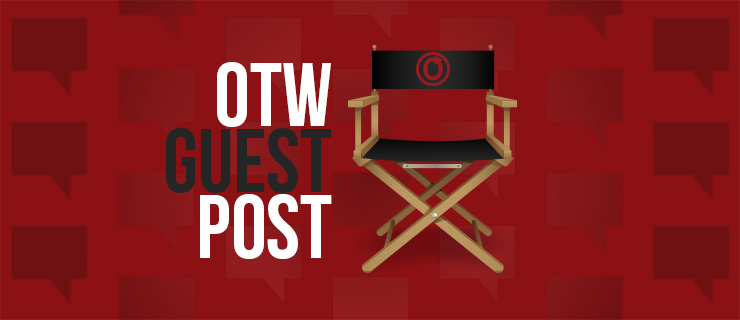 Every month the OTW hosts guest posts on our OTW News accounts to provide an outside perspective on the OTW or aspects of fandom. These posts express each individual's personal views and do not necessarily reflect the views of the OTW or constitute OTW policy.
Walter is a geek by trade, coming into computers via working in a hospital pharmacy back in the 1980s. Computers and fandom are the perfect fit for Walter, and he's been maintaining a place for fandom on the Internet since the early 1990s.. Today, he talks about Squidge.org and its place in fandom.
How did you first find out about fandom and fanworks?
I'd known about fandom pretty much my whole life. My sister was a fan of the original Star Trek, and took me to a convention when I was about 14 years old, where I got to meet the cast of TOS. But my true love of fandom started when X-Files started showing, and I needed to be able to talk to someone about it.
I found a group of like-minded people in a group called The Duchovniks. We were a mailing list out of a university in the Eastern US, but when the person who owned the list graduated, I was asked to take over. That was my first computer/fandom crossover and I realized that fandom – helping people in fandom, giving people space for their own corner of the Internet, etc. was what I was meant to do.
How did Squidge.org come about? What parts came first?
When the Duchovniks ownership changed to me, I realized that we needed to find a new home — and to do that, we would need a domain. So I went to my ISP's storefront – yes, back in 1994 there were storefronts for some ISPs — and purchased my very first domain, Squidge.org.
The first thing I did was find and set up mailing list software so that we could continue talking, and pretty soon others wanted their own mailing lists, so I expanded to do that – via UUCP and dialup (technologies way before most people's time). Then some of the very first personal webpages started up, and my spare laptop for mailing lists got upgraded to a full blown server, hosted in my house with the help of a DSL Internet connection.
Pretty soon people were asking for homepages of their own, and during that time, Squidge.org was one of the few fandom spaces on the Internet. It continues to this day, with most services run on servers out of my home on a business gigabit fiber line.
Squidge.org became a nonprofit this past year. Do you see this as a key development in its history?
Through the years people have asked that I start a non-profit, but I resisted — until my husband had a health scare. I took a hard look at my own mortality as he faced his, and decided that I needed to come up with a way for Squidge.org to outlive me. After a couple of years of research, including reaching out to other organizations for information and such, I filed the paperwork.
While Squidge.org is run primarily by me, now there is a structure in place, with a Board of 5 individuals. So should something happen to me, the Board would decide how to go forward, keeping Squidge.org alive. We're not much; it just takes a few thousand dollars per year to keep everything going, but we're still getting requests for space for artists and authors. There's definitely services needed for artists and authors, and I'm happy to be there for people when they need it. It's why Squidge's logo is, "A space for fandom, because fandom deserves a space."
What gives you the greatest joy in running the sites?
Greatest joy is just knowing that things will be there for generations. We lost Minotaur quite a while ago, but his "Sex tips for slash writers" is still an invaluable resource that people rely on today and regularly gets quite a bit of traffic. What little part I had in something so massive brings a smile to my face. Not only that, but the fact that people recognize that we all need to help one another in this world, so when someone comes to me and asks to volunteer as a tag wrangler or such gives me hope for humanity – when the news spews out such dire headlines with regularity.
How did you hear about the OTW and what do you see its role as?
I know some of the folks who started OTW from when online fandoms started, though I wasn't familiar with their project. When I heard about it, I honestly felt a little sad because it meant Squidge's little corner of the Internet would be getting smaller. But once I saw the enormous potential and just how much it was needed, I got behind them as a donor.
Since then I've learned that you don't have to be the largest to stand out – you just need to do what needs to be done. So when fandom needed image hosting, I put together a service for that. I think that the OTW definitely has a place, and it's truly at the center of fandom, fighting against censorship, fighting for fandom spaces, and paving the way for a bright future for fandom. We all have a responsibility to do that, but I see the OTW as an organization that should be leading the way.
What fandom things have inspired you the most?
Nearly everything about fandom inspires me in one way or another. It's brought me together with wonderful people over the years, including my best friend. And the fact that we're all here for each other is inspiration enough. Fandom has helped people not only understand others, but understand themselves. And it's helped all of us grow in ways we would never imagine.
---
We encourage suggestions from fans for future guest posts, so contact us if you have someone in mind! Or you can visit our Pinboard account to catch up on earlier guest posts.