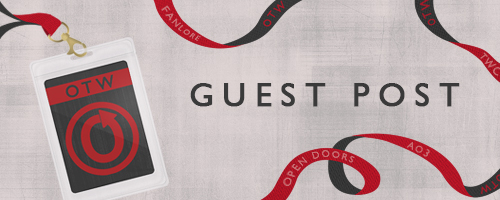 From time to time, the OTW will be hosting guest posts on our OTW News accounts. These guests will be providing an outside perspective on the OTW or aspects of fandom where our projects may have a presence. The posts express each author's personal views and do not necessarily reflect the views of the OTW or constitute OTW policy. We welcome suggestions from fans for future guest posts, which can be left as a comment here or by contacting us directly.
TyphoidMeri, an expat American, lives in Derbyshire, England with her very patient husband, teenage son, a bored house cat, and an overly nosy sausage dog. You can see her art and doll creations on her Instagram. Today, Meri talks about her fandom history and the fanworks she creates.
How did you first get into fandom and fanworks?
The very first bit of fanfiction I wrote was when I was ten or so, of course I didn't know that was what I was doing when I sat down to write an alternative ending to a series of books I'd just finished reading. The book was pretty formulaic stuff, a kid being transported to another world and becoming more than what she was on earth, but in the end she returned home after her series of adventures was complete. I hated it. I was angry with canon, as so many of us grow to be, so I wrote a story to make things better. I wrote fixit fic before I knew what that was, or what fandom was.
It wasn't until high school that I found some nerdy friends who were into some of the same shows as me, namely Star Trek: the Next Generation, Highlander the Series, and The X-Files. But it wasn't until I went to university, with its free access to the internet, that I fully dipped my toes into the waters of fandom and fanworks. I found some lifelong friends and my future husband.
Which came first for you, fanfiction or fanart?
Fanfiction. I didn't read very much back when I was a baby fan, it wasn't really until my late twenties/early thirties that I began to read things here and there that coincided with what I was obsessed with at the time. I didn't write anything myself for the longest time, and even then it was 100 word drabbles hidden in the nowhere that was my sad little LJ blog. The fanart, well, that started out as joining in on a few craft swaps, Alice In Wonderland, Labyrinth, Edward Scissorhands, and TrueBlood I believe, where I made fanart of various characters or things. It was a little bit enlightening to make things for a movie or show that I had in common with another craft blogger.
How has your style as an artist evolved over time?
My journey as an artist, and wow that still feels a little odd calling myself an artist, has been one that has been plagued by mental illness. It's something I am in recovery from still today. Although I have always been creative, drawing, writing, and making things, there have been times where depression has taken those things away from me. For the longest time I stopped doing the things I loved because that negative little voice in my head told me how worthless I was, how useless and talentless. For years I bought it, hook, line, and sinker, but the last few years I've found understanding, love and acceptance in fandom which helped me to seek help and to bring back art into my life.
I am probably known more for my art dolls than anything else I create, and I'm okay with that. They have personality, heart, and maybe a little bit of my soul stitched into them. The first doll I made was perhaps six or seven years ago after stumbling across primitive art dolls and finding a tutorial to make one. The first doll was very simple as she was meant to be, but over time the dolls changed as I found a style that was my own.
A few years ago, after first seeking help for depression and anxiety, and crawling back up with the help of medication and a little bit of CBT (Cognitive Behavioral Therapy) and some encouragement from some outstanding fandom friends on tumblr and AO3, I pulled out a sketchbook. I was slow, but I was creating something. Whereas before I had mostly made dolls from my own imagination, I focused on making dolls of the characters I loved. It blurred the lines between art and fandom, and working on fandom-based art has helped me to take care of myself a little better. I still have work to do to take care of my mental health, but with my art I think I am headed in the right direction.
What is your favorite thing about making art?
That I can do it. Art is a personal thing, but it is also something that you can share publicly. Fanart has a different vibe, even though it is just as personal, because people already love the fandom/character/what-have-you and you are sharing your interpretation of that beloved thing. It's scary at first but I love sharing my creations with my fandom, even when my art is exploring things beyond the Marvel fandom. Working on a piece of art of a character I love has, for me, the same boost as diving into a new fic. It doesn't matter if only a handful of people get it, what matters is that I am making it. That I love it.
How did you hear about the OTW and what do you see its role as?
My introduction to the OTW came with discovering AO3 via tumblr, after running out of fic on Fanfiction.net. The OTW is a non-profit organisation run by fans, for fans, to preserve the history of fanworks and fandom.
What fandom things have inspired you the most?
Everything? I suppose that isn't exactly accurate, not by a longshot, but by far the Marvel/MCU and its fandom have inspired me the most. There are so many fantastic fanartists that inspire me to create. At one point I would have said I shouldn't bother to make art because there are so many better artists within the fandom, but that isn't what fandom is about. Fandom is about love and the expression of that love, be it with fanfiction, fanart, podfic, gif sets, and manips. It's about expression, love and lust, sorrow and rage, the same as art. I'm inspired by the things I see as well as the fandom base. "I make what I want, Thor."
---
Catch up on earlier guest posts