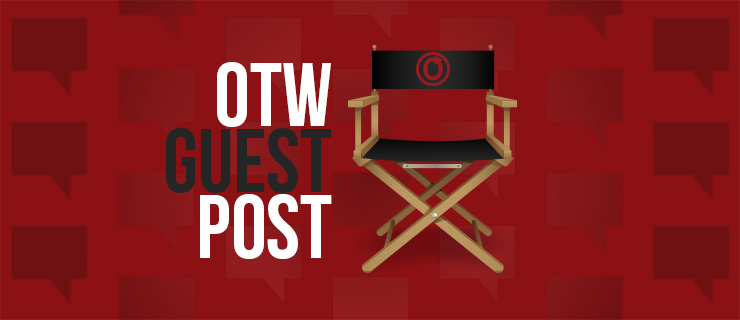 Every month the OTW hosts guest posts on our OTW News accounts to provide an outside perspective on the OTW or aspects of fandom. These posts express each individual's personal views and do not necessarily reflect the views of the OTW or constitute OTW policy.
Sophie Gosling is Adult Learning Manager at the British Library and Assistant Curator for Fantasy: Realms of Imagination. Her contribution to the exhibition focuses on Fantasy fans, fandoms and fanworks. Today, Sophie talks about the fandom connection in the exhibit.
How did you first find out about fandom and fanworks?
Like many people, I seem to have always had a vague awareness of fandom and fanworks. In primary school, my friends and I used to act out scenes as our favourite characters whenever we could – a sort of fandom-as-LARP, before I really knew what either of those things were.
I also drew a lot of (very bad) fanart between the ages of about ten and 16 or 17, mostly featuring characters from Garth Nix's Old Kingdom series, J.R.R Tolkien's The Lord of the Rings, and Terry Pratchett's Discworld, among others. I remember searching DeviantArt for fanart by other people and getting very discouraged at the quality of them compared to my own drawings.
I've only really been thinking about fandom studies for the last four or five years, however, and working on the fannish elements of the Fantasy: Realms of Imagination exhibition has been a great way to develop that.
How did the Fantasy exhibition get developed?
It's been a long time in development! It was first pitched by our lead curator Tanya Kirk way back in 2012 after the British Library's exhibition Out of this World: Science Fiction but not as you know it, and then the idea was revived again in 2019. Matthew Sangster, co-Director of the Centre for Fantasy and the Fantastic at Glasgow University, then came on board as external curator, and the rest of us (myself and colleagues Susan Reed and Rachel Foss) joined up to make up the rest of the curatorial team.

Bilbo: En Hobbit's Aventyr, front cover designed by Tove Jansson, 1962.© Tove Jansson Estate (1962)
Then followed years of developing the exhibition's narrative, choosing objects (including whittling down many that ultimately didn't make the cut), writing object labels, and sourcing loans. Our extremely helpful and generous advisory board – Aliette de Bodard, Neil Gaiman, Roz Kaveney, and Terri Windling – who have also contributed loans and agreed to take part in the events programme gave advice throughout.
There has been a real explosion in Fantasy as it's become more a part of mainstream culture, so it felt really timely to do something – we didn't just want to look at historical aspects of the genre, but also where it is in the present and where it might go in the future. So many interesting things are happening across Fantasy media that we just wanted to celebrate, as well as looking at why Fantasy is so huge right now and what it brings to our lives that other genres don't.
What role does AO3 play in the exhibit?
One of the key themes in the exhibition is the role that fans play in developing and redeveloping the genre, keeping it fresh and vibrant, increasing diversity and representation, and generally having fun with existing works. We thought that inclusion of fanfiction was key as it's so embedded in fan culture and really exemplifies the dedication of the fan community.
So we've included a video visualisation on Fantasy fanfiction, using data from AO3, in the final sub-section of the exhibition – it really helps us to make that point, and it's brilliant to be able to represent AO3 in this way, without having to choose a few individual works out of millions to represent all of fanfiction. The visualisation pulls through live data, so it will be updated throughout the whole run of the exhibition.
What would you like fans to know who come see the exhibit?
Well firstly I'd like them to know that it's open from Friday 27 October 2023 until Sunday 25 February 2024 at the British Library in St Pancras! I don't want to give too much away but there will be a huge range of things to see, including original drafts and drawings for Ursula K. Le Guin's A Wizard of Earthsea, which have never been exhibited in the UK before.

The Book of Drexciya, graphic novel by Abdul Qadim Haqq and Dai Soto © The Drexciyan Empire LLC (2)
We also have props and costumes on loan from a whole range of productions including Wicked and The Dark Crystal, as well as incredible original artwork, books, games, manuscripts and much more.
It's really a love letter to the Fantasy genre, and as a huge fan myself it has just been the best project to work on. I really hope that fans leave with a sense of how wonderful the Fantasy world is and what a lovely thing it is to be a part of it.
How did you hear about the OTW and what do you see its role as?
I've known about AO3 for a long time as I love reading fanfics and have been vaguely aware of the OTW through that. The work you're doing in promoting, supporting, preserving and giving access to fanworks is incredibly important and such a huge resource for so many audiences, from fans to academics.
It's also an area that can be under-recognised by 'traditional' archive spaces, which don't tend to collect these works. It would be a devastating loss if all this amazing content disappeared, so I'm very grateful you exist.
What fandom things have inspired you the most?
It's impossible to go into all the detail I want to here as I could write a whole essay, but for me it's really about the community. I've been very lucky that my experience of fan communities has been almost entirely positive – I know that's not the case for everyone, and I'm eternally grateful that I've had such a good time.
Everyone we spoke to for the exhibition had lovely things to say about their own experiences as well, and the inclusivity of the community. I'm also hugely impressed by the dedication of fans. The detail in the LARP costumes we've borrowed for the exhibition, the authors talking about how they've reworked, built on and paid homage to past works, and the support that people have shown while we've been putting it together, among many other things, have all just been so inspiring and have made it feel totally worthwhile. This exhibition wouldn't exist without Fantasy fans.
[EDITOR'S NOTE: Fantasy: Realms of Imagination is open at the British Library, St Pancras, from 27 October 2023 – 25 February 2024.]
---
We encourage suggestions from fans for future guest posts, so contact us if you have someone in mind! Or you can visit our Pinboard account to catch up on earlier guest posts.