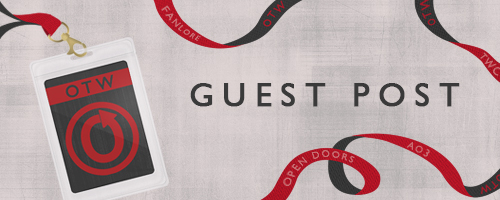 From time to time, the OTW will be hosting guest posts on our OTW News accounts. These guests will be providing an outside perspective on the OTW or aspects of fandom where our projects may have a presence. The posts express each author's personal views and do not necessarily reflect the views of the OTW or constitute OTW policy. We welcome suggestions from fans for future guest posts, which can be left as a comment here or by contacting us directly.
Sharon Marcus is the Orlando Harriman Professor of English and Comparative Literature at Columbia University, and editor in chief of Public Books. Today, Sharon talks about the book she published this year, The Drama of Celebrity, from Princeton University Press.
How did you first find out about fandom and fanworks?
I became a fan long before I knew what a fan was, and my initial experiences of fandom were very out of phase with those around me. When I was around six, in the early 1970s. I saw Errol Flynn on television in the movie Robin Hood (1938) and developed a crush on him. No-one else my age even knew who he was, and my parents mocked him, but I liked his insouciance, his bow and arrow, and the fact that he wore tights.
A few years later, I developed an interest in Vivien Leigh, who died in 1967, a year after I was born. None of my friends had heard of her, either. My earliest experiences of fandom were solitary, mediated, and nostalgic –- the celebrities I became obsessed with had long departed this world. Perhaps as a result, I never thought of myself as a fan, at least not the way my friends were fans of David Cassidy, Farrah Fawcett, or John Travolta. (I did, however, develop an opinion about Charlie's Angels: Jaclyn Smith was my favorite.)
The first times I heard the word "fan" used, it was associated with violence. Irving Wallace's novel The Fan Club became a best-seller in 1974: the plot focused on five male fans who kidnap an actress they're obsessed with so that she'll have sex with them. In 1980, Mark Chapman murdered John Lennon; in 1981, John Hinckley tried to assassinate Ronald Reagan to get Jodie Foster's attention. Fandom seemed excessive, criminal, pathological.
In college and graduate school, I studied nineteenth-century literature and learned that fandom had a long and complex history. The young Charlotte Bronte wrote a fan letter to a favorite poet and asked him for advice about her writing. Charles Dickens' readers felt a personal connection to him that he fostered by addressing them directly in prefaces to his novels and by giving live readings from his works.
Your latest book looks back into the 19th century to see how fans contributed to the development of celebrities. Did your research reveal activity similar to what happens today?
In the nineteenth century, theater was the most important entertainment form. It was driven by actors, not playwrights, and those actors had fans, many of whom created scrapbooks documenting the performers they liked best.
Scrapbooks of yesteryear look a lot like analog versions of what one would find today on Tumblr or Pinterest. I spent a month at Ohio State University studying over a hundred scrapbooks, compiled between the 1850s and the 1940s, that attest to early fan practices. Theater scrapbooks included theater stubs, theater programs, images and text culled from magazines and newspapers. Some compilers singled out favorite performers, sometimes even altering the images of them that they gathered in their albums. One compiler took an image of a married couple performing a decorous love scene in a Shakespeare play and cut out their faces so that she could position them closer to each other on her scrapbook page than they were in the original photograph. A few compilers annotated their scrapbooks, gushing over how talented a particular performer was, or reminiscing about the first time they saw a star in a particular play.
Fan mail was also very common. U.S. actor Edwin Booth (1833-1893) kept hundreds of the letters he received. It was not difficult to get mail to a celebrity: one envelope addressed simply to "Edwin Booth, the celebrated actor, New York," managed to reach him. Fans wrote to Booth in very personal ways, some of which had little to do with his career as an actor: they sent him religious pamphlets, offered unsolicited medical advice, and sent condolences when they read news of an illness or death in his family. He also received lots of sexual propositions, as well as requests for money, jobs, or free acting lessons.
What struck me most, reading letters sent to Booth and to the French opera singer Pauline Viardot (1821-1910), was the connoisseurship of many fans: they wanted to prove that they were careful and sound judges of the performances they admired. They demonstrated their critical prowess by comparing Booth or Viardot to great performers past. Some of Booth's correspondents advised him how to move on stage, how to use his voice, and even how to wear his hair — one of them had a lot to say about the bangs he wore as Brutus in Julius Caesar. Viardot's fans offered technical advice about her singing, noted musical passages she had executed particularly well, and remarked on her costumes. They also wanted to tell Viardot that her singing moved and transported them, connecting them to the composers whose music she sang and to a higher realm of transcendent beauty and truth.
Many 19th-century fans sought more direct contact with stars. Actor Sarah Bernhardt, one of the most famous women of the nineteenth century, received many unsolicited gifts of jewelry from figures who included men and women, monarchs and commoners. When she toured Australia, so many of her admirers reached out to shake her hand that she found it swollen beyond recognition when she made it back to her hotel. Several newspaper stories reported on people who ended up institutionalized after becoming convinced that Bernhardt had promised to marry or adopt them, then abandoned them.
Connecting to a celebrity can also have political and geographical dimensions. Bernhardt became more popular in her home nation after she defied a Prussian diplomat who asked her to join a toast that demeaned France. People in smaller towns like Kansas City were excited when Bernhardt came to perform there; her presence allowed them to prove that they were as sophisticated as larger cities with more of a theater scene.
You identify a number of factors that determine how celebrities, fans, and the media share power. Are there ways in which fan creativity, such as fanworks, contribute to the measurement of a celebrity's merit today?
One distinctive feature of celebrity today is that we can measure it much more readily than in the past: it is now possible to know exactly how many followers celebrities have on various platforms. Fans, not media coverage, have become the measure of celebrity. But that's not what you asked about: you asked about how fan creativity contributes to the measure of celebrity merit.
It's a chicken-and-egg conundrum. Does Harry Potter fan fiction add to J. K. Rowling's stature as a novelist, or was it her stature that inspired the fan fiction? At the same time, fanworks can detract from merit. Many people believe that popularity is at odds with quality — that true merit cannot be imitated and is appreciated only by a select few. Many people expressed contempt for the Twilight novels, without having read them –- all they knew about them was they were popular with young women. Those same people had even greater disdain for the Stephenie Meyer fan fiction that E. L. James wrote in the form of Fifty Shades of Grey.
How did you hear about the OTW or its projects and what do you see its role as?
I learned about OTW when contacted to contribute to this blog, but I wish I'd known about you while researching my book.
What fandom things have inspired you the most?
Early in this project, I was inspired by Marina Abramović's 2010 performance "The Artist is Present" at the Museum of Modern Art, in which she sat in the museum atrium for hours every day and invited others to sit opposite her, one at a time, for as long as they liked, while she maintained eye contact with them. By offering fans a chance to share the spotlight with her, she dramatically increased her own celebrity. (I wrote an article about that exhibit.)
The best fanwork combines adoration and critical distance. I'm a big fan of parodies, spoofs, and burlesques –- forms that thrived in the nineteenth century, and continue to do so today. Past burlesques created exaggerated, silly versions of Verdi operas or Shakespeare plays; today we have shows like Silence!, which turned Silence of the Lambs into a campy musical. Spoofs pay tribute to a beloved person or work and aggrandize the person doing the spoofing, by association. But they also highlight the foibles of the impersonator and the impersonated. Some fanwork is improvisatory: a drag queen named Hedda Lettuce has for years done live commentary in Manhattan movie theaters on favorite films, from All About Eve to The Birds. She's doing awesome fanwork; I only hope someone has been recording her epic snark for posterity.
---
Catch up on earlier guest posts