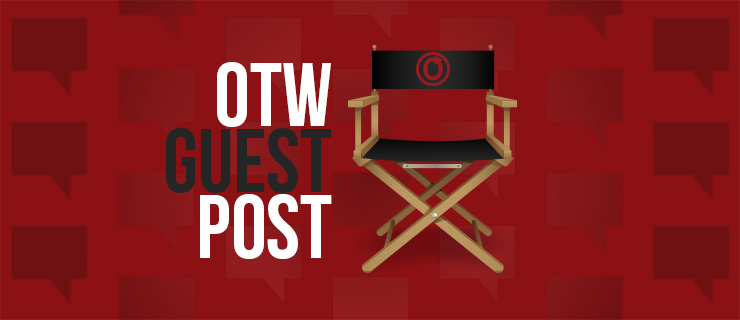 Every month the OTW hosts guest posts on our OTW News accounts to provide an outside perspective on the OTW or aspects of fandom. These posts express each individual's personal views and do not necessarily reflect the views of the OTW or constitute OTW policy.
Sara B. hosts the Talkin' Fanfic Podcast, where she interviews fanfiction authors about their work. Sara is a thirty-something year old female from the same state as Clark Kent, and when not reading and writing fanfiction, she occasionally rides bikes, enjoys snuggling with her boyfriend and her cat, and talking about the Bat-family with her twin sister. Beth works in the litigation management sector and is also a licensed realtor in her state. On AO3 and other online fandom spaces she's known as ChaosBlue, and is the host and producer of The FanFic Maverick Podcast. As OTW celebrates its 14th anniversary this month, Sara and Beth talk about their podcasts and recent collaboration involving fanfiction history and the OTW's role in it.
How did you first find out about fandom and fanworks?
Sara: When Star Wars: The Phantom Menace came out in 1999, I was obsessed with Ewan McGregor's Obi-Wan Kenobi, and my sister and I started reading a kid's book series called Jedi Apprentice. I think I found my first Star Wars fanfic through TheForce.net forums, where I found a link to Jedi Apprentice: Fan Dimension, a fandom-specific fanfiction archive! I couldn't believe I could read about the further adventures of Qui-Gon and Obi-Wan, it totally blew my mind.
Beth: My first introduction to fandom was in 1997, when personal fansites on Geocities and Angelfire were popular. I was absolutely obsessed with a Nickelodeon scifi show called Space Cases, and so of course I was very active on the Spaces Cases AOL message board community. I had my own Geocities Space Cases fansite which was part of the Space Cases webring, and one day while I was browsing other sites on the webring I came across my very first piece of fanfiction. Reading this little fanfiction story about my favorite Space Cases characters was MAGICAL. It lit my soul on fire. I started scouring the internet for fanfiction stories in all the other fandoms I loved and was instantly captured by the creativity and passion of the fanfiction writers I encountered. I've been obsessed with fanfiction ever since. That's 24 beautiful years of joy I've had thanks to the amazing work of fanfiction writers.
What got each of you started in podcasting?
Sara: I grew up watching Charlie Rose, and always thought what a great job that would be, just interviewing interesting people about their passions. Fanfiction has been the one through-line passion of my life, both reading and writing. And then with Joe Rogan popularizing long-form interviews via a podcast, it just seemed so obviously cool to connect with these anonymous authors who pour their blood, sweat, and tears into work, for free, and to talk to them about their work. And oftentimes their closest friends and family don't even know about this rich fandom life or the work they produce. So I wanted to help normalize fanfiction, I wanted to celebrate it, but mostly I wanted to talk to people like me who never get to talk out loud about their passion. And take it seriously, you know, there were a lot of podcasts reading 'bad' fanfiction out loud for laughs. I didn't have any interest in that.
I should also say that the way I was able to put myself out there was that in 2019 I found the Cobra Kai fandom, which was small but mighty at the time. There was a core group of authors on a Discord, we called ourselves "the Quiver" and the camaraderie and support there was incredible, I'd never experienced fandom like that. That fandom was and is unique in that the mainstream fandom wasn't totally divorced from the fanfiction folks, particularly because of Peter and Brihana (an author herself, Brihana25 on AO3) from the "Cobra Kai Kompanion" podcast. Peter started CKK and built a fan community around Cobra Kai, and Brihana pulled in the fanfiction audience. CKK sustained the core fanbase at a time when the show's future after Youtube sold the show was uncertain. During the platform switch and the pandemic, CKK was putting out community building content and events like online "Sunday Night Trivia Night", when we didn't even know if there would be a next season. Peter has been a podcast mentor for me, and Brihana was the first person I contacted for an interview. The CKK audience listened to my interviews, and helped me build an audience. Thank you CKK, now say it with me– Cobra Kai Never Dies!
Beth: I strongly believe that fanfiction writers are artists in their own right. Artists who are published or have their work distributed by established corporate media channels often have access to platforms that celebrate and showcase their work, but since fanfiction writers publish independently through online archives there are very few platforms available to spotlight them.
I started The FanFic Maverick Podcast to recognize fanfiction writers for their artistic contributions to the world, to celebrate the work they do, and to provide a platform where fanfiction can be respectfully discussed as a valid form of literary storytelling.
Most episodes of The FanFic Maverick feature interviews with different fanfiction writers. Writers come on to talk about their fics and fandoms, share writing advice, and discuss their thoughts on fanfiction as a cultural phenomenon. This year alone I've had the great privilege of interviewing 19 separate fanfiction writers from all over the world, and I am constantly humbled by the beautiful insights they bring to the show. More than anything, my goal with podcasting is to give something back to the community of writers who have given so much to me.
How did the idea for the fanfiction history episode (and collaboration) come about?
Sara: Beth reached out to me last year to come onto The Fanfic Maverick Podcast to talk about a Cobra Kai fic I wrote and I was just thrilled, even more so after the interview, because I was so impressed with her interview skills, her organization, her professionalism, and her easy demeanor. She was so easy to talk to, so funny, and I felt that she was a kindred spirit interested in the same serious discussion of fanfiction that I was. We were just instant friends, and I knew she was a history major in college so that when I had the idea of digging into fanfiction history, there wasn't any other person I wanted to collaborate with.
Beth: Sara and I had already been talking about wanting to collaborate on an episode together at some point, and then she started reading The Fanfiction Studies Reader which really awakened a desire to start researching fandom and fanfiction history. Sara reached out to me in April proposing that we collaborate on a fanfiction history episode with an emphasis on the importance of AO3, the OTW, and the events that led up to the creation of the organization.
I was immediately on board with this idea. We both felt that it was important to help our community understand the historical context that made the OTW's existence necessary, especially now when we have a whole new generation of fanfiction writers who are simply too young to remember what fanfiction life was like before AO3.
Our collaboration turned into a two part series. Part I is hosted on the Talkin' Fanfic Podcast and features a comprehensive timeline of fanfiction history including ancient literature, fanzines, fansites, fandom specific fic archives, purges, legal actions against fans, the LJ strikethroughs, FanLib, and the creation of the OTW and AO3.
Part II is hosted on The FanFic Maverick and in that episode our guests Franzi and Allronix share their unique fanfiction history memories and perspectives. We're so grateful to them for agreeing to come on and participate!
The project was an absolute joy to be part of. Sara is the most incredible podcaster and she's also an amazing friend. Working with her was wonderful!
How did you hear about the OTW and what do you see its role as?
Sara: I joined the Archive in 2016, but I think I was lurking without an account for a few years before that. I learned about AO3 from a fabulous author named Warpony, whom I met and befriended in the Star Trek (2009) fandom. I was still on Fanfic.net and she was like, "Oh, you need to be over here. It's way better."
After educating myself about the OTW, I see the organization as a group of fanfiction champions, who act as stewards to protect, preserve, and advocate for the ineffable primal human instinct to tell stories, unbridled by the constraints of commercialization of art. Fanfiction has never had a haven like it, protected by people who understand copyright law, people uninterested and unable to commercially exploit the hard work of fanfiction authors, and people who truly believe in the purpose of fanfiction. I think it's just the /best/ thing.
Beth: I first heard about the OTW sometime in 2013. As a daily visitor to AO3, I became curious about the organization behind the archive and spent an entire afternoon on the OTW website reading and educating myself on the OTW's purpose and mission.
I like thinking of the OTW in fandom terms. Since I'm a big Marvel fan, I see the OTW as a group of assembled Avengers whose primary mission is to preserve fanworks and provide a stable archive environment free from unjust censorship. Thanks to initiatives like Fanlore, the OTW is also in many ways the keeper of our history. Finally, the OTW is the vibranium shield that protects fanfiction writers from legal onslaught and advocates for our legal fair use right to produce and archive transformative works.
What fandom things have inspired you the most?
Sara: Reading astolat's "An Archive of One's Own" essay on LiveJournal. Just seeing the roadmap laid out like that, seeing all of the comments on the post, and then seeing how quickly the nonprofit was established. That kind of rallying together of a huge group of people blows my mind, and I'm so grateful that that group of people did what needed to be done. Fanfiction was at a real hinge moment in 2007, directly following the Fanlib and Fandom Inc. incidents, and the Strikethrough purge on LiveJournal. Who knows where we'd be if that group hadn't stepped up and built their own door; and what art we would surely be without.
Beth: Honestly, it's the people in our fanfiction communities that have inspired me the most. While no community is perfect, the majority of fanfic writers I've met are some of the kindest and most compassionate people I know.
---
We encourage suggestions from fans for future guest posts, which can be left as a comment here or by contacting us directly. Visit our Pinboard account to catch up on earlier guest posts.