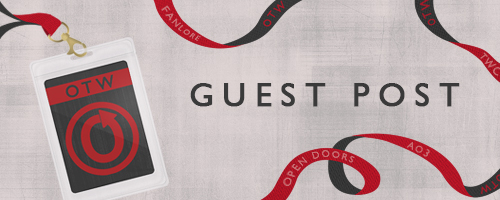 From time to time, the OTW will be hosting guest posts on our OTW News accounts. These guests will be providing an outside perspective on the OTW or aspects of fandom where our projects may have a presence. The posts express each author's personal views and do not necessarily reflect the views of the OTW or constitute OTW policy. We welcome suggestions from fans for future guest posts, which can be left as a comment here or by contacting us directly.
Jonathan Alexander is Chancellor's Professor of English at the University of California Irvine. The author, co-author, or coeditor of 16 books, he writes frequently about literacy, multimedia and digital forms of composing, and issues of social difference and justice. Rebecca Black is an Associate Professor of Informatics at the University of California, Irvine. She studies the role of digital media and popular culture in how young people learn, develop, and play. Today, they talk about their recent collaboration studying fanfiction.
How did you first find out about fandom or fanworks?
JA: I've long been a fan myself, particularly of science fiction and SF film and television, and have written in the past as (what Henry Jenkins calls) an "acafan" — an academic who also studies fandoms and the popular genres that we enjoy in our "private" lives. I've written about comics, graphic novels, SF, and most recently young adult fiction. In my most recent scholarly book, Writing Youth: Young Adult Fiction as Literacy Sponsorship, I look at how many young adult novels model for young people ways to manage the various media tools that surround them. But I also examine the kinds of media content — including short films or video trailers —- that young people make in response to their favorite Young Adult (YA) novels and narratives. I'm interested in how young people use popular narratives -— from Hunger Games to Harry Potter — to think about their lives, their worlds, and their futures.
RB: I wrote paper-based fanfiction when I was young, but I didn't find out about online fanfiction until I was in graduate school. Before graduate school, I had been a classroom teacher and became interested in how popular culture can promote language learning. In graduate school, I was part of a research team investigating how video games can support language and literacy development. It was then that I stumbled across Fanfiction.net. I was fascinated to find that there were so many young people reading and writing stories online, especially given how much of the popular press was decrying the "literacy crisis" being brought about by technology.
Your recent article focused on neurodiversity representation in fandom and fanworks. What led you to study this particular group?
JA: Both Rebecca and I love YA and we were really interested in what folks were doing with Harry Potter fanfiction, since the Harry Potter universe is very attractive to fanfiction authors. I've long been interested in how different groups, especially marginalized folks such as LGBT young people, see themselves (or don't always see themselves) represented in popular narratives, and how they then use fan media as a way to "write themselves into" the story lines of some of their favorite stories. Rebecca and I realized that there was relatively little scholarship about autism and fan media, even though there is an emerging scholarship about disability and fan media. So we saw an opportunity to contribute to the conversation about autism and neurodiversity in particular.
RB: My response is very similar to Jonathan's. I initially focused on the different kinds of learning that takes place in fan communities -— which, incidentally, is a lot -— but I also became very interested in the ways that fan creations can bring new perspectives and new ways of looking at things into the world. I had a high school student approach me about doing a more psychology-based study focused on fanfiction and autism. I don't do that sort of research, but Jonathan and I were able to work with him to come up with a study that had a central focus on how fanfiction featuring neurodiverse characters might offer new ways for people to think about and understand neurological differences.
This article had a multidisciplinary team of researchers. In general, how would you explain to non-academics or fans what the value is in examining fanworks and fandom across disciplines?
JA: Fan media is a way for people to "talk back" to the larger culture industries that produce so much of the popular content circulating in our culture —- from movies and television shows, to pop songs and novels. Fans can imagine these popular narratives differently through their own writing, introducing characters, topics, issues, and themes that they aren't seeing. Interestingly enough, media makers pay increasing attention to this fan content, seeing ways they can broaden their own media making to address the needs and interests of different communities. So fans, especially those who write fanfiction or produce fan media, have more and more impact on what professional content providers make. Studying this dynamic tells us a lot about what kinds of issues and challenges fans are wanting to address, as well as how the culture industry responds to those needs.
RB: Jonathan already mentioned pathways to professional content, but in terms of academic disciplines -— I have a background in Education, and we had a graduate student, Vicky Chen, from the School of Education at UCI, working with us on the project. The way I see our disciplinary connections to education coming through in the project is in the ideas that we put forward for drawing on students' popular cultural and technology interests and expertise in classroom activities as a way to make learning more meaningful and relevant to students' lives.
How did you hear about the OTW and what do you see its role as?
RB: Certain types of fandom have a history of being marginalized. I feel like the OTW provides a platform around which fans can cohere and work towards a better understanding of and advocate for all the positive aspects of fandom.
What fandom things have inspired you the most?
JA: Seeing young people talk seriously in their writing and in their fan media about issues that are important to them —- from sexuality and race to disability and even politics -— is inspiring. I'm encouraged that so many young people, from so many different walks of life and such divergent backgrounds, are finding ways to engage critically with important topics.
RB: I have been inspired by the ways that fandom provides a community for young people who see themselves as existing on the margins of many spaces, such as school or even at home. I've come across many fanfiction writers who use their stories to introduce issues and topics that they are struggling with in their lives. Fandom gives them a safe way to talk about these issues, and provides a way for them to get feedback and support from a community of people they feel connected to through their shared passion for a particular canon.
---
Catch up on earlier guest posts