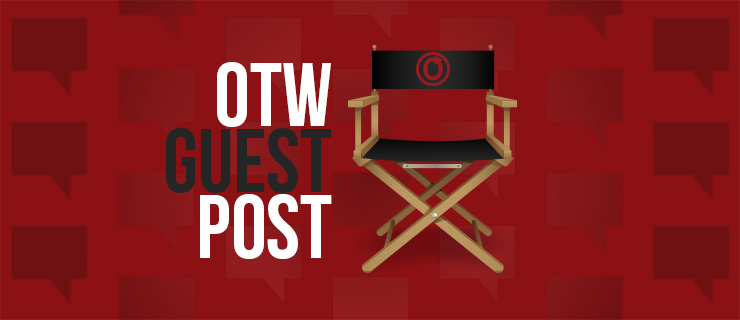 Every month the OTW hosts guest posts on our OTW News accounts to provide an outside perspective on the OTW or aspects of fandom. These posts express each individual's personal views and do not necessarily reflect the views of the OTW or constitute OTW policy.
Olympia Kiriakou is a Visiting Instructor in the School of Communication and Multimedia Studies at Florida Atlantic University. Her research focuses on stardom, gender, and genre in classical Hollywood, Disney, and new media fandom. Her book, Becoming Carole Lombard: Stardom, Comedy, and Legacy (Bloomsbury Academic) is a historical critique of the development and reception Carole Lombard's star persona and career. Today, Olympia talks about her article in Transformative Works and Cultures.
How did you first find out about fandom and fanworks?
My first encounter was when I joined Tumblr as a high school senior in 2008. I first developed an interest in classical Hollywood back in high school through my job at a local video store – I must have spent all my wages on DVDs! While working there, I became fascinated by stars like Carole Lombard, Barbara Stanwyck, and Orson Welles. As I began to research them online, I eventually discovered a wonderful community of like-minded fans on Tumblr who shared their personal photo collections, fanworks, and research. I eventually started my own Tumblr account called "The Screwball Girl" dedicated to old Hollywood stars and, specifically, Carole Lombard (the blog name is a reference to her). Although I don't update my account anymore, I have adopted the same username for all of my social media accounts as an homage to where my fandom flourished!
Thanks to Tumblr, I realized I love researching and writing, so I decided to pursue grad school. I also began to accumulate my own small collection of old Hollywood memorabilia including vintage fan magazines, movie posters, and scripts. Over time, I was inspired to write my PhD dissertation about Lombard and ultimately, this culminated in my first book, Becoming Carole Lombard: Stardom, Comedy, and Legacy.
Your article in TWC discussed fan overreach in trying to commercialize Disney fan accounts. How did this come to your attention?
The Disney fan community is often quite polarized, and some fans joke that there's a new online controversy every day! The debacle surrounding Disflix, a short-lived streaming service created by Disney social media influencers, was one of the few things that seemed to unite our community in common protest — and I wanted to figure out why!
Disney Parks' terms and conditions explicitly prohibits commercial videography and photography, but in actuality, they don't enforce this rule. In fact, Disney encourages fans to make their own media, and many of the most popular vloggers like Tim Tracker and the DIS Unplugged — whose content tends to focus on sharing news and current events — are on Disney's official media list. While they're not on Disney's payroll per se, they are compensated in other ways through invitations to press events, and access to attraction premieres, merchandise events, and resort openings. While they certainly have their detractors in the community, on the whole, I think many Disney fans tend to see these types of vloggers as providing an informative service. They are perceived as an alternative to official Disney PR, and in spite of their relationship with the company, they are thought to provide unbiased news and opinions to the community.
I think the community felt that Disflix was different because it appeared that the fans involved were simply try to monetize existing fan practices and media content. Although Disflix never officially launched, in their promotional material they touted that their service would give subscribers access to things like Periscope live streams of Wishes (the old fireworks show at the Magic Kingdom), and tutorials about how to add hints of Disney to your clothes or home. Disney fans already share this type of content on social media for free, so there was a sense that Disflix was simply a means for these influencers to bolster their own brands without any benefit to the community.
Are there similar events in other fandoms that you're aware of?
An egregious issue related to overreach that I've noticed in both the Disney and old Hollywood fan communities has to do with content ownership. Without naming names, there are a few Disney fan-run websites and social media accounts that are notorious for using other fans' content without consent or proper acknowledgment. I've even seen instances of fans putting watermarks on someone else's photographs! In the past, these people have been called out by the content creator and other fans, but that's about as far as these cases have gone.
These sites generate revenue from traffic and advertising, but they're making money from someone else's labor, which is, of course, both a legal and ethical issue. It is my hope that through increased advocacy by organizations like the OTW that fans come to better understand fair use laws, and recognize that there are networks in place to help protect them from commercial exploitation.
What do you think is behind a pressure for commercialization from the fandom side?
Speaking if I may for the Disney community, I think this pressure stems from the need for fans to feel seen and heard by Disney. And it works! As I discussed in my TWC article, Disney pays close attention to the fan community, and there have been several instances where they create official Disney Parks merchandise based on fan trends including park buttons and the infamous Purple Wall at the Magic Kingdom.
A topical example is face masks. Since the beginning of this pandemic, fans have been selling homemade masks online. They are quite cute and colorful, and feature graphics of fan-favorite attractions and characters like the Haunted Mansion, Spaceship Earth, and the bears from Country Bear Jamboree. I've even bought a couple for myself! In early May, Disney released an official line of face masks on shopDisney.com, which led to a push on Twitter to support fan-run businesses instead.
I think this commercialization also allows fans to retain a sense of ownership of the object of their fandom, in the face of a seemingly limitless and resource-rich multinational corporation. This is already difficult to achieve given that the thing they love is a physical space, so beyond the ownership element, fan-made products give them that tangible connection.
How did you hear about the OTW and what do you see its role as?
I first heard about the OTW during grad school when I began thinking about fandom through an academic lens. It's an incredibly important platform that brings together diverse coalitions to further the development and accessibility of fan studies. Personally, the Open Doors project is the most exciting endeavor that the OTW has undertaken. Preserving fanworks and documents from fan culture enriches the work of fan studies scholars, but critically too, makes these artifacts accessible to those outside of the academy.
What fandom things have inspired you the most?
There are some wonderful podcasts and blogs by classical Hollywood fans and historians. Some of my favorites that focus on women in classical Hollywood include Sass Mouth Dames, Harlow Heaven and, of course, Carole & Co. The exceptional research and care that these fans put into their work demonstrates not only their love for their subjects, but also their eagerness to share their knowledge with their community.
---
We encourage suggestions from fans for future guest posts, which can be left as a comment here or by contacting us directly. Visit our Pinboard account to up catch up on earlier guest posts.