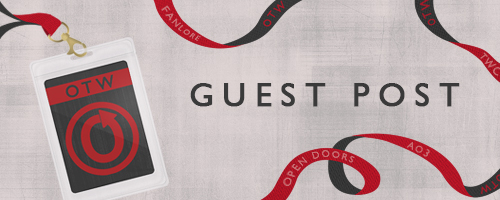 From time to time, the OTW will be hosting guest posts on our OTW News accounts. These guests will be providing an outside perspective on the OTW or aspects of fandom where our projects may have a presence. The posts express each author's personal views and do not necessarily reflect the views of the OTW or constitute OTW policy. We welcome suggestions from fans for future guest posts, which can be left as a comment here or by contacting us directly.
Ngozi Ukazu is the creator of the popular online graphic novel Check, Please!. She graduated from Yale University in 2013 and received a master's in sequential art in 2015 from the Savannah College of Art and Design. Today, Ngozi talks about her work and its fandom.
How did you first find out about fandom and fanworks?
The respectable answer would be through Livejournal, when I first discovered the Boostle fandom in 2004. But the embarrassing and more true answer is through my over-investment in Yugioh in 2003. I discovered, shocked -— oh my gosh. There are other weird kids on the Internet who think Seto Kaiba is hot. Boom. Fandom.
What have you found to be the most rewarding thing about the success of Check, Please! ?
First, the readers. Whenever the comic updates, their excitement is so gratifying. Their enthusiasm for the characters and for Bitty's journey makes my heart swell. The readers have been so vocal about—protective, even—of a positive queer love story. It's validating for everyone. Stories like Check, Please! are desperately needed, and are showing the worlds of comics, publishing, and film that these stories have expansive and enthusiastic audiences.
Second, Check, Please! has allowed me to support other artists that I want to see succeed! And paying it forward satisfies me to no end.
Do you have any new plans or projects for Check, Please! ?
At the moment, the only plans for Check, Please! are to finish Year Four. Though, I've been working on and off on a comic called Madison, which is an 18+ comic that follows Jack and Bitty's first summer as a couple.
How did you hear about the OTW and what do you see its role as?
I wasn't as active in fandom once I started college in 2009, and during that time fandom migrated from Fanfiction.Net and Livejournal to Tumblr and Ao3. That was how I first heard of OTW. And it seemed like a group of people who understood the importance of fandom, and that fandoms need infrastructure in order to thrive.
What fandom things have inspired you the most?
Being in the Star Trek (2009) fandom was the most inspiring moment I've had as a fan. There was not only so much excellent art, there was impressive community building. I'm still looking for a fandom experience like this, and hope it comes through new platforms like Pillowfort and Discord.
---
Catch up on earlier guest posts