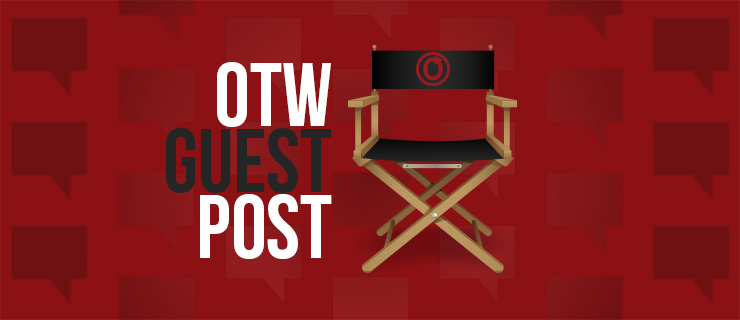 Every month the OTW hosts guest posts on our OTW News accounts to provide an outside perspective on the OTW or aspects of fandom. These posts express each individual's personal views and do not necessarily reflect the views of the OTW or constitute OTW policy.
Natasha Lance is the founder and host of She Squared Podcast, a fan conceptualized and run podcast that operates primarily out of her home office. Professionally, Natasha works in television production in the southern United States and runs a small, independent production company that creates ads for non-profits and helps independent filmmakers make their ideas a reality. Today, Natasha talks about how the podcast came about.
How did you first find out about fandom and fanworks?
I am a married lesbian and have been an author and consumer of fanfiction for decades. I started out in fandom with Xena and Gabrielle from Xena Warrior Princess. I read the fansites and engaged with that tight-knit community. But truly my fandom wold opened up with Swan Queen from Once Upon a Time. I saw the famous mine scene and immediately thought, "Does anyone else see this?" I went looking and tumblr opened my fandom world. It's been a wild ride ever since!
How did your podcast come about?
The podcast came about organically, to be honest. I was talking to a few other fans after having a long commute to work each week. We saw a need for being able to listen to fanfiction while driving and the rest is history. I'd say the most rewarding thing is engaging with the authors and audience and dissecting stories and theories. We strive to engage fans of f/f pairings of all media types. We conduct interviews with authors of fanfiction and actually read the works so that fans can interact with fanfiction in a different way.
What do you find the most rewarding and challenging about podcasting?
The most challenging thing is getting help to keep it going because I work so much. We are always looking for readers, authors, people who want to be interviewed, anyone who wants to talk about fandoms and f/f pairings on shows or games or movies. We also do our own editing to add music and sound effects to the readings to bring the story to life even more. We are a small team, and I'm always looking for volunteers!
How did you hear about the OTW and what do you see its role as?
I was sent the links to OTW from one of our podcast listeners and authors, and honestly we just fell in love. I've known about AO3 for a long time — used to be an author on Fanfiction.net and Yahoo Groups (yep, I'm that old). But AO3 is just far superior in what it does for the community of fanfiction and fanwork users. OTW is so massively important because the way we create art and literature is changing and those works need to be documented and protected. It's mind blowing to see the paradigm of literature and art change. I truly think OTW is instrumental in protecting and maintaining that.
What fandom things have inspired you the most?
I don't have enough words to allow me to answer this, but the dedication and love from authors, artists, vidders for something they love moves me so much. Creators pour their hearts and souls into their work. They put it out into the world not because they have to, but because they love something so much they are compelled to. That is monumentally powerful. Their work is free and for us. Fandom is one huge community and that moves me to help keep that connection going as much as I can.
---
We encourage suggestions from fans for future guest posts, so contact us if you have someone in mind! Or you can visit our Pinboard account to catch up on earlier guest posts.