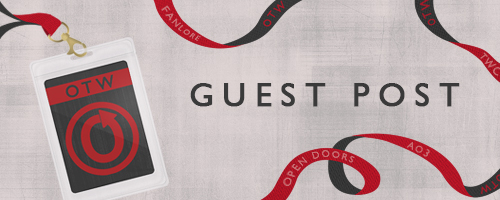 Every month or so the OTW hosts guest posts on our OTW News accounts. These guests provide an outside perspective on the OTW or aspects of fandom where our projects may have a presence. The posts express each author's personal views and do not necessarily reflect the views of the OTW or constitute OTW policy. We welcome suggestions from fans for future guest posts, which can be left as a comment here or by contacting us directly.
Lindsay Ellis is an author and video essayist who creates humorous educational YouTube content about media, narrative and film theory. In addition to her own YouTube channel, she co-writes and hosts the fiction-focused YouTube series "It's Lit!" for PBS Digital Studios. Her debut novel, Axiom's End, comes out July 21. Today, Lindsay talks about fandom and fair use.
How did you first find out about fandom and fanworks?
The year was 2001. I was a rather apathetic atheist in high school in South Tennessee, and I had several classmates who made trying to save my soul into an extracurricular activity. Between my sophomore and junior year, a local youth group paid for me to go on a trip with them to New York for a week of soul-saving fun. I did not find Jesus on that trip, but I did find the Original Broadway Recording of Andrew Lloyd Webber's Phantom of the Opera at the now-defunct Virgin Megastore in Times Square. As soon as I got home, I spent the rest of the summer reading Phantom fanfiction, (or, "Phanfiction" har har). The rest was history.

When do you remember first thinking critically about things you watched?
Roland Emmerich's 1997 film, Godzilla. I remember being so hype for it, and it was the first time I think I realized that movies could be bad.
When you read/watch an academic or fan meta analysis, what do you particularly love to come across? What about an argument do you particularly latch onto?
I'm at a point where I feel like I appreciate tone as much as analysis — I really appreciate creative editing skills. But I don't think you know what argument you'll latch onto until you hear it — a truly interesting argument will be one you hadn't considered.
Many fan video makers have suffered takedowns for works which fell under fair use. What can you share about your own experience?
Fair use is a whole Thing and even people who teach it don't really understand it. The problem with fair use is that it literally is a case-by-case basis, and there is no rigid circumstance for what is and is not considered fair use. But as for using copyrighted material on platforms like YouTube, fair use is rarely the issue, and large copyright holders have all of the power.
Creators try to play by the rules, but the true true is that YouTube does not care about fair use, they claim they do but they don't. Knowing about fair use is fun for educational purposes, but it won't help navigate YouTube. The only thing that matters is ContentID, and what ContentID will and won't ping changes all the time.
How did you hear about the OTW and what do you see its role as?
I remember first hearing about it as an advocacy group that came about in the late 2000's, and at the time AO3 was invite-only. I had left public-facing fandom because of my online video job by the time AO3 was a bit more open, so I never established much of a presence there, but currently I see it as an advocacy group for better understanding of transformative works, fair use and fandom's place within it, as well as a high quality website where people can host their own works. I suppose my current biggest connection to OTW is losing a Hugo Award to you guys. I'm not salty about that, though. I'm fine. Really.
What fandom things have inspired you the most?
I feel like in fandom there's something for everyone, and it's often where I've found the most interesting and reliable communities. The truth is, getting a start in fanfiction during and after college is the only reason I decided to become a novelist. Having fanfiction as my playground was what made me realize that this was something I was even capable of doing, and through that I began to develop the tools that would eventually lead me to getting published. Took a couple decades, but I got there eventually.
---
Catch up on earlier guest posts