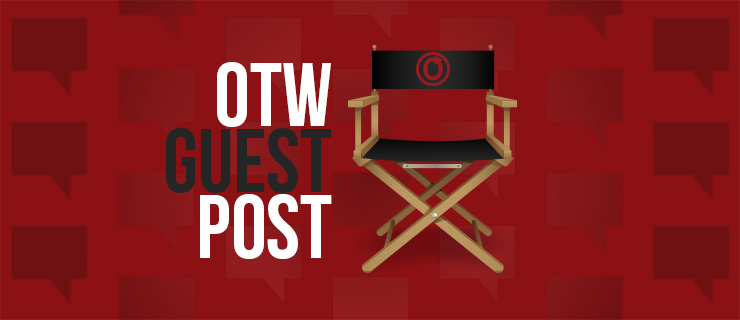 Every month the OTW hosts guest posts on our OTW News accounts to provide an outside perspective on the OTW or aspects of fandom. These posts express each individual's personal views and do not necessarily reflect the views of the OTW or constitute OTW policy.
Leah is a librarian/program coordinator in a small town library. She has been writing fanfiction since 2009. Currently, she spends all her free time participating in and facilitating fandom events. Today, Leah Elisabeth talks about her work with the Secret Santa Exchange in the Untamed fandom.
How did you first find out about fandom and fanworks?
My first active fandom was Supernatural. I started watching in the first half of season 5 and was immediately addicted. When the mid-season finale aired, I was absolutely distraught and immediately started looking online for things to tide me over until the show came back in the new year. I found fanfiction on Fanfiction.net. Shortly after that, my laptop broke and I had to send it away for repairs. This was before I had a smartphone, so with no access to my newest addiction I was inspired to start writing my own fanfiction.
How did you get involved with the Secret Santa Exchange?
I've been involved in fandom events since 2012. I participated as an author in several Supernatural events — Big Bangs, Reverse Big Bangs, Exchanges. In 2017, I got into the All for the Game fandom and volunteered to take over the AFTG Exchange a year later. Since then, I've run that exchange seven times (soon to be eight) and I've co-moderated the AFTG Remix twice, the AFTG Big Bang once, and Twinyards Appreciation Week four times.
I got into the Untamed fandom this June and signed up for the MDZS Big Bang. One of my fellow mods for the Secret Santa was looking for experienced mods in the Big Bang discord server to help run the event and so I volunteered.
What do you enjoy the most about running a fandom event, and what do you find particularly challenging?
I think the answer to both of those questions is the people.
Two of my biggest passions in life are writing and building community. I love how fandom events bring people together. All kinds of people sign up for these events, from fandom olds who have been through a dozen fandoms and have been creating for decades, to complete newbies who are dipping their toes in this world for the first time. I like providing a safe place where people can connect and hone their craft. Also, even more than creating my own works, I love seeing all the creative fic and art that would not exist otherwise.
However, sometimes not everyone who signs up for these events is as committed to building a safe community as I am. I try very hard to run events that are inclusive and welcoming to everyone, but I have at times had to ask people not to participate. Fandom events are no place for ship wars or character bashing. It's been a very rare occurrence thankfully, but I never enjoy it.
What advice would you give other fans who are considering starting an event or becoming a mod for one?
First, you are going to make mistakes. You are going to send out an email with the wrong dates or missing information. You are going to answer someone's question and realize you should have said the exact opposite. It happens. Don't stress too much about it and do your best to fix your mistakes.
Second, keep it simple. Fandom events take a lot of work and dedication so don't make it harder on yourself than you need to. Make good friends in the fandom (or pull your good friends into your fandom) because their support will be invaluable.
Lastly, just have fun with it!
How did you hear about the OTW and what do you see its role as?
I'm not actually sure how I heard about the OTW, but it was likely in one of those whiny posts on Tumblr that crop up every time AO3 does a fundraising drive. I've been posting works on AO3 since 2015 and I've learned bits of information here and there as well. I think the OTW is vital to the continued existence of the fandom experience.
I experienced the LJ Strikethrough and the Fanfiction.net purge and I think it's so important for creators to have places where they can form communities and create whatever they like without fear of censorship. Fandom is such an important part of my life, and I am grateful for everything the OTW has done to preserve it and help it thrive.
What fandom things have inspired you the most?
I'm going to have to say it's the people one more time. I have made so many amazing friends through fandom. I have a regular beta who edits basically everything I write and her help has been invaluable. I have a best friend who is always there to bounce ideas off of. I have some regular readers who leave me kudos and comments on everything I write. Lots of my works have been written because of Tumblr asks or prompts for exchanges. I've worked with other artists and written collaborations with other authors.
By its very nature, fandom cannot exist in a vacuum. I may have been pulled in by various shows, books, or movies, but it's the people I share this space with who have inspired my work and gotten me to stay.
---
We encourage suggestions from fans for future guest posts, which can be left as a comment here or by contacting us directly. Visit our Pinboard account to up catch up on earlier guest posts.