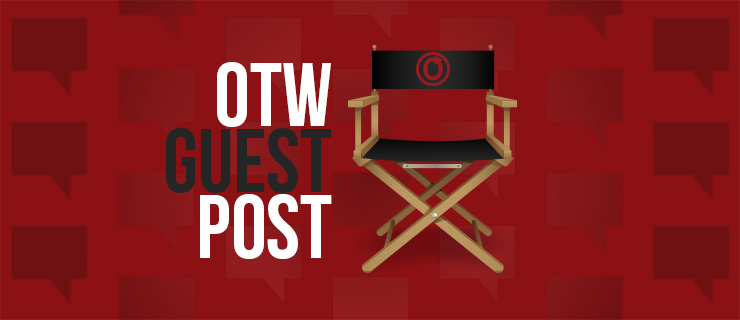 Every month the OTW hosts guest posts on our OTW News accounts to provide an outside perspective on the OTW or aspects of fandom. These posts express each individual's personal views and do not necessarily reflect the views of the OTW or constitute OTW policy.
Júlia Dariva is a senior majoring in English Language and Literature at the Federal University of Santa Catarina (UFSC) in Brazil. Currently on the third year of her research internship, her interests focus on the intersections between fan productions, Queer Theory, and Linguistics. Today, Júlia talks about her article in issue 35 of Transformative Works and Cultures.
How did you first find out about fandom and fanworks?
I'm actually not sure whether this was something that existed outside of Brazil, but when I was a pre-teen in the late 2000s we had this social media website called Orkut, which worked sort of like Facebook does, I think, in the sense that you created a profile for yourself so you could interact with friends and join communities. There were communities for all sorts of stuff — from "I hate typing errors" to "never have I ever died before" to "I've never used a whole eraser" and whatnot — and the communities you were in would show up at the bottom of your profile, so the ones you chose to be part of worked very much as ways to describe yourself to your friends.
Among the communities you could join, a lot were dedicated to the discussion of different characters, shows, celebrities, etc. In these, people would engage in fan activities such as writing meta, sharing their video editing, role playing, and writing fan fiction, for example. There were communities dedicated to fan fiction writing in general, too, where you would find more or less random assortments of fandoms.
Though some fan fiction authors would post their work from their real-life profiles, I believe the majority of us would interact in these communities through what we called "fakes", which were basically role-playing profiles made up of random names and pictures of different characters and/or celebrities.

I don't really remember what my fake looked like, to be honest, but I do remember that I used it to join communities focused on Supernatural, Twilight, and Heroes. At twelve years old, the fan fiction I was reading was still written in Portuguese, and all of it was het. The first fan fiction I ever wrote — when I was thirteen — was actually a Sam Winchester/OFC (*cough* self-insert) story that I remember featured a whole lot of very vague euphemisms.
Keeping with the trend of OFC/Self-Insert stories, I, like plenty of other fic readers I knew at the time, ended up migrating to these two interactive fan fiction websites called Fanfic Obsession and Fanfic Addiction. As far as I'm aware, only Fanfic Obsession is still up to this day, but they were both huge when I was a teenager. I remember there being a lot of fan fiction about McFly and The Maine (both bands which have always had gigantic followings in Brazil), and the cool thing about these stories was that they were written in pretty complex HTML coding that allowed you to have your band member of choice as the love interest, and yourself (as described by yourself!) as the main character.
Thinking about it now, I believe I only ever really stopped using Fanfic Obsession around the time I started being able to read entire stories in English. I had a few classmates in my English course that were using Tumblr at the time, so I ended up creating an account, and since then I've been a pretty exclusive slash reader and writer. Maybe unsurprisingly, a lot of the slash I interact with is still Sam Winchester-centered, so I guess things haven't really changed that much, hahaha. Years later and he's still my one and only.
You write about second language vocabulary acquisition through fan fiction in TWC. Was this part of your own experience?
Yes! I had the opportunity to start studying English when I was eleven, so I started taking intermediate-level classes when I was around fourteen, I believe, right around the time my deep infatuation with Dan Howell (formerly danisnotonfire) and Phil Lester (still AmazingPhil) began. Like I said, some of my classmates from back then had Tumblr accounts that they used to keep up with Dan and Phil stuff, so I created one too, and from there things went about the same way they did for (seemingly) everyone else I knew from my Tumblr days: BBC Sherlock, Supernatural, Superwholock, Teen Wolf, the MCU, Hockey RPF, and so on.
A lot of the fic writers and fandom people I followed on Tumblr posted and read their fan fiction on AO3, and so I did, too. I remember falling head-over-heels in love with the sheer number of incredible stories available to my reading. Even at fifteen, I was able to notice very quickly just how much my grasp on the English language had improved once I started reading fan fiction written in English instead of in Portuguese. Not only in terms of vocabulary, but with orthography in general, too; I was able to really visualize words upon hearing them, which I remember I was very pleased about as it made it easier for me to maintain informal communication through written language. My overall writing skills got much better as well, particularly in terms of "flow" and style.
As an adult, I've noticed the same thing happen with my best friend, who was taking upper-intermediate English classes right around the time she started really reading fan fiction, as well as with my teenage students. I've worked as an English teacher for the past four years, and have found it very noticeable that the students I know regularly interact with written fan production (either meta or fan fiction) tend to display and more easily retain much more varied vocabulary than the ones that don't.
What about learning a language through fanfiction do you think can be particularly valuable?
Honestly, I think it can be very challenging to teach complex, varied vocabulary in instructed learning contexts. Not only that, but if we're teaching English with communicative purposes in mind, there's not much point in spending a lot of time with words that aren't used that frequently. Through fan fiction, though, English learners have (repetitive!) access to a wild variety of words that can be appropriated by them and used in creative ways.
Other than that, though, I believe the real triumph of using fan fiction as an Second Language Acquisition tool is the motivational aspect of it.
Many of the teenagers I've worked with expressed they didn't believe they would have the chance to travel abroad anytime soon (for a number of reasons, the main one being financial), so beyond using relatively small amounts of English for playing video games or in very mechanical high school English classes, a lot of them couldn't really visualize many ways in which English could be useful in the long-run. I've noticed, however, that for the students that were involved with fandom — and I was very lucky to teach a bunch of real rockstars when it came to their immense creativity in writing and illustrating fan works — the motivation to keep improving was there regardless of how little they could expect to leave the country in any foreseeable future.
Instead, they were motivated by the possibility of spreading their fan art, of expressing different feelings and emotions through their fan fiction, as well as by the desire to communicate online with other English speakers from all over the world to discuss the things that brought them together.
How did you hear about the OTW and what do you see its role as?
Well, I've had my AO3 account for eight years now, and have been using AO3 without an account for even longer than that, so I've been a huge fan of the OTW for ages. (I'm also not too proud to admit I teared up a little when I got the email about participating in a guest post!).
I think the role the OTW plays not only in creating spaces for fans to freely and creatively express their passions but also in advocating for their right to do so safely is essential. I am and always have been a huge believer in the importance of maintaining an archive that encompasses so much of fan history to such a global degree. In a way very much similar to how Halberstam discusses the archiving of queer subcultures, saying that "the archive is not simply a repository; it is also a theory of cultural relevance, a construction of collective memory and a complex record of queer activity," I believe the OTW and its projects — Fanlore, in particular — allow fans to shape the collective memories of our many fannish subcultures in ways that both honor and critique this history we are all part of. I obviously cannot overstate the importance of TWC as a peer-reviewed journal in which a lot of this critique takes place. The ability to regard fan works, cultures, and histories through critical lenses is essential to maintaining the radical potential that so many of us believe fan works to have.
In terms of the AO3, well. It's changed my life in more ways than I could count, honestly, giving me a place where to safely tuck all of my most personal writing, all of the often-confused and contradictory ways in which I see the world. It's given me the opportunity to connect with writers and readers that are endlessly inspiring and wholeheartedly kind. The AO3 has always been a space of belonging for me, but I think it's necessary that it can be a place of belonging for all fans — this, for me, is half-made possible by the fact that the AO3 works as an unrestricted archive.
However, because of the essential role the OTW plays in archiving fan histories in ways that allows us to think critically about the fan work we both read and create, I believe that, at the moment, the AO3 in particular needs to have a role in preventing black folks and other people of color from having to deal with depictions of racist and/or xenophobic themes and/or tropes when they are perusing a space that is said to be theirs as well. Not only that, but I believe that the creation of new Archive Warnings may encourage authors to be more self-aware in terms of what themes their works approach and how these are approached.
Lastly, regarding Fanhackers, I believe that having a project directed at making Fan Studies accessible is hugely relevant, particularly for researchers like me and my colleagues in the English and Linguistics field, whose interest in Fan Studies (and Fan Fiction Studies) is not granted much space. In Brazil — and particularly at Universidade Federal de Santa Catarina, from which I'm part of the student body — I've found that while Fan Studies is given at least some space within the field of Communications, its intersection with Linguistics, Applied Linguistics, or Literary Studies is still majorly overlooked.
What fandom things have inspired you the most?
For me it has always been the wanting — wanting to tell stories, to create, to imagine, wanting in ways that are intensely personal, but also undoubtedly political, also inherently collective. It's the wanting of layered stories of romance and eroticism, of life-altering friendships and found families, of stories that mean we're gripping the world with both hands and saying, "mold yourself to my will." Fandom is the space where wanting gets to run around screaming, gets to exist out loud. So, it's both the possibility and the realization of this wanting that inspires me the most in fandom.
---
We encourage suggestions from fans for future guest posts, which can be left as a comment here or by contacting us directly. Visit our Pinboard account to up catch up on earlier guest posts.