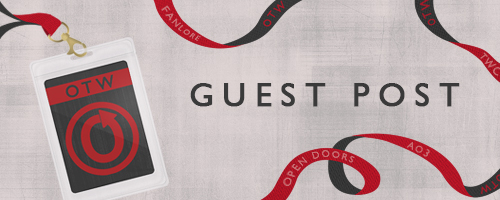 From time to time, the OTW will be hosting guest posts on our OTW News accounts. These guests will be providing an outside perspective on the OTW or aspects of fandom where our projects may have a presence. The posts express each author's personal views and do not necessarily reflect the views of the OTW or constitute OTW policy. We welcome suggestions from fans for future guest posts, which can be left as a comment here or by contacting us directly.
Josué Cardona is the founder of the Geek Therapy Network and community where they celebrate how Geek culture can be used to do good in the world. He's always listening to or making podcasts, some of which you can find at GeekTherapy.com. Today, Josué talks about how being a fan can help during times of crisis.
How did you first find out about fandom or fanworks?
I must have heard about fandoms for the first time in my early 20s. Around the same time, I learned the term "Geek." I discovered that there were other people who cared as much about the things I cared about as me and it was a transformative experience. I don't remember exactly but I'd bet it was around the time when I was re-watching Buffy and Angel and discovered that not only were there comic book continuations of both series but that there were a lot of other Buffy fans out there as well, who shared that love of that world with each other, years after the shows had ended.
What were the first signs to you that the Geek Therapy project had a role to play?
I was completing a master's degree in mental health counseling and I was an intern at a community mental health center working with young children. I realized that I was the only counselor there who spoke the kids' language. Meaning that I could talk about video games, superheroes, and cartoons like they could. I began to realize that they were speaking in metaphors and sometimes simply telling a true story with a character in place of a parent.
Let me give an example. I remember one client who was talking about something that Batman and Robin did. They went to the supermarket and did some other things that day. I realized that my client was telling me something that really happened but referred to him and his father as Batman and Robin. I asked him about how Robin felt and what Batman did. He eventually acknowledged that it was him and his father in the story but I was able to learn more about him than any other counselor because I was willing to "speak his language" and not ignore his interests.
I learned to listen to people when they talked about their geeky interests and saw that sometimes it's easier for us to express how we feel through media examples, especially ones we care about. That's when I realized that I could use what I loved to help people and that's what Geek Therapy is all about.
What aspects of fandom have helped in surviving what's happened in Puerto Rico this past year?
I was in Puerto Rico when hurricane Maria hit the island and there were two things I vividly remember related to fandoms. One was the release of Super Mario Odyssey for the Nintendo Switch. I'd been looking forward to it for months and even within the despair I felt during the aftermath of the hurricane, I was still looking forward to it. I only had electricity at night thanks to a neighbor's generator and had very minimal cell phone reception. Getting a physical copy of Odyssey was impossible but I thought that maybe I could download it somehow.
I read that Nintendo was activating pre-purchase and pre-loading for the first time on Switch with Odyssey so I went to one of the only hotspots I knew of, which was provided by a cable company. I went there before pre-loading was possible but I ended up picking up a few other games to fight off the boredom. A few days later I returned but the setup was completely different and the internet speed was throttled and there was no way I could sit there for hours downloading the game. I tried out a few things and realized that I could activate a hotspot on my phone late at night and get a signal. It took multiple nights but I set up my cell phone's hotspot with incredibly slow internet speed, connected my Switch to the phone, and let the game download. Again, it took days but by release day I had downloaded the entire game.
My point is that I had something to look forward to and five weeks after Maria, on October 27th, with no electricity and barely any internet, I was able to play Super Mario Odyssey with everyone else in the world. This was very important to me and I made it happen.
The other thing I remember is the premiere of Star Trek Discovery. It premiered four days after Maria so there was no way I could watch it. Some time after Odyssey I tried watching Discovery and I was able to do it, late at night, in 20 to 30-second increments. I'm not kidding. The show would buffer 20 to 30 seconds, play normally, and then stop to buffer again. It took hours to watch each episode but I had nothing else to do. I saw the first six episodes that way. And I was able to text a Trekkie friend of mine about each episode which again, kept me connected to the things I care about so much and make me who I am.
What would you recommend to fans in other parts of the world who are also undergoing a collective crisis?
My experience was unique, even in Puerto Rico. I was very fortunate to have access to a generator and some internet access. But I still prepared as best I could by having comic books downloaded on my phone and some physical books available. I bought an extra battery pack for my phone and Switch. I downloaded as much Netflix as I could to my phone.
Thankfully hurricanes move slowly and give you enough warning to prepare in that way. So if you can prepare or have an emergency stash, even if it's just a few of your favorite books, that might be helpful. I connected with my friends as soon as possible and that really helped so I would say that you should try to connect with people as soon as possible. Try to be with other people and see if you can connect with any interests. A Switch is great but some board games, even a deck of cards, could make a big difference in breaking the ice and help you interact.
How have you heard about the OTW and what do you see its role as?
I was unaware of the OTW until they reached out to me, but thinking back to the hurricane and any natural disaster… They suck. They would suck even more if at the other end of them our fandoms were not preserved and therefore nowhere to be found.
What fandom things have inspired you the most?
Remember when I said I was very prepared for the hurricane? That's my inner Batman. Batman is more aspirational than inspirational to me but I pride myself in being very prepared for lots of things. Shark Repellant Bat Spray is my totem. I wish I was that prepared all the time. Perhaps the fandom that has most inspired me recently is Doctor Who. I see myself in the character of the Doctor a lot and I hope to continue to be as curious and to do the right thing when presented with the opportunity. No matter where or when.
---
Catch up on earlier guest posts