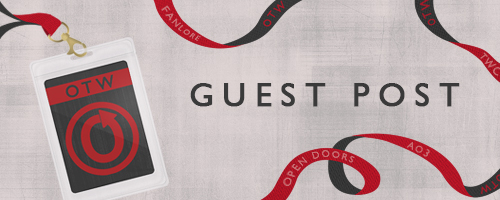 From time to time, the OTW will be hosting guest posts on our OTW News accounts. These guests will be providing an outside perspective on the OTW or aspects of fandom where our projects may have a presence. The posts express each author's personal views and do not necessarily reflect the views of the OTW or constitute OTW policy. We welcome suggestions from fans for future guest posts, which can be left as a comment here or by contacting us directly.
Arielle Waldman and Jordan Henry are a writing team based in Los Angeles, California. Originally from the Midwest, Arielle has been working in the entertainment industry in LA since 2011 in areas including production, talent management, and television development. When not writing, Arielle likes to hunt for the best tacos in LA, create gourmet popcorn, and spend time with her niece and nephew — Australian shepherds Bella and Jake. Jordan grew up in southern West Virginia, but has been living and working in LA since 2013, primarily in television production and development. In her free time, Jordan can often be found baking, watching ice hockey, and trying to convince the world that Hufflepuff is the best Hogwarts house. Today, Jordan and Arielle talk about working on the webseries Kyloki.
How did you first get into fandom and fanworks?
When the two of us became friends, one of the first things we bonded over was our shared love of various fandoms. So once we started writing together, it really made sense to dive into something fandom-based for our first big project.
What made you decide to start working on Kyloki?
After seeing The Force Awakens when it came out, we realized we liked Kylo Ren so much because he's so similar to Loki in the Marvel Cinematic Universe. They're both outcasts, they both have daddy issues, and they both have great hair. The next thought was "What if they were roommates?" and the idea for Kyloki was born. We initially wrote a couple of sketches, but then we fell in love with our versions of the characters and decided we needed to make a whole series.
Roommate situations are relatable to everyone. Even people who aren't familiar with Star Wars or Marvel can enjoy the series, because they can connect to that grounded element. Kylo Ren and Loki might be out doing these epic things in the movies, but at the end of the day, they're both kind of whiny and neither of them wants to do household chores. We wanted to focus on how typical roommate problems could humorously escalate if the roommates were also super villains.
What have you found to be your biggest challenge on the project?
Physically producing and shooting the series has been most challenging because prior to Kyloki, we'd never done anything like this before. Lots of credit to our amazing cast and crew for helping us make it all happen!
Locations specifically were probably one of the biggest production challenges. We shot the entire first season in Arielle's apartment over several weekends with Jordan's apartment serving as the costume department, hair and makeup base, craft services, and more. Maneuvering all the cast, crew, and equipment in such tight spaces was quite a feat! Then when we got to Season 2 and moved out of the apartment, securing other locations was definitely something that gave us the most difficulty. We learned so much over the course of two seasons though, and we'll be able to use that experience as we move on to future projects.
What has been the most rewarding part of having created Kyloki?
One of the most rewarding parts has been the relationships we've made with our cast and crew. We had the opportunity to collaborate with a wonderful and talented group of people, which made working on the project a true joy. The other most rewarding part of has been the fan interaction. It's amazing for us to hear from people who are connecting with Kyloki because they love these fandoms the same way we do. We've had people make videos and fan art showing their love for the series, and it means the world to us that we've inspired them creatively in some way.
How did you hear about the OTW or its projects?
We heard about OTW through one of its staffers. We're new to the organization but very excited to check out all it has to offer!
What fandom things have inspired you the most?
For us, the community aspect of fandoms inspires us the most. Whether it's Tumblr, a specific fan site, or just talking to other people who are interested in the same nerdy things that we are, the connection with other people is really what fandoms are all about.
---
Catch up on earlier guest posts