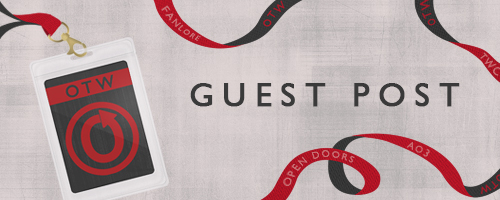 From time to time, the OTW will be hosting guest posts on our OTW News accounts. These guests will be providing an outside perspective on the OTW or aspects of fandom where our projects may have a presence. The posts express each author's personal views and do not necessarily reflect the views of the OTW or constitute OTW policy. We welcome suggestions from fans for future guest posts, which can be left as a comment here or by contacting us directly.
Jessica Leski's debut feature, I Used to be Normal: A Boyband Fangirl Story, had its World Premiere at Hot Docs in 2018 and has been screening at festivals around the world since, including the London Film Festival, Sydney Film Festival, and Rotterdam Film Festival. I Used to be Normal was released in Australian cinemas in late 2018 by Madman Entertainment and will be released on US screens via Fuse TV on May 18th 2019. Today, Jessica talks about her fandom project.
How did you first find out about fandom or fanworks?
My first experience of fandom was in 1999 when I became a big Dawson's Creek fan. I loved watching the show with my friends and dissecting it with them afterwards, but I always felt like it was a much bigger part of my life than it was for them. I wrote university essays about it, I saw lookalikes everywhere I went, and I even had one or two moments when I felt reality blur about whether the characters were people I knew in real life or not. This was pretty early in my relationship with the internet, so I wasn't aware of message boards or forums and things like that. So I found myself searching for ways to express my fandom in real life.
I was in my first year of film school at the time, and for one of my assignments I re-created the opening sequence of Dawson's Creek, shot for shot, with lookalikes. When we had a screening of all our films at the end of the year the other students laughed and clapped in recognition at mine, but the teachers were completely baffled; they had no idea what they were watching. Luckily a fellow student stood up and likened it to Gus Van Sant's remake of Psycho, and I ended up getting a good grade!
It took another ten years before I became a fan of something to that same level, and this time it was UK boyband One Direction. I was taken completely by surprise because I had never liked a boyband before, and I was 31 years old at the time, not the target age range at all.
I thought I knew what a boyband fan was. I had definitely judged them when I was in high school when Backstreet Boys, NSync, 5ive, Take That etc. were all huge. I thought people who liked them and their music had simple tastes and were just following the pack. It wasn't until I became a boyband fan myself and discovered all the nuances and joys of being a part of a fandom that I found myself reconsidering everything I thought I knew about teenage girls, boybands and fandoms.
Because I had no one to talk to about One Direction with in my real life, it was online where I could express myself and interact with other fans. I started Tumblr and Twitter accounts for the first time. This was also when I discovered fan art and fan fiction for the first time. My mind was blown. The creativity, intelligence, passion and humour I encountered online was so surprising and delightful. I knew there was a story here that people wouldn't expect, and so I pitched the concept to my producer Rita Walsh. We began filming in early 2013.
Your documentary has a generational angle, with interviews of fans for various bands across decades. What did you find most revealing about fandom then and now?
I wanted to investigate the impact our adolescence has on the development of our adult selves, and discover whether the things we loved as teenagers really do endure in our hearts, or whether they can be dismissed as 'just a stage.' And so it was important to me that the film be multi-generational. While filming I was struck by the patterns and similarities between the main characters Elif, Dara, Sadia and Susan and their experiences as fans and as women, despite their different ages and very different backgrounds. All four keep memory boxes filled with items from their fandom: ticket stubs, magazine clippings, posters, jigsaw puzzles, action figures, T-shirts, etc. It was wonderful to see that even after the advent of the digital age, fans still love collecting physical artifacts of their experiences. On a deeper level, each woman, irrespective of her generation, revealed that they believe their boyband had changed their lives in some way for the better.
One of the biggest differences in being a fan today compared to the 1960s or even the 80s or 90s is that there are huge changes in the access you can have to both your idols and the other members of your fandom. That is a very new phenomenon I think. You could send fan-mail to John Lennon or Jordan Knight, but there was almost no chance they would ever see it. But these days you can send Harry Styles or Gary Barlow a tweet and there's every chance they might see it when scrolling through their feeds, and might even deign to reply.
Like Dara, you may have been the only Take That fan in your entire high school in 1995, and you may have found that very isolating. But today it's always possible to find other members of your fandom online to connect with and form a virtual community with. Of course, there were fanclubs and penpals and meetups prior to the internet, but the scale was much smaller.
Did you find that fandom experiences vary by the type of music or the makeup of the overall fandom?
From a purely cynical perspective, it's hard to deny that the typical boyband is almost always a carefully engineered package of cute, young, mostly white, boys in coordinated outfits, singing in harmony about holding hands and broken hearts. As young men they are given more power and status than they may deserve, but their music is some of the most enduring and beloved in history, and their fans' devotion is legendary. Boyband fans routinely get dismissed as stupid, hysterical or hormonal. This film was an opportunity to show people that they may have been too quick to judge both the fans and the music and the role it can play in people's lives.
One of the most wonderful things about making this film was the responses we've received from people who were boyband haters, or who had previously dismissed the genre as a whole. Horror movie fans, heavy metal fans, Harry Potter fans, all reported to us that they saw themselves reflected in the girls and women in the film. There are differences of course, but what is remarkable is the commonality between fandom experiences, regardless of the object of the particular fandom in question.
While this film may have started out as a love letter to boybands, it's actually a love letter to the fans who let themselves feel things deeply, who aren't afraid to sing or dance along to a song that makes them happy, or who endeavour to always stay closely in touch with their inner teenager, with all the optimism, awkwardness and dreams that that entails.
How did you hear about the OTW and what do you see its role as?
I only heard about you very recently, but I love what you do.
What fandom things have inspired you the most?
I adore fan art. I had never encountered it before becoming a part of the One Direction fandom. I am in awe of how talented, inventive and creative the artists who create fan art are. One of the fan artists I met, whose work I love, is Nadia Hendryani. She does amazing One Direction and BTS fan art. She said to me "Renaissance paintings in galleries are fan art of the bible." I love that! It's all about perspective. People are inspired by the things they love and are focused on. There's no reason why boybands can't inspire all kinds of art and expression, help shape a fan's identity and give them a wonderful sense of community and belonging.
---
Catch up on earlier guest posts