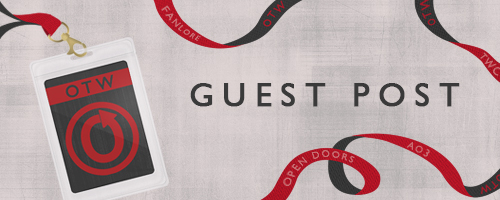 From time to time, the OTW will be hosting guest posts on our OTW News accounts. These guests will be providing an outside perspective on the OTW or aspects of fandom where our projects may have a presence. The posts express each author's personal views and do not necessarily reflect the views of the OTW or constitute OTW policy. We welcome suggestions from fans for future guest posts, which can be left as a comment here or by contacting us directly.
Jackson Bird is the Director of Wizard-Muggle Relations for the Harry Potter Alliance (HPA), a nonprofit that activates fan communities towards social action. When not defending the rights of wizards and muggles alike, Jackson produces videos about identity, social action, and what happens when you put tacos on a waffle iron.
How did you first get into fandom and fanworks?
I got into fandom and fanworks long before I had a name for what I was doing. I joined the Royal Club of Oz in fourth grade after devouring all of the original L. Frank Baum books and spent a good part of my time doodling Bailey School Kid monsters. A few years later, I discovered Harry Potter fansites and it just grew from there. I read fanfiction, listened to podcasts and wizard rock, and eventually — many years later — discovered the Harry Potter Alliance.
How did you come to join the Harry Potter Alliance (HPA) and what's your role in it?
I was blown away by the HPA's great success in 2010 when they joined with young adult authors, video creators, and Harry Potter fan leaders to raise over $120,000 and send five cargo planes full of relief supplies to Haiti. That coordination of online communities and pure passion turned into praxis led me to join up as a volunteer video editor. I spent college volunteering in various video and social media capacities and then in 2013 was hired full time to head up our external marketing and partner relations. Basically, I'm the guy that goes to conferences and make speeches about what we do.
What do you hope to see the HPA accomplish?
So much! I would love to see our chapters program continue to expand while deepening each chapter's ability to create change. I'd also love to see our leadership conference, the Granger Leadership Academy, continue to grow in its impact and reputation so that college admissions offices start recognizing it as an impressive resumé component!
It would also be awesome to be more well-known in all fandoms, not just Harry Potter, as an organization that can bring fans together to effect change, especially in our current time of crucial resistance. As fans, we all know how it feels to root for the underdog and stand up for what we believe in. We also know how to make art, build communities, work together, and amplify voices. These are the skills you need to make high impact change as an activist and they're the skills fandoms already have. To anyone of any fandom who wants to use what they love to make change in this age of resistance: the HPA's got your back. Let's do it.
How did you hear about the OTW and what do you see its role as?
I first heard about OTW through Archive of Our Own. I see its role as being one of the great defenders and crusaders of fan rights, especially fan creators. Sometimes non-fandom folks don't quite get what we're doing and OTW is one of the crucial organizations bridging that gap.
What fandom things have inspired you the most?
One thing that's really inspiring to me is seeing everything that people create at conferences and conventions. Sometimes there can be a culture of bringing movie celebrities to cons or fawning after big name fans (all of which has its place and is totally cool), but they're not the only ones at cons who have created awesome things. I love watching attendees arrive in their cosplay or with their crafts and artwork to share with friends old and new. The amount of creativity in fan communities never ceases to amaze and inspire me.
---
Catch up on earlier guest posts