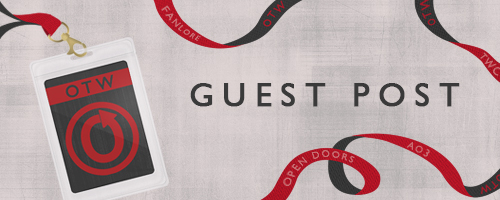 From time to time, the OTW will be hosting guest posts on our OTW News accounts. These guests will be providing an outside perspective on the OTW or aspects of fandom where our projects may have a presence. The posts express each author's personal views and do not necessarily reflect the views of the OTW or constitute OTW policy. We welcome suggestions from fans for future guest posts, which can be left as a comment here or by contacting us directly.
Hansi Oppenheimer is a Filmmaker & Fangrrl committed to supporting and promoting underrepresented voices in Pop Culture. She has been called a the "By-any-mean necessary-MacGyver of no budget documentaries" and her films, the Rashomon of documentaries with their focus on oral history and on fan recollections. Today, Hansi talks about the collection of activities under her Squee! project.
How did you first find out about fandom and fanworks?
I've been actively involved in online fandom since roughly 2001 when I began to collect interviews for a documentary on the band The Replacements. I used message boards and My Space as well as talking with fans at performances to collect interviews for the film Color Me Obsessed which was released in 2011.
In 2012 I discovered fanfiction and wanted to explore that as a topic for my next project. I was reading academic works but I was having a really difficult time getting anyone to discuss writing fic on camera and was told that many writers felt they had been burned by the media and its focus on slash. I was more interested in exploring why fanfic existed: some of it offers opportunities for representation and diversity, some is just for the joy of creating a "what if" story and some of it is just for fun and wish fulfillment. I support all of these approaches.
Fortunately, I was invited by Professional Fangrrls, Flourish Klink and Heidi Tandy, to their final Ascendio fan convention in Orlando. It was really the Harry Potter community that first offered me the opportunity to understand shipping, cosplay and transformative works in real time, as opposed to reading or studying academic works. It was my first fan-run con and I just fell in love with their community, enthusiasm, their literacy, their commitment to social justice and their complete lack of fan shame. Despite not being a personal fan of the Potter world, I'm a huge fan of their fandom. (Fandom is My Fandom.)
What are your hopes for the Squee! project, either short term or long term?
Squee! continues to evolve over time. I'm still learning and growing as a documentarian. I've discovered that I prefer to work with women and I have two creative partners, Lynn Zubernis and Chinisha Scott, that help me with different aspects of the project. They are both Fangrrls and brilliant writers and producers. I would not be able to accomplish all that I have without their hard work. I also have been lucky to find a network of hundreds of women and self-identifying Fangrrls to support & collaborate on the project.
I initially conceived of Squee! as a feature film but then scaled it down to webisodes. We've completed two. Squee! Identifying As A Fangirl and Costuming, Cosplay & Identity. Both episodes deal with exploring identity through fandom and what's healthy and positive about being a fan. I'm currently working on post for the final episode of that particular arc. I'm interested in exploring alternative narratives in our next arc.
My youtube channel Squee! Pop Culture & The Fangrrl Gaze has the two webisodes as well as interviews, con coverage, acafan guest vlogs and fan campaign videos.
I began doing panels on women & fandom with the rough cut of the first episode just 2 years ago at Rhode Island Comic Con and I love interacting with other fans. I love getting guest posts from other fans and posting them on my YouTube to offer alternate ways of experiencing fandom.
SqueeCon (held on December 1st in New Haven, Connecticut) is the first time I am producing an entire event based on the the concept of networking, supporting, and producing the works of women in fandom. I'm hoping this works and I can bring the event to other cities and engage with Fangrrls all around the country. Providing support for other Fangrrls in media/fan culture is my larger goal.
Your project seeks to focus on feminism, body image, race, sexuality and more. Where do you see the biggest barriers to diverse representation occur?
Everywhere. I love storytelling but the patriarchy has controlled the narrative for centuries. We are starting to see more diverse representation but we really need to have the industry invest more money into projects by and for women, POC, and LGBTQA voices. The success of Wonder Woman and Black Panther at the box office is just a small indication of how important representation is.
I've spoken with fans whose lives have been changed by seeing themselves represented positively in popular culture. We all need to do our part to make sure everyone is represented fairly and that the media we consume offers opportunities for that. The internet allows fans to discuss these issues with creators and we see how audiences are eager for more diversity, like the campaign for the female-led Supernatural spinoff Wayward Sisters. The only reason I can see that it was not picked up was the network; it's clear that the audience was and is still there.
How did you hear about the OTW and what do you see its role as?
I'm not sure how I first came across the OTW in my research since I read a lot of acafandom texts. I'm friends with Heidi Tandy and have interviewed Naomi Novik, both of whom have been involved with the organization. The OTW is both a resource for creators and hosts an archive that documents transmedia. It's vitally important because women creators are too often dismissed and the OTW gives their work the credibility it deserves.
What fandom things have inspired you the most?
Fangrrls inspire me! Whether it's their dedication to creating beautiful costumes, their passion for a show or creator, their activities to promote social justice, or their kindness towards each other. I've never found a community of women who are as creative and supportive as I have found in fandom. I have sisters in fandom all over the world that I may only see once a year at a con but our bond is profound. I love and admire them so much. I hope that they know that Squee! is my gift to them.
---
Catch up on earlier guest posts