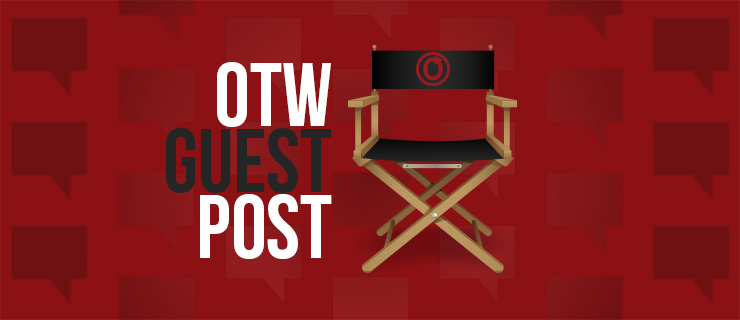 Every month the OTW hosts guest posts on our OTW News accounts to provide an outside perspective on the OTW or aspects of fandom. These posts express each individual's personal views and do not necessarily reflect the views of the OTW or constitute OTW policy.
Fans & Fictions is a team of four: Océane [she/her], Maxine [she/her], Jonathan [he/him] and Clarisse [she/her]) in Information and Library Sciences. They created a Twitter account for one of their courses and decided to focus on fanfiction and writing activities. They don't all have the same experience regarding fandom and fanfiction, which allows them to have several points of views on this subject. Today, the team talks about their project.
How did you first find out about fandom and fanworks?
Océane: I discovered it with One Piece, in the 2010s. I started with fanarts of different characters, then I moved on to fanfictions.
Maxine: I got into the Harry Potter fandom because a friend of mine wrote a few chapters of Drarry before high school.
Jonathan: First with the video game Mass Effect. I wanted to continue the adventure, so I joined a fan roleplay forum. Then with the video game Undertale, for reading comics!
Clarisse: I started in middle school by writing and reading fanfiction on Naruto.

How did your project Fans & Fictions come about? How did you each get involved?
As part of our studies, we have to do information monitoring on Twitter on a subject that we are interested in. We are all involved in this project and each brings their knowledge on fanfiction and everything related to it. Each of us has their own fannish experience, that's why we try to cover as many aspects as we can on the topic. We relay tweets or information related to fanfiction. We also created some Twitter threads to explain some specific aspects of fanfiction.
Are there aspects of fanfiction written for French audiences that tend to be different from works written elsewhere? What about local canon — what are some popular fandoms for French writers?
Océane: I don't know, because I don't read fanfiction in another language (or for another audience). I think that the popular fandoms are the same in France. Many French fanfic writers write on Harry Potter, One Piece, Game of Thrones etc.
Maxine: Yes, in my experience the fandoms are about the same in English and in French. I've encountered a lot of Harry Potter, Supernatural, Sherlock (the TV series) fanfictions but I'm not sure there is a striking difference between French and English writings. Both can be as colorful or bland as the other!
Clarisse: I agree with the previous answers, popular fandoms are quite the same (Harry Potter, Supernatural, Kpop etc). But, in my personal opinion, I do find that the topics in English and French fanfiction are different. For example, I have read few coffee shop AUs in French, but it's a very popular trope in English.
How did you hear about the OTW and what do you see its role as?
Océane: I personally discovered OTW when we created the Twitter account in October 2021. Given the main theme of our account, I think that OTW is an account we need to follow. And I would say that OTW was created for the fans and to give their works a better exposure.
Maxine: With Fanfiction.net, AO3 is THE platform which provided my past self with their daily dose of fanfiction haha! I think I found OTW simply because I was looking for some active writers and completed fanfictions.
Jonathan: I learned about OTW only with this work! I'm more into creating characters and stories — I'm a big fan of roleplay — than playing with famous characters. OTW has a difficult role. Protecting fan-creators without disrespecting authors. I think it's necessary to have a group like this!
Clarisse: I discovered OTW and AO3 in 2013, when I started to read fanfiction in English. The fandoms I was in at the time were more popular on AO3 than on the other platforms. I find OTW's role very important for the fans and the recognition of fannish activities and creations by other institutions.
What fandom things have inspired you the most?
Maxine: I particularly like the authors' freedom and wide range of creations that comes with the open platform! It hadn't inspired me to write anything but I think it's impressive.
Jonathan: I love the good things we can create together. Fanfiction is great to begin a full new universe!
Clarisse: For me, being in a fandom is a way to extend the emotional experience we've got from the original work and to go more in depth (to better understand the characters, but also to explore what could have been).
---
We encourage suggestions from fans for future guest posts, which can be left as a comment here or by contacting us directly. Visit our Pinboard account to catch up on earlier guest posts.