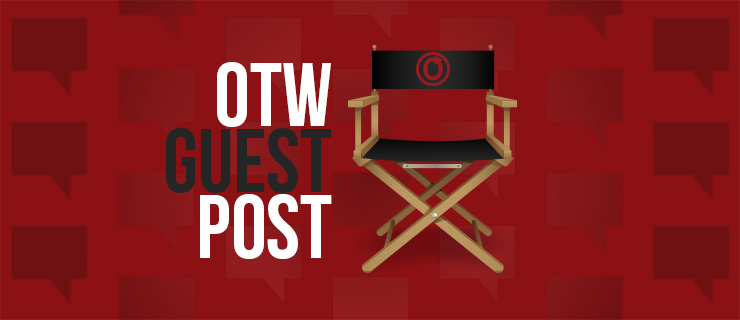 Every month the OTW hosts guest posts on our OTW News accounts to provide an outside perspective on the OTW or aspects of fandom. These posts express each individual's personal views and do not necessarily reflect the views of the OTW or constitute OTW policy.
Erin Hanna is an Associate Professor of Cinema Studies at the University of Oregon and author of the book Only at Comic-Con: Hollywood, Fans, and the Limits of Exclusivity. Her research explores the intersection of media industries and fandom, with a particular emphasis on in-person events, film and television promotion, and historical fan communities.Today, Erin talks about her article in Transformative Works and Cultures.
How did you first find out about fandom and fanworks?
I think my first real encounter with fandom and fanworks was attending a Star Trek convention with my mother when I was around 12 years old. We were both watching Star Trek: TNG at the time, but neither of us had much knowledge about the fandom itself beyond the representations of "trekkies" that were circulating in popular culture at the time. I think we just stumbled upon an ad in the paper and thought it sounded fun.
I remember browsing the dealers' room and everyone seemed very lovely, but beyond that, we had no idea how a convention worked or how to navigate that scene. We spent about an hour or two wandering around and then went on our way. I think it's easy to forget how insular fan events and spaces can be, especially before the Internet. Knowing what I know now, there was a whole world at that convention that I didn't explore because I simply didn't know it existed.
That said, I think my real entry point into fandom and fanworks was through academia, because it wasn't until I encountered fan studies scholarship that I developed a fuller understanding of the complex facets of fandom. Like many fan studies scholars of my generation, Buffy the Vampire Slayer was my gateway drug (I even presented my first academic conference paper at the Slayage conference in 2006, which was a lovely first conference experience). I was an avid viewer of the show during my undergraduate years and delighted at discovering what was, at the time, a thriving academic subfield devoted to unpacking and analyzing the series and its fans.
Around the same time, I was also taking cinema and media studies classes that introduced me to critical theory and cultural studies, which really inspired me intellectually and also showed me the value and importance of taking popular culture seriously. This eventually evolved into an interest in studying the power dynamics and imbalances between producers/industry and fans, which I went on to study in graduate school.
What do you see as the importance of in-person events when fans are so connected across borders online?
I talk a lot about this idea of exclusivity in my book, Only at Comic-Con, and I think that is one way of looking at how and why in-person events are valued differently. For example, there is this aura of exclusivity surrounding SDCC, both because it's happening in a singular time and place that not everyone can access, and because it is somewhat unique in the landscape of fan conventions in that — for the last couple of decades — Hollywood has had a very high- profile promotional presence at the event.
Even though we can access all kinds of coverage of SDCC online, that coverage works less as a substitute for attending and more as a way to remind us of what we are missing. And that, in turn, helps to elevate the sense that this event and, in particular, the promotions coming out of the event, are things we should be paying attention to. This particular approach to exclusivity is specific to the critique I am making about the industry presence at the San Diego Comic-Con, but I think it can also be applied to other contexts where audiences and industry intersect, from film festivals to theme parks.
Since the pandemic, we've also seen a lot of reflection happening about the benefits of in-person gatherings and being able to connect with people offline vs online. But I'm really hesitant to assign some kind of definitive value or hierarchy to in-person vs online experiences. For example, I was able to participate in so many fun events online over the past few years, from cast reunions, to podcast tapings, to Comic-Con@Home, and I remember thinking: 'wow, what a lifeline to be able to do this right now.'
As we see these opportunities recede during this new phase of the pandemic, I think that as much as some folks might feel like going "back to normal" (i.e. resuming in-person activities) is the desired outcome, it is also a significant loss for many people who don't have the option or ability to attend events in-person. That is something that should be acknowledged and taken seriously.
What kind of future may fan-run events have if Comic Con's presence in the con space declines?
I think that depends on how we understand the idea of Comic-Con's presence declining. If it means that Hollywood and other sectors of the media industries have less of a formal, corporately sponsored and promotional presence at Comic-Con, that might mean it starts to look more like the kinds of regional conventions that are much more common across the calendar year. SDCC has been around since 1970 and has long been just one of a huge constellation of fan events and cons around the world (Ben Woo's Comic Cons Research Project does a great job of breaking down the convention scene in North America if you want to learn more).
It really wasn't until after the turn of the 21 st century that SDCC became significantly more visible to the general public and that was largely due to the more high-profile industry presence and coverage in the press. I think that while losing that visibility would certainly change what that particular event looks and feels like, it would have less of an impact on fan-run events, in general. If anything, I think most of the regional fan-run events I've attended feel more like the SDCC of the 1970s (as I imagine it). I think it's very possible that Comic-Con's presence in the con space or its cultural significance could decline, but it's been such a unique event in the larger constellation of fan-run events that I don't necessarily see that reshaping the larger scene.
What have your own con experiences been like? Have you been to SDCC?
I started attending SDCC in 2009, which was their 40th anniversary, and have gone a total of 8 times (10 if you count the two years of Comic-Con@Home). I have also attended a bunch of smaller conventions in Oregon, Michigan, and Ontario.
My Comic-Con experiences have been wide ranging and I've seen and done lots of fun stuff, but in terms of my research, I think one of the most impactful aspects of the con experience has been waiting in line. I probably have spent at least 1/4-1/3 of my time at Comic-Con in some kind of line or other. It's not what I would describe as one of the more enjoyable aspects of the convention, but it turned out to be an incredibly productive time in that it gave me a framework through which to develop some of my earliest arguments about Comic-Con (and lots of time to think about them!).
The other aspect of the experience that has always been really meaningful to me is seeing and hearing from longtime attendees and the fans who helped to build the convention from the ground up. I'm so glad I was able to be at Comic-Con for both the 40th and 50th anniversary celebrations.
How did you hear about the OTW and what do you see its role as?
I discovered the OTW when I was starting my PhD and learned about Transformative Works and Cultures, which was pretty new at the time, but was and continues to be an important repository of scholarship in the field. I have always really appreciated the innovative approach of TWC, both in terms of the scholarship being published and the commitment to making it accessible online.
I also really admire OTW's legal advocacy and it is impossible to overstate the importance of OTW's work towards documenting, archiving, and preserving fanworks and fan histories. I think it's easy to feel like everything is at our fingertips, that the Internet is this big open archive of stuff, but it really doesn't work that way—things disappear and get lost so easily.
I also think that there is a general lack of understanding about what has historical value and what needs to be preserved, but especially with regards to popular culture and fan culture, and I think OTW recognized this early on and made important moves to keep this history
alive.
What fandom things have inspired you the most?
One of my favorite things about researching Comic-Con was getting to dive into the history of the event and its founding in 1970 and learn more about the history of comics and science fiction fandom, in general. Not surprisingly, some of the best and most detailed books documenting these histories were written by fans themselves, like Bill Schelley's The Golden Age of Comics Fandom or Joan Winston's The Making of the Trek Conventions. I am so grateful that these and many other publications like them exist, because as we lose folks from those earlier generations, we are also losing access to these important histories and stories.
I've talked a lot about that with Mathew Klickstien, who did a podcast called Comic-Con Begins and just published an amazing oral history about Comic-Con and geek culture called See You in San Diego. To have my voice included alongside so many of these important figures in Comic-Con and fandom history and to get to tell my little part of that story was really quite an honor.
---
We encourage suggestions from fans for future guest posts, so contact us if you have someone in mind! Or you can visit our Pinboard account to catch up on earlier guest posts.