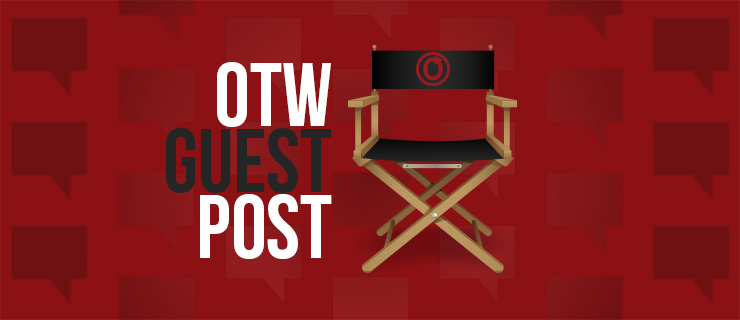 Every month the OTW hosts guest posts on our OTW News accounts to provide an outside perspective on the OTW or aspects of fandom. These posts express each individual's personal views and do not necessarily reflect the views of the OTW or constitute OTW policy.
Dr. Erika Romero is an adjunct at St. Thomas University who teaches undergraduate writing and literature courses. When not teaching (or reading fanfic), she creates content for her teaching tips YouTube channel and blog or writes picture book manuscripts that she hopes to get published one day. Today, Erika talks about her article in Issue 36 of Transformative Works and Cultures (TWC), Including new media adaptations and fan fiction writing in the college literature classroom.
How did you first find out about fandom and fanworks?
I watched Harry Potter and the Sorcerer's Stone in theaters and became an immediate fan. Read the four books that were already out but had to wait so long for book five. Came across online fan fiction, specifically Portkey.org. Since I shipped Harry/Hermione (Pumpkin Pie!), it was a great first site to find. That led me to FFN and AO3. For the last 20 years, I've basically read at least one chapter of fanfic every day (usually much more). I have many fandoms that I read fic for, but Harry Potter has stayed pretty consistent for me.
You've had your students engaging with fanfic in the classroom. What were the obstacles and the successes of this approach?
The biggest obstacle was helping students feel comfortable in really playing around with and making the source material their own. In writing and literature courses, students tend to assume all their writing has to be formal academic writing or formal literary analysis. Getting them to understand that creative writing has its own educational value and that part of the value was just getting out of their comfort zone and letting their creativity loose took some time. Biggest success was reading their fanfic reflections and finding out how many students enjoyed the experience. I especially loved when they wrote about using their fic to add representation where it was missing in canon or to "fix" a stereotype or cliched plot line in the source text.
When the class voted on awards for the zine component, did any of the results surprise you?
I wasn't surprised when one story in particular won multiple awards. AUs are so popular in fandom, and this tendency proved true for my students as well. Multiple students created crossover fics or stories with little connection to the canon. But this particular fic doesn't just reimagine how Elena Gilbert meets the Salvatore Brothers; its Elena is an older, bartender version of the character, living in Las Vegas "aka Sin City." She meets both brothers and quickly discovers they are vampires. Even after witnessing Damon's vampiric attack on a human, "Something inside me was intrigued with what he was…something inside me wanted a taste of the darkness inside of him." It's a more mature, darker story that still has that love triangle element that favors the bad boy. It won "Best Opening Sentence," "Best Plot Twist," and "Best Vampire Diaries Adaptation," and all I could think was, "These results make total sense, but I'll still never be Team Damon." [I'm not Team Stefan either, just FYI.]
How did you hear about the OTW and what do you see its role as?
I came across AO3 years ago when looking for more fanfic to read beyond FFN. When I explored the website, I found out about OTW and TWC. It was an exciting discovery for me, since I don't just read fanfic but also research and write about it. So finding out about the journal was amazing. For me, I see keeping the archive and the journal going as the main roles of the OTW. But, I'm pretty sure there's a lot of legal work that goes on as well.
What fandom things have inspired you the most?
I love how fandom really allows us to express ourselves through things we love using creative skills we enjoy. We don't have to be amazing writers, illustrators, costume designers, etc. to take part in fandom. But, seeing incredible fan works is also so inspiring. I'm primarily a fanfic reader, so reading amazing stories that are so much better than the source text is so enjoyable and inspiring. When entering a new fandom, the first thing I do is filter by word count. I adore fics with hundreds of thousands (if not millions) of words just waiting to be read. Fix-it fics are my favorite.
---
We encourage suggestions from fans for future guest posts, which can be left as a comment here or by contacting us directly. Visit our Pinboard account to up catch up on earlier guest posts.