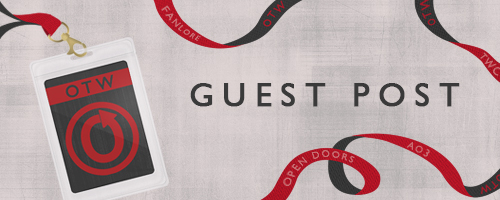 Every month or so the OTW hosts guest posts on our OTW News accounts. These guests provide an outside perspective on the OTW or aspects of fandom where our projects may have a presence. The posts express each author's personal views and do not necessarily reflect the views of the OTW or constitute OTW policy. We welcome suggestions from fans for future guest posts, which can be left as a comment here or by contacting us directly.
daffodeela is a fanfiction writer who has published her fanfiction on FFN, AO3, and Wattpad since 2011. She was a crew member for a fanwork contest called Banjir TomatCeri from 2015 until 2017 and also for the annual fanfiction event, Indonesian Fanfiction Awards, since 2018. Today, daffodeela talks about fanfiction communities in Indonesia.
How did you first find out about fandom and fanworks?
My best friend in junior high school was the one who introduced me to the world of fanworks. She told me things about fanfiction and how fun it was to read them all. My first fandom was SKET Dance, a slice of life, comedy anime that I loved (still love) so much. I couldn't get enough of its official content so I was so glad when I found out there was a thing called fanworks!
I had a ship in SKET Dance and I wrote fanfiction for it. Then I thought about another anime I watched and enjoyed, Naruto, then went to dig some fanfiction on it. I was really shocked over how many fanfiction stories were written for Naruto! I ended up enjoying my time in Naruto more than in SKET Dance because of the lack of fanworks in it. I also had some ships in Naruto and felt delighted reading them all.
I was alone in the fandom and didn't interact much with other people until I found a community of my ships and Indonesian fanfiction on Facebook. That was the start of me sinking deeper into the fandom world and I had another fandom to dig for.
The Indonesian Fanfiction Awards are an annual event. How did that get started and how did you become involved?
Indonesian Fanfiction Awards (IFA) was started by a small group of people thinking about holding an award for the Indonesian fanfiction community. It was held for the very first time in 2008 at a platform called Infantrum, an Indonesian fanfiction author forum. At first, the method to decide the winners was by a panel of judges assessing the submissions. In 2010, IFA started to reach the audience outside Infantrum and added polling as another method to pick the winners. From the very first time IFA was held, IFA only accepted fanfiction from Fanfiction.Net but since 2012, IFA included fanfiction at the Archive of Our Own. In 2020, IFA included another platform, which is Wattpad.
I became aware of IFA in 2014, although I found the fandom and fanworks world in 2011. I was just a watcher back then. In 2015, I signed up as a volunteer to promote IFA. The volunteer team was called "humas", short for "hubungan masyarakat", which means public relations. In 2016 and 2017, I was recruited as a judge to assess the works submitted for IFA. I was more deeply involved in IFA since 2018, when I became part of the crew for it, working on how IFA would go, managing it, and more. I became a crew member again in 2019 and 2020. I enjoy my time in IFA — it's my passion!
How do works qualify for The Indonesian Fanfiction Awards?
Indonesian Fanfiction Awards doesn't have a lot of qualifications for works that can be submitted. The most essential one is the publication date. For example, for IFA 2020, we only accept works that were published between October 14, 2019 (the end of IFA 2019's period) until September 30, 2020. For multi-chapter works, their last update should be at least six months before the nomination month. Nomination month is a time for the participants to submit their own works or other people's work to be included in IFA.
All of the published works to be included in IFA should be nonprofit work. IFA only accepts works that were written in the Indonesian language, but if it includes a foreign language or local language in them, some of that is fine. IFA doesn't accept a translation of other people's work, but if the original work was written by the same fan and published in the qualifying IFA period, it can be accepted.
IFA accepts fanfiction with any kind of genre, ratings, or fandoms, including real-person fanfiction.
How do fanwork creators connect in Indonesia? Do they use multinational platforms or are there important local ones?
There were a lot of local communities for fanwork creators. I didn't know about the multinational ones. Before Facebook was popular, fanwork creators were connected through a platform called Infantrum, an Indonesian fanfiction author forum. Infantrum was an important forum in the Indonesian fanfiction author community since it was the very first forum that connected a lot of fanwork creators. It was the platform in which IFA was held for the very first time. I hadn't been active in the fandom community when Infantrum was the center for fanwork creators.
In my active days as a fanwork creator, one of the most popular communities was a group called Fanfiction.Net World on Facebook. It connected a lot of fanwork creators and, in my opinion, it was the best group to share about fanworks, fandom, and anything related to them. Although the group was called Fanfiction.Net World, it also accepted content promoted from other platforms like Archive of Our Own, Wattpad, blogs, and so on. There are a lot of WhatsApp groups that gather fanwork creators together too.
Besides those, IFA also connects a lot of fanwork creators because of how big the community is. Once IFA got started, some people got a lot of new friends. The new friends could be those participating in IFA, or volunteers like humas captain, humas, graphic team, judges, and the crews.
How did you hear about the OTW and what do you see its role as?
I heard about OTW from my friend who was going to sign up as a volunteer for it. That was in 2016, I guess. I was curious about the OTW and was shy to ask her what it was about, so I looked it up on Google. All I know for now is that it is an organization that manages Archive of Our Own and is focused on transformative works.
What fandom things have inspired you the most?
Fandom things that inspired me the most are the consistency of the people who work hard to make fanworks! Also their spirit and productivity. It's awesome to see people so passionate about what they love and who pour their hearts into it. They make their fandom look great in their own way.
---
Catch up on earlier guest posts