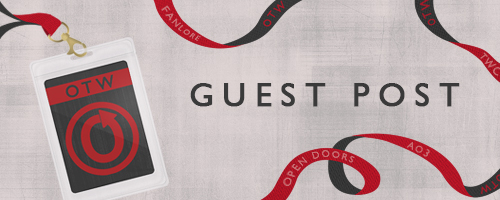 From time to time, the OTW will be hosting guest posts on our OTW News accounts. These guests will be providing an outside perspective on the OTW or aspects of fandom where our projects may have a presence. The posts express each author's personal views and do not necessarily reflect the views of the OTW or constitute OTW policy. We welcome suggestions from fans for future guest posts, which can be left as a comment here or by contacting us directly.
Beth Weeks (Betts) received her MFA from Miami University, where she currently teaches creative writing and composition. Her work has been published in Rivet Journal, Midwestern Gothic, and Quarter After Eight. You can find her on Twitter and Tumblr. Today, Betts talks about how she became a fanfic writer.
How did you first find out about fandom and fanworks?
I was 11 the first time I found fanfiction. It was a small Geocities archive for the show Dark Angel. I opened up an explicit fic, though, and immediately panicked, vowing not to go searching for Max/Alec content anymore. I was 23 when fanfic found me again. There were only six episodes of BBC Sherlock at the time, and Post-Reichenbach fics were flourishing. I had a Tumblr already; it had been introduced to me by a friend who said it was the "motherlode of lesbians and cats."
I stumbled across a rec to EmmaGrant01's "A Cure for Boredom," then a WIP, and I thought, I too am bored. I found myself many hours later, nose to screen, huddled in a blanket burrito, occasionally rolling around saying "oh my god." When I finally glanced away from the fic, it was dark outside and I'd forgotten to eat. I'd read thousands of books, but fanfic seemed unlike any of them. It took my favorite elements of narrative, gutted all the stuff I didn't care about (plot) and beefed up all the stuff I did (character). Fanfic was risky and urgent and earnest — everything I thought good writing should be.
Later, I traveled around South America and New Zealand, and whenever I got homesick and couldn't manage to sleep, I'd pull up a Johnlock fic and curl up in my hostel bunk, among dozens of other snoring backpackers, so I could feel connected to something again. Fanfiction became a piece of home I carried with me. No matter where I was, there was somewhere I knew I belonged.
What led you to writing fanfiction, and how does the process work for you?
I started writing Supernatural fanfic in 2014, about a year after I'd started reading it. I was in commercial finance at the time, and in the same way I began reading fanfic, it was boredom that led me to writing it. I was mourning the death of my father, and I'd gone through devastating breakups with a long-term partner and several close friends. I had all this pent-up emotional energy with nowhere for it to go. It ended up in a Word document one night, somehow, as a stripper AU. I posted a chapter every night and woke up every morning to a handful of comments and kudos. It was revelatory to me — as an obsessive journaler, it blew my mind to be read by other people.
My process has changed a lot over the years. I've never been a perfectionist, but I wasn't a revisionist at first, either, which meant I wrote poorly and didn't care. I graduated from college with a 3.9 GPA, while somehow working 60 hours a week across three part-time jobs. I'd spent my life as a model student, not with a passion for knowledge, but a devout commitment to obedience and conformity. So I found it very freeing to lean into writing badly, and to break all the rules I thought I knew about "good writing." After years of drowning in work, of taking care of a dying parent, of trying to fix toxic relationships with abusive men, fanfiction taught me how to have fun again. It reminded me of the person I used to be, the 14 year old girl who zipped through her library's YA section, who compulsively filled journal after journal, who wrote meandering stories about cannibals and minotaurs and magic on her parents' basement PC.
The Supernatural fandom offered me the encouragement I needed to keep writing, which was a skill I'd always been interested in but didn't have the patience or motivation to pursue. I was raised to believe that creativity was best reserved for hobbies, something that rests at the end of a long line of other priorities, like finding a "real" career and building a family. But I didn't have a "real" career, just a job, and building a family was far easier said than done. Something was missing in my life, a central pursuit to ground me and give me purpose. Fanfiction showed me a path to help me find that. In fandom, I made close friends who valued my writing and who lovingly pushed me to write more and better and different sorts of things, the first challenge in my life I was eager to meet.
You got an MFA and taught a course on fanfic. What did you find the most rewarding about that?
After a few years of writing fic, I realized commercial finance was not my calling, and that I would never be happy working for a bank. My friends encouraged me to apply to creative writing MFAs — a daunting endeavor, considering I had no idea how to write original fiction. I was accepted into a fully funded program, so I quit my job to go to grad school. There, I found something I loved more than writing: teaching writing. I'd spent years dismissing my own work as being trivial and worthless, but in the MFA, I was surrounded by people who took art seriously. I had a terrible case of impostor syndrome, considering I'd never taken a creative writing class, but to my cohort that was an asset. As one friend put it, I was the only self-taught writer in the program, and the only one who had ever written for an established audience. By that point, I'd written a million words, and not a single one of them was wasted, because every fic and drabble and fragment and abandoned WIP gave me a piece of what would become my aesthetic, the themes and settings and conflicts I enjoyed exploring.
In my second year, I did an independent study wherein I led the Fanauthor Workshop. I opened up applications from fandom and received about fifty, and from those I chose ten to invite to the workshop. Together, we offered each other feedback on both fanfiction and original pieces, and had several discussions on how the work of fanfic differs from that of original fiction, both in craft and intent. Several members of the workshop went on to pursue traditional publication and MFAs of their own. The workshop was a great success, and I hope one day I'll get to host another.
How did you hear about the OTW and what do you see its role as?
I heard about the OTW by clicking around AO3 when I first began reading fanfic. I noticed quickly that AO3 was unlike other sites I used — there were no ads and no app, and that tipped me off that something different was happening behind the curtain. I diligently read every word of the terms of service. Eventually I came across the OTW and its other projects, and fell down a rabbit hole learning the history of fandom.
I've worked with and volunteered for many nonprofits over the years, and the OTW is one of the best organizations I've ever interacted with. I'm endlessly grateful to the OTW for giving people like me a platform, and for being a central hub for the communities that helped give my life focus. Without AO3 I would have never found writing, and would still be in a cubicle closing business loans.
What fandom things have inspired you the most?
I would say my biggest inspirations are rage and spite. I write fanfic if I see unmet potential in canon, particularly in regard to what I call "fallen knight" characters — often mistaken for the villain, who tend to make the wrong choices repeatedly, and are in need of redemption that doesn't involve their death as a final sacrifice. Think Draco Malfoy, Jaime Lannister, Bucky Barnes, Anakin Skywalker. Atonement, forgiveness, and recovery are my favorite themes to explore in writing, and I think they're often sidelined in mainstream media because of the time and patience they require to unfold in a realistic and satisfying way. Fanfiction, to me, is an ideal medium to tell these kinds of stories; canon breaks the characters, and I get to fix them.
A sense of community is also very inspiring to me. I tend to gravitate toward fandoms that have tight-knit, supportive communities, and have collectively transformed canon into something new. I appreciate the brainstorming effect fandom has, when you bounce ideas and what-ifs and headcanons back and forth, spiraling until something pulls at you, and you go, "If I don't write this right now I will literally die." And most of all, I love the clear sense of audience that fanfiction provides. I write for myself, yes, but I can also fill prompts and gift fics and write the exact story that someone I love wants to read. I write fanfiction, not to be good or lauded or seen, but for the joy of sharing stories with people seeking catharsis in the same ways I am.
---
Catch up on earlier guest posts