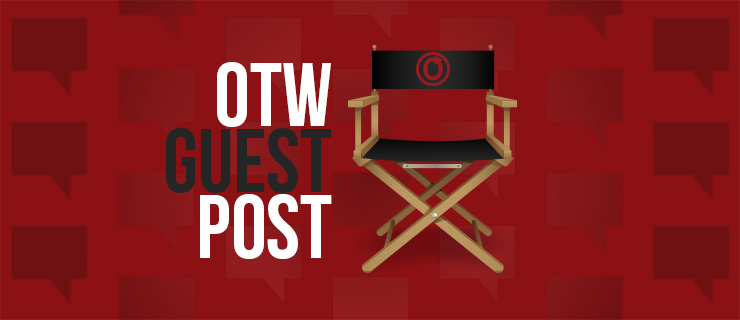 Every month the OTW hosts guest posts on our OTW News accounts to provide an outside perspective on the OTW or aspects of fandom. These posts express each individual's personal views and do not necessarily reflect the views of the OTW or constitute OTW policy.
Bettina is a lifelong fangirl. She loves reading, gaming and going to conventions. In the past she dabbled in writing fanfiction, but nowadays she leaves that to more talented people. Today, Bettina talks about her work with the GSSU Archive which can now be found on AO3.
How did you first find out about fandom and fanworks?
I've always been kind of "fannish", even as a young child. One of my earlierst memories is of me sitting in front of my grandmother's TV set and watching Star Trek. I loved the show so much and loved TNG even more. I wanted more and because of that I started reading the TNG novels in German. In the back of one of the novels I found an ad for a Star Trek club. Up until then I didn't even know that other people shared my obsession.
I decided to write a letter for more information about the club (it was before the Internet!). I had to convince my parents to pay for the membership. It worked out and I became a member of the STCE club (Star Trek Central Europe). The STCE published info zines and yearbooks, which also included fanworks. I met other fans, found my first fandom friends, found fanfiction. I never really looked back after that.
How did you get involved with the GSSU?
I was an early member of the Querstrich mailing list, a German-speaking multi-fandom slash mailing list. We discussed pretty early on that we wanted an archive for the stories that were posted on Querstrich. I can't remember exactly, but I may have offered to set up and maintain the archive.
What was the history of the GSSU and how did it end up being imported to AO3?
The process of creating the archive was quite collaborative. We decided as a group how it would look, what kind of stories we wanted, that it would be both in German and English, etc. Katja, a fellow Querstrich member, created an incredible logo and I coded the site myself with my limited knowledge of html. All the stories posted to the archive came from the Querstrich mailing list and almost every author (there were a couple exceptions) was a German speaker. I updated the archive on a regular basis.
But over the years fewer people posted to Querstrich and fandom in general moved away from mailing lists. I continued to maintain the archive, but over the years it also became more of a chore. I talked it over with a friend, who was visiting me at the time, and she gave me the push that I needed to make the decision to close the archive. I announced the closure of the archive on my LJ and DW at the end of September 2012. I got many supportive comments and several people suggested to contact Open Doors for a possible import of the archive.
Back then, it was only possible to import whole archives that were based on an automated archive script. Because of that it took a while to figure out how exactly the archive could be imported, but with the amazing work of the Open Doors team it worked out beautifully. Over the course of 5 months I manually imported almost 800 fanworks to the GSSU collection.
How did you hear about the OTW and what do you see its role as?
I've been in fandom for a very long time, so I sat on the sidelines when AO3 and OTW were first thought of and then created. It's such an amazing and important thing that everyone involved has created. I think the most important aspect is the preservation of fandom history and culture.
What fandom things have inspired you the most?
Before I found fandom I felt very alone and all of a sudden there was this group of people that shared my interests! There was this sense of belonging that I never had felt before. Over the years I met so many incredible people and for the most part the fannish community is so supportive and inclusive. I learned so much and I continue to learn. But most importantly, I found amazing, beautiful friends, who inspire me every day.
---
We encourage suggestions from fans for future guest posts, which can be left as a comment here or by contacting us directly. Visit our Pinboard account to catch up on earlier guest posts.