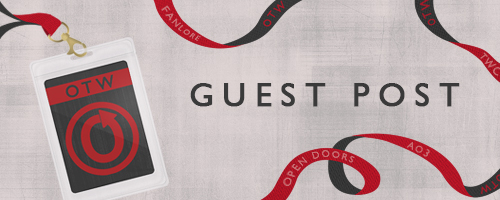 From time to time, the OTW will be hosting guest posts on our OTW News accounts. These guests will be providing an outside perspective on the OTW or aspects of fandom where our projects may have a presence. The posts express each author's personal views and do not necessarily reflect the views of the OTW or constitute OTW policy. We welcome suggestions from fans for future guest posts, which can be left as a comment here or by contacting us directly.
Betsy Craig is the Founder and Organizer of FannibalFest Toronto, which is launching this year and takes place from November 2-5. Today, Betsy talks about Hannibal fandom and project learning curves.
How did you first get into fandom and fanworks?
Over the years I joined social media groups dedicated to fans of favorite TV shows. Reading through posts, I found members chatting about this thing called "fan fiction". I decided to look it up online and discovered that other people "shipped" characters in TV shows like I did. I thought I was the only one picking up heavily implied but unexplored relationships between characters in the storylines.
I checked out a couple of sites…AO3 and fanfiction.net. Fanfiction.net was not easy to use nor did it categorize and explain what each piece of fiction was about like AO3 did. So I never really went back to fanfiction.net and just started reading fan fiction of TV show characters I liked. As time went on I found I had favorite writers and began to subscribe so I'd know when they had posted a new chapter to an ongoing piece or a new story all together.
How did you get involved with Fannibal Fest and what is your role?
I "got involved" because I kept reading social media posts of Hannibal fandom people who were attending a convention for the TV show Hannibal held in the U.K. called Behold the Red Dragon Con. So I'm thinking why isn't there one in the U.S.? I contacted StarFury events who holds that convention and asked if they would hold one in the US and they said they did not have plans to do so.
My next idea was to contact the studio that created Hannibal –- Gaumont TV — and ask them to put on a convention here in the U.S. They said, through an arm of their company, that they have looked for opportunities for Hannibal and had gone to Creation Entertainment asking them to hold a Hannibal convention in the US. They said Creation turned them down. I was on a bit of an obsessive roll so I, of course, went to Creation Entertainment and asked what they needed to see from the Hannibal fandom to convince them to hold a convention like they do for many other TV shows. They claimed they have to be asked by the "studio of record" for the show. They claimed they were never approached by Gaumont. This went back and forth for a couple of months and I just came to the realization neither were ever going to do this for this fandom and the chances of there being a Hannibal convention in the US were slim to none.
While I went through the Gaumont/Creation inquiries, I started a private Facebook –- North American Hannibal Con — page and invited people in who I'd interacted with from other Hannibal fan pages. I kept them up to date on how my efforts were going. After getting nowhere with Gaumont and Creation, someone in that group said it will just have to be put on by fans. So, I began to look into what it takes to hold fan-run conventions. I scoured the internet for groups of people who went to fan conventions, held fan conventions for a variety of interests and who wrote about fan conventions. After that I started asking people in that little private Facebook group and on Twitter if they wanted to help put a Hannibal TV show convention in North America together, and we started rolling from there.
It's been an education in starting and filing state papers to legally become a company, finding a venue, negotiating contracts with Hannibal cast reps, consulting with con runners who built their cons from the ground up, raising seed money, learning how to sell tickets online, getting a website set up, marketing, promoting, learning how a US based company does business in Canada, working with writers, social media, podcasters…the list of new things to learn is non-stop this first year.
What do you find unique about the Hannibal fandom?
Those of us who spend a lot of time in the Hannibal fandom have been uniquely moved by Bryan Fuller's adaptation of Thomas Harris' Hannibal storyline. It's a group of people from all over the world who, while from different walks of life, have found the story of Hannibal and Will Graham very much our cup of tea. The fine art, the fan-made videos, the crafts and, most of all, the fan fiction surrounding the show allowed us to take the story where WE want it to go. We all seem to have a similar experience of others in our life "that just don't get it" and it's wonderful to have this very passionate growing family of unapologetically obsessed friends who "do get it".
How did you hear about the OTW and what do you see its role as?
I heard about the OTW through AO3. It is so heartening to see an organization of actual fans make a home for other people who feel the same way about whatever particular fandom has grabbed them by the heart and soul and won't let go. We find others like us because of the OTW…it's a blessing for artists to share their works with other fans in a family type atmosphere. Fan groups ARE families and that's what OTW promotes.
What fandom things have inspired you the most?
Well first of all the myriad stories taking existing characters to places/relationships/situations the original platform's writers didn't or wouldn't take them. It is wonderful to be so emotionally attached to characters and read the incredibly talented fan writers out there who bring that through their work so it's so easy to fall right into whatever storyline they've created.
Fan art is also another part of fandom culture that inspires me and takes characters where I'd wish they could go but sadly did not in their original form. Fandom artists are unbelievably talented in their own way and artistic lane…whether it be canon, fantasy, AU or OTP. It's just another way to be fulfilled by existing characters that touched us and now are being taken to another plane.
---
Catch up on earlier guest posts