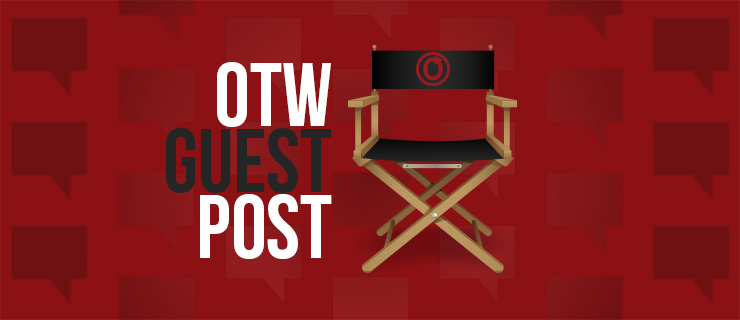 Every month the OTW hosts guest posts on our OTW News accounts to provide an outside perspective on the OTW or aspects of fandom. These posts express each individual's personal views and do not necessarily reflect the views of the OTW or constitute OTW policy.
Behind the Pod is a podcast about the backstage processes of podfic, with audio essays, interviews, and other meta discussion by different podficcers each episode. Today, two of its co-mods, Eafay and frecklebomb, talk about getting started as podficcers and the inspiration for this podcast.
How did you first find out about fandom and fanworks?
Eafay: I heard about fanfiction and Fanfiction.net in high school, but never did much with it at the time. Then, after college, I got into soccer; at the beginning of a particular tournament, I went on Google to find pictures of two players I really liked, didn't click the 'images' tab right away, and found the Football RPF page on AO3!
frecklebomb: I was a late starter by most accounts, and learned about fandom in my late 20s. Specifically, my first experience of fandom is very closely tied to my experience of becoming disabled; I'd just lost a lot of mobility and I read an article about the "phenomenon" of adults reading fanfiction about boybands, which mentioned AO3. I thought it sounded interesting! Finding a fannish community when I was at my most incapacitated was invaluable.
How did each of you start creating podfic? Was it your first type of fanwork?
frecklebomb: Podfic were my first fanworks! I started recording podfic because I was listening to such a lot, and wanted there to be more of it. I had the skill set for podficcing, as well as a USB microphone (although many podficcers record on their phones!) so I just went and recorded my favourite fic because I wanted to be able to listen to it on days I couldn't handle screens.
Eafay: Podfic wasn't the first type of fanwork I created. I wrote fic for a little under two years before getting into podfic, which was due to some of my author friends talking about also being podficcers. I'd also branched into hockey RPF, which has a lot of podfic. Like frecklebomb, I already had a USB microphone. My very first podfic was a short fic I wrote and podded all in one sitting!
What was the inspiration behind starting Behind the Pod?
frecklebomb: I'll take this one, as Eafay came on board for our second Series. There have been a whole host of projects dedicated to podfic meta at any given time, including the communities pod-aware and podficmeta and the Resonance podcast and Auralphonic podcast. That niche was empty for a while after the Auralphonic hosts stopped making new episodes. Annapods and I learned that part of the reason why they stopped was that the workload of devising, recording, and editing a monthly podcast became unsustainable for the hosts. It felt to us that there was an appetite in the community for a dedicated space for public podfic meta discussions, and neither of us was willing to commit to recording and hosting a regular podcast to fill the exact space as Auralphonic had.
Running something like a challenge, with a defined timeline and ways for many different people to participate, felt like a more manageable model for us. We hoped, and have been so happy to see, that we were right in our hopes, that inviting people to create their own episodes has meant we've ended up with a far more diverse set of topics than the two of us would have been able to record on our own. We've had an incredible variety of audio essays, roundtables and interviews on subjects ranging as widely as multilingual podficcing, the experiences of podficcers of color, using music and sound effects in podfic, and individual fannish histories.
What have you found to be the biggest challenge in hosting Behind the Pod?
Eafay: For me, the biggest challenge is making sure things happen when they should. Before each series, frecklebomb and I talk through everything, including the schedule. We also have a very large Google Doc for each series with the text of our Dreamwidth posts, tweets, emails, and other things we'll need to know. However, none of this makes the scheduling automatic — the posts still have to go on Dreamwidth, the emails still have to be sent, etc. We've managed to find a time on the weekends that works for us to set things live, but it's still the trickiest bit for me.
frecklebomb: Personally, the biggest challenge is finding a balance between the demands of facilitating BtP, the impact that has on my health, and what the requirements for participation are/making participation accessible. This can end up a zero-sum equation, and my best experiences have happened by structuring the event/challenge in a more accessible way for everyone, facilitators and participants. I had a great chat with klb about this (for my Behind the Podcast Series 3 episode: Interviews On Accessible Moderating) and her thoughts on streamlining challenge rules have really stuck with me. Rules that don't make my life as a facilitator, or the participant's lives, easier (and aren't essential functions of the event) can often just go!
How did you hear about the OTW and what do you see its role as?
Eafay: I honestly don't remember how I first heard about the OTW. I see its role as the body that runs AO3 and Fanlore, puts out academic articles, and keeps a team of lawyers ready to defend fancreators if/when it's needed.
frecklebomb: Knowing people who were volunteers on various committees or tag wranglers! My primary interaction with the OTW is as the body that runs the AO3, although I have read one or two of the academic articles it puts out.
What fandom things have inspired you the most?
Eafay: I love fests, challenges, exchanges — basically anything with a theme and deadline. Pod_Together holds a special place in my heart because my first podfic-adjacent activity was beta-reading a fic written for Pod_Together; the author and podficcer were the people I mentioned in the question about getting into podfic, and I consider them very dear friends and very helpful in podfic matters to this day.
frecklebomb: Honestly, the collaborative nature of podfic fandom! Its readiness to embrace experimental genres and forms is incredibly inspiring and motivating. The many and various community and challenge organisers in podfic fandom, those who run large-scale events (pod_together, podfic broken telephone, podfic polygons, and the Awesome Ladies Podfic Anthology & Chromatic Characters Podfic Anthology) to ad-hoc multivoice projects, consistently make me reassess the way I approach both my own fanworks and event facilitation.
---
We encourage suggestions from fans for future guest posts, which can be left as a comment here or by contacting us directly. Visit our Pinboard account to catch up on earlier guest posts.