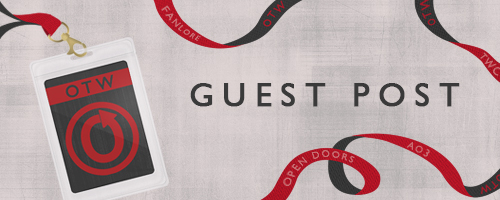 From time to time, the OTW will be hosting guest posts on our OTW News accounts. These guests will be providing an outside perspective on the OTW or aspects of fandom where our projects may have a presence. The posts express each author's personal views and do not necessarily reflect the views of the OTW or constitute OTW policy. We welcome suggestions from fans for future guest posts, which can be left as a comment here or by contacting us directly.
Although juggling her PhD research and full-time work at two different institutions, Antonia nevertheless finds time to both attend and volunteer at fanzine events around Tokyo. Her current research interests include time travel themes in contemporary manga and "miritarii" dōjinshi fandom. Today, Antonia talks about what it's like to volunteer for Comiket, a major dōjinshi convention held in Japan.
How did you first get into fandom and fanworks?
Gosh, it depends on what you mean by fandom and fan works, but I guess it all starts with being drawn to (and gradually infatuated with) one or several original texts. For me those "texts" were Tezuka's Astro Boy, TV Tokyo's little known series Samurai Pizza Cats and ThunderCats. I guess I had a thing for androids and "animaloids."
Like most kids, I enjoyed watching these shows, but you know, sometimes you reach a point when you feel like something in the original text is missing — that's when you start searching for alternative interpretations or wind up creating them yourself. In my case, I was exposed to a bunch of cartoons and anime series and was fortunate enough to live pretty close to the only comic shop in my town so I got my hands on a lot of Marvel stuff too. So with all these different stories running through my head, I started doodling my own derivative works for fun from the age of nine or so. I hadn't really thought about why I did it until now. I guess that this kind of fannish activity stems from not being 100% satisfied with a particular source text and wanting something "your way."
How did you become a volunteer for Comiket?
I think the event that triggered it was Otaku Summit in 2014. After having listened to discussions on the otaku industries in the Otaku Expo symposium and academic symposium, I thought "Wow! We're all part of this big thing," but at the same time I felt like I wasn't doing enough to keep the wheels turning. I realised that until now I was only "taking." That is, as a regular attendee to Comiket and other fanzine events, I was simply consuming and giving very little back to the otaku industries. I thought, "Hey, they probably need some English speaking volunteers" so I approached the guys at the international help desk and it all started from there! It'll be a while before I reach "veteran" rank but it's something I think I'll keep doing since it makes me feel like I'm giving back to the ota-community.
What have been the upsides and downsides of your experience volunteering?
I think one of the downsides is not being able to help everyone. There are so many foreign attendees who simply don't know what they are looking for or what they want to see at Comiket. They just want to see "what it's like." Having said that, the same goes for quite a lot of journalists and media industry professionals who have very little knowledge about the dōjinshi market and greater otaku industries in general. Pinpointing what they want and directing them to the best circles or genre codes can take a lot of time.
On the upside, you get to meet a lot of people from all over the world and also a lot of big-name media industry professionals. Although, I have to say that we're a pretty eclectic bunch at the International Desk too. Aside from being on the "other side" of Comiket, the great thing about being a volunteer is that you are essentially a facilitator of the otaku industries — and I find that particularly rewarding. We're giving a little something back to the community, but we're also taking a little something home with us — all the little things we learn from all the different individuals we encounter amongst the masses in Tokyo Big Site.
How did you hear about the OTW and what do you see its role as?
I first heard about Transformative Works and Cultures as it supports and publishes a lot of diverse researchers' work on fanfic and fandom practices. Overall, I think OTW's role is to foster and protect both those engaged in producing and consuming fanfiction, and those who study it. Needless to say, we're all working together, but it is reassuring to know that there is some kind of foundation or organisation which serves as a network or binding agent, per se.
What fandom things have inspired you the most?
I think the lengths which Japanese fans will go to to either get the items they want or produce something that simply does not exist. And it's not just the incredible amounts of money they invest on acquiring or producing different things, it's time, effort and dedication. Some of them sacrifice their jobs or neglect their health and familial obligations all in the name of fandom. It's all about making sacrifices and giving it your all until the end — which is very much a part of Japanese culture.
---
Catch up on earlier guest posts