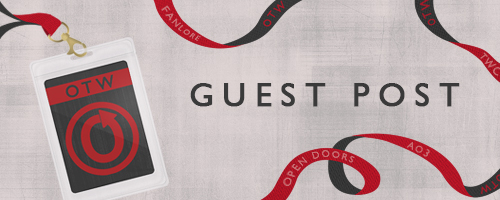 From time to time, the OTW will be hosting guest posts on our OTW News accounts. These guests will be providing an outside perspective on the OTW or aspects of fandom where our projects may have a presence. The posts express each author's personal views and do not necessarily reflect the views of the OTW or constitute OTW policy. We welcome suggestions from fans for future guest posts, which can be left as a comment here or by contacting us directly.
Angie Fiedler Sutton is a writer, podcaster, and proud fangirl geek. She currently lives in the Los Angeles area with her wife and cat, and freelances when she can, covering theatre and geeky pop culture. Today, Angie talks about her podcast G33K Out.
How did you first find out about fandom and fanworks?
Well, I became a member of my first fan club around the age of 14, when I joined the St. Louis CIA (Celestial Intervention Agency), a Doctor Who fan club during the dark days before the reboot. However, it wasn't until the early 2000s thanks to a Slate article that I found fan fiction — and specifically slash fiction.
What did you find to be the biggest challenge in starting a podcast?
The biggest challenge in starting the podcast is just figuring out if I have the time / energy to devote to it. My first 17 episodes were produced just when I had the time and ready access to material (mostly press interviews). But I knew I wouldn't get any traction for listeners if I didn't commit to it as a project.
What do you look back on in your early episodes and wish you could change? What things do you feel particularly pleased with?
My episodes 3 – 8 are all individual short pieces, produced as though I was producing a radio segment, and probably should've been done as one episode. I also feel like I could've had a better handle on the interviews. However, I am particularly pleased I got the red carpets I did. I think the one early podcast that I'm particularly pleased with is Mike Nelson of RiffTrax / Mystery Science Theatre 3000 fame.
How did you hear about the OTW and what do you see its role as?
I heard about the OTW through the Archive of Our Own, which I came across in early 2013. I remember it well: at the time, I was massively into reading the various pages of the wiki TV Tropes. I was on the one for Sherlock, and noticed that it had fan fic recommendations. Having read (and written) fan fic in the early 2000s, I had gently looked into FanFiction.net and LiveJournal, but it wasn't easy finding stuff for me there. But AO3 was like discovering a gold mine. I got myself an account to be able to bookmark, and the rest, as they say, is history.
What fandom things have inspired you the most?
The Sherlock fandom continues to astound me. While I wasn't a huge fan of Series 4, the fandom — for the most part — has done a great job of taking what we were given and making it our own. The fan art especially — shout out to AnotherWellKeptSecret for how she draws the two of them to where they both do and don't resemble the actors. But this was the first fandom that made me fall in love with AUs, and the idea that you can take the basics of the characters and really run with it.
---
Catch up on earlier guest posts