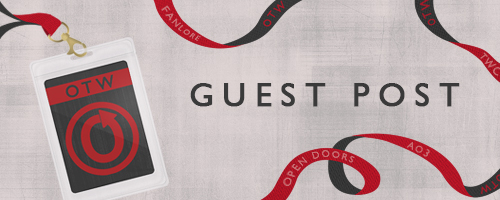 From time to time, the OTW will be hosting guest posts on our OTW News accounts. These guests will be providing an outside perspective on the OTW or aspects of fandom where our projects may have a presence. The posts express each author's personal views and do not necessarily reflect the views of the OTW or constitute OTW policy. We welcome suggestions from fans for future guest posts, which can be left as a comment here or by contacting us directly.
Alice Huzar is a Canadian/British filmmaker currently in production on Fanfic: The Documentary. She lives in Victoria, British Columbia and reads far too much fanfic.
How did you first find out about fandom and fanworks?
I've been aware of fanart and fanvids for years, but they really never really hooked me in, and I'd encountered specific individual fanfic stories from time to time, but never delved further. It wasn't until I read Fangirl by Rainbow Rowell a few years ago that I became aware of the whole fanfiction world. The book really grabbed me and I was really intrigued by the idea of writers and readers being so hooked by stories that existed outside of the original canon. I didn't understand the appeal, and so started reading fanfic myself to try and discover what people loved about it. I got hooked really really quickly, and am now a massive advocate for fanfiction.
What has the process of working on your documentary been like?
I've had amazing feedback from fanfic readers and writers, and it's really opened up the community side of the fanfiction world to me. It's been so fascinating to me to hear from writers about the different reasons they have for writing fic, how they see it in relation to the canon source material, and how they discovered it in the first place. I've been exposed to more fandoms and more writers, which has broadened my own fanfiction world and made it more diverse and amazing. And I've met amazing people!
How do you see your documentary contributing to the discussion surrounding fanworks?
My goal for the documentary is to find a balance between people who are already involved in fanfic and love it and people who are completely unfamiliar with it. I want to provide a look into different writers' fanfic worlds and show that it's far from the singular geeky monolith it's presented as in many articles, as well as an overview of the history and scope of fanfiction. I want to take new viewers on the same journey I went on, from confusion to appreciation, while at the same time giving viewers who already love fic a celebration and exploration of the wider world of fanfiction.
How did you hear about the OTW and what do you see its role as?
I first started reading fanfic on AO3, which I found by just Googling "fanfiction", and it took a little while before I learned about the broader scope of the OTW. I think it provides an incredible resource and service for creators by supporting fanworks.
What fandom things have inspired you the most?
Without a doubt, I'm most inspired by the passion of creators and fans. Their creativity and ideas inspire me every day.
---
Catch up on earlier guest posts