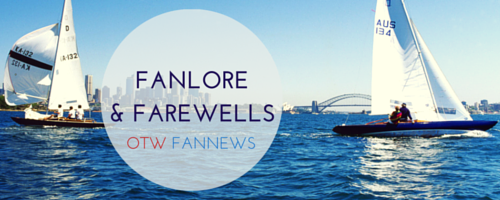 In February 2009, not long after the OTW website went live, the first "Links Roundup" post went out, pointing out discussions of fannish activities. This irregular series changed to several posts a week in August 2011 and took on the title OTW Fannews in 2012 as more and more of these stories started to appear.
In 2016 the landscape is pretty different. Fandom has become such a common topic of discussion in the media and popular culture that it has begun to appear in all parts of public life — even arenas like political campaigns. Around the world, positive attention is being paid to fanworks, and fanworks are even merging with their commercial canons and fans themselves are part of the discourse. People who have experience in multiple fandoms are now part of the media, writing about their experiences. Large commercial sites devoted to general fandom topics have done well, and even major mainstream media outlets are likely to be hosting their own fandom columns, subsites, or writers. Throughout this time, the Fannews posts have documented the change in both the frequency and variety of these discussions, as well as the increasing quality of those spotlights on fan practices.
We no longer have to go looking for fan-related news. Instead, we have to struggle to keep track of it all! So we're updating the OTW Fannews series by changing it to "This Week in Fandom," a curated collection of some of the week's biggest news in fandom. We'll keep you in the loop on the latest fannish social media trends, copyright developments, cons, mainstream and indie articles, and more. This isn't entertainment news, it's fandom news—info about what you (and we!) create and care about. And you can help: if you see something interesting developing in fandom, or if you'd like to submit an event (including calls for papers and requests for research participants), send us a tip!
Keep Memories Safe!
During its seven years the Fannews series has also been about raising awareness of fannish history and the Fanlore site as a resource for recording information about fanworks and fannish histories and practices. Each Fannews post has ended by encouraging readers to add their own memories and insights in Fanlore entries, as well as linking readers to related pages on the topics within the post.
Having fans represent their own activities and works ​on websites that aren't owned/controlled by corporations is important, especially as fandom becomes such an appealing topic for the media and researchers. In past months different media articles have cited Fanlore as a source. Many academic works over the past few years have also cited Fanlore. Dozens of these works have appeared, including books about particular fandoms and fanwork types, as well as fan practices. Fanlore also appears in genre studies, social studies, and even topics that are broader than fandom itself.
We encourage you to subscribe to the Fanlore News twitter account. Moderator Pip Janssen sends out several tweets a week pointing people to fun and interesting entries on the site, and we hope you'll add to them or even start your own pages to keep the site's record of fan history going strong.
(We'd also like to give a shoutout to our many graphics volunteers who have made hundreds of unique banners over the years for the OTW Fannews series — thank you all for your wonderful work!)