The OTW Community Survey closed on Thursday 2nd May after its two-week run. An amazing 5986 people responded, which surpasses our wildest expectations. We'd like to thank everyone who took it and who helped to spread the word for making it such a huge success! We'd also like to apologise for the delay in posting about our preliminary results. We had originally intended for this post to go up the day after the survey closed, but unfortunately the mass of data involved and some unexpected commitments on the part of some key staffers meant that we weren't able to do this. We're sorry that we didn't post an update about the delay — improving our processes to cover stuff like this is one of the things we're still working on. Thank you for your patience and your overwhelming response to the survey!
We wanted to cover lots of bases and get a broad picture of our userbases and their needs, which meant that this was a long survey! So we're especially pleased (and relieved!) that the completion rate was 82.2 % — that is, 4921 people actually finished the entire survey and clicked the "done" button. (Don't worry if you were one of the other 18% — we'll still be counting the results from partially completed responses.)
The high number of respondents corresponds with a humungous amount of data. Some of this will be reasonably easy to collate, while some of the free text responses will require more in-depth analysis. The final question ("Anything else you'd like to tell us?") alone yielded the equivalent of an epic Big Bang story: 60.000 words!
We've formed an internal workgroup who will help evaluate and publish the results. Due to the amount of data we're working with, this will be a gradual process, but we'll try to keep you up-to-date with the details as they emerge. We thank you for your patience while we get to grips with it all. The really meaty data may take us a while to collate, but here are a couple of tasty morsels to whet your appetite!

Where is everyone?
We had responses to the survey from fans all over the world – and a few from beyond this world (hello to the fan who responded from Narnia!) The top ten countries, by number of respondents, were as follows: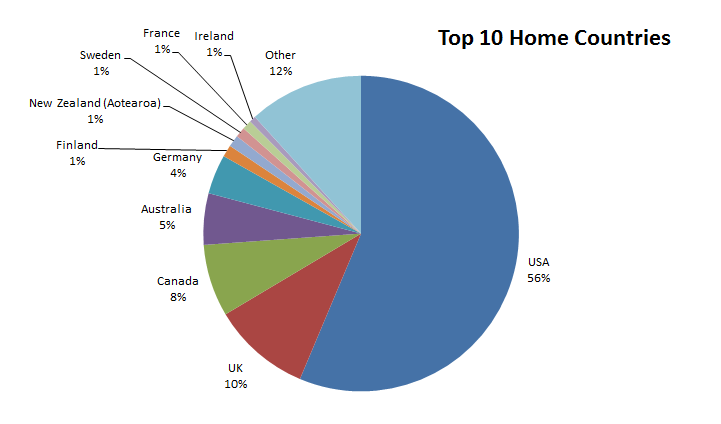 What types of fanworks are people enjoying?
Fandom is a diverse and wonderful place, and people are accessing a whole range of different types of fanwork. The vast majority of respondents (5613 of a total 5716) said they read fanfiction, but other types of fanwork such as fanart and fan videos of various kinds weren't far behind – and we can't wait to delve into the free-text responses to this question!
Stay tuned for more!
We're working hard on analysing the rest of the data and wrangling it into a nice accessible format. We really value all your input, and we'll do our best both to publicise it and respond to it. The response to the survey was beyond our wildest dreams — we're feeling a teeny bit overwhelmed, but also excited about having such rich results to work with! Thank you to everyone who responded, publicised it, and worked to make it such a huge success.