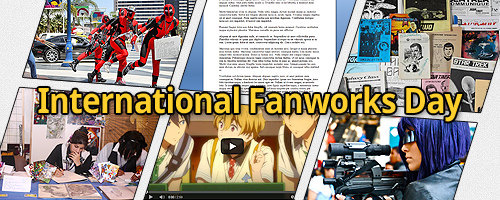 International Fanworks Day is February 15, 2018. The OTW is making plans to celebrate, but we also want to know what you will be doing!
What is International Fanworks Day?
A day to promote fan creativity in all of its forms, all over the world. In text, image, audio, or multimedia, whatever their nation or language of origin, we use fanworks to express love for our fandoms and forge our own communities and traditions. On International Fanworks Day (IFD), we want fans everywhere to show how important fanworks are to them.
Tell Us What Fanworks Mean to You
We will be announcing OTW-sponsored activities next month, but in the meantime we'd like to hear your plans for celebrating. We'd also like you to tell us what fanworks mean to you. Do one of the following by January 31:
Hashtag your thoughts with #WhatFanworksMeantoMe on Twitter, Facebook, or Tumblr, and add a hashtag for your country if you like!
Send longer essays (up to 350 words) to Communications through our contact form
We will be selecting up to six submissions for publication on OTW News on February 5 as part of our lead-up to International Fanworks Day. When submitting, please include the following:
How you would like your name/pseudonym listed
What country you call home
Submissions are welcome in all languages, so start sharing your fanworks love!