Accessibility, Design and Technology would like to wish you a happy Ada Lovelace Day!
As the committee responsible for designing and building the Archive of Our Own, one of the largest female majority open source projects on the web, we're thrilled to have the opportunity to celebrate women in technology.
The first code for the Archive of Our Own was committed in January 2008. Some stats for the lifetime of the project:
73669 lines of code
30 different people committing code
2238 code commits
276 people involved with the Archive in some capacity (as coders, testers, tag wranglers, or support team members) – not all of these people are active at the same time, but we think this is still pretty impressive!
We polled our volunteers to find out a little more about them before Ada Lovelace Day, and the charts below give a picture of some of their responses: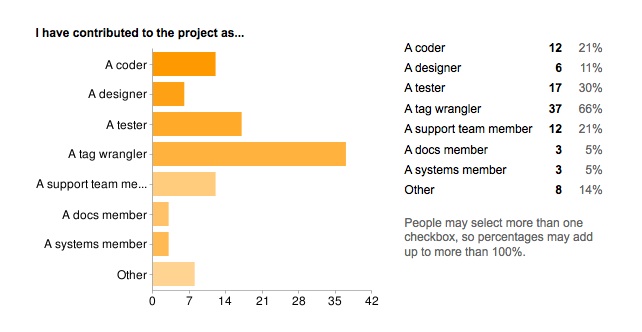 Approximately 97% of the people contributing code to the project and 93% of all Archive volunteers identify as female – this is a dramatic difference to the majority of open source projects on the web, and we think it's well-worth celebrating! Our sense of achievement doesn't arise from the fact that we're a female-dominated organisation, however, but from the fact that we've been able to share skills and enable people to become involved in things which they might otherwise have been excluded from.
Twenty-nine percent of our volunteers describe themselves as having no experience of working on technology projects before they joined us, and forty-eight percent say they only had a small amount of experience. Among our coders, a third had NO knowledge of coding before they joined, and very few people had worked extensively in Ruby on Rails, the core framework on which the Archive is built. Contributors to the project have learnt Ruby on Rails, CSS, systems administration, documentation skills, project management, quality assurance, information management skills, and much, much more. We've been able to develop a strong female-majority team because of a culture of encouraging the new and inexperienced – this benefits women, who are less likely to have experience of working on technology projects, but we hope that it also makes our project a more welcoming one for everyone.
One of the most exciting things about seeing this project from the inside is the fact that it is truly collaborative. The work of our 30 code committers takes place in the context of a massive amount of other work: designs are worked out collaboratively, documentations people help us keep track of all the things we're working on, testers ensure that the code does what it's supposed to, tag wranglers organise the content on the Archive, and the support team work incredibly hard to make sure our users have a great experience. Whereas in some open-source projects, the work of non-coders is seen as less important, we enjoy an atmosphere of shared endeavour in which everybody's contribution is celebrated. By working closely together, we also enjoy lots of cross-pollination, and we've seen many people move from testing to coding, or coding to support, developing new skills in the process. About 41% of volunteers on the project serve in more than one role – we believe that by providing space for people who want to specialise while allowing those who like diversity to branch out, the whole project is enriched.
We're proud of our enthusiastic, skillful, supportive team of volunteers, of all genders, and we believe that Ada Lovelace is a great time to celebrate a culture which welcomes everyone. In that spirit of inclusiveness, we'd like to close this post with some comments from the people from our teams:
The sense of community, inclusive of the most occasional tester and casual reader to the most dedicated coder and systems-person, is just so wonderful.
[One thing I'm excited about learning:] Learning how to test in general & regression testing in specific, and learning how to use the issues tracker for google code. It's fun! Testing has a great mentor, Eylul, it's easy to pick up and learn, and it's really satisfying when you see a fix for a bug you've discovered or tested make its way onto the archive.
[One thing I'm excited about learning:] Acquiring new skills (which I'm still doing): Ruby on Rails. It gives me great satisfaction, especially as I am out of work.
The development of the Archive of our Own is just a phenomenal thing to see. This big undergoing with every deploy, how everyone comes together to get this new release on its way. How many people with different jobs it takes to build this software and how people step up and pitch in and help out, regardless of if it is in their "job description", is really inspiring to me.
I really love that we're all working as a team (even people I don't see or know as they're on different parts of the project) to create something that's being used by thousands of people. It adds to a part of my life that until now, I've only really been an observer in, not a participant.
I'm really excited that I managed to leap in and work with a bunch of people I'd never met before, and am having a great time doing it. And I've learnt how to use a lot of tools, like google code [coders' bug management system], campfire [the OTW's chatroom] and 16bugs [AO3 Support's bug management system] that I'd never even heard of before.
Okay, and one more thing — even though my part in the whole is tiny, I feel a great sense of accomplishment every time an update is deployed to the archive. I'm continually delighted by the fact that there can be so very many fingers in the pie, and it still ends up being a *pie* (that's tasty and delicious!)
We're happy to be sharing our pie with fandom at large! Happy Ada Lovelace Day!
This post is mirrored from an original post on the Archive of Our Own, where you can comment with or without an Archive account.